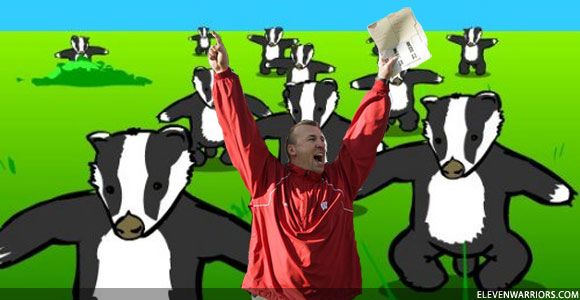 The biggest conference game of the 2009 season to date. Undefeated Wisconsin comes to town bringing a top 25 caliber rushing attack to clash with the Buckeyes' elite defensive line. Unstoppable force v. immovable object, indeed.
A healthy Boom Herron returns to the backfield as the level of conference competition elevates from bottom tier to bowl caliber. Rather than throw my allegiances in the corner of "Team Boom" or "Team Zoom", I'm personally hoping an NFL-style philosophy of "it takes two" becomes the prevailing philosophy in this game and going forward.
Andrew Miller will miss his 2nd straight game because of the flu, though Justin Boren and Jake Ballard, whom also battled the illness this week, are expected to play. Though it can't be considered any kind of net positive when a talent the caliber of Miller is taken away from your overall depth, left tackle Mike Adams' performances in the last 3 games certainly helps settle some of the trepidation about teeing off with an always physical, gritty Wisconsin defensive core.
Health aside, as with just about every contest of consequence this season, the question largely becomes where in the developmental curve is #2? A year ago in Madison, Terrelle Pryor began to write his Ohio State legacy in a cold, calculated (and frankly upperclassmen savvy) game winning scoring drive. In the games to follow we've seen both sides of the coin: the flashes of brilliance that made Pryor the unquestioned prize of the 2008 recruiting class, and the growing pains that leave us all scratching our heads and wishing for a way to flash forward to the fully developed product. The Pryor that shows up today could determine just how comfortable the Buckeye faithful will be during the waining moments in Ohio Stadium.
Finally, Jay Valai comes to Columbus. I'm not in the business of encouraging head hunting - we saw what the price was for an intent free poor decision on the part of Kurt Coleman, but I would be kidding myself if I didn't admit to hoping #9 delivers one of these on the safety. Be vigilant, sir.
What say you?