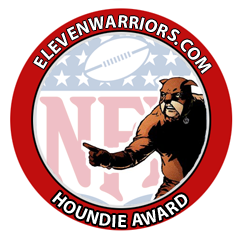 The Houndie is an award formerly known as the Buckeye NFLer of the Week. After 2 years of existence, we searched for a catchier name, so with the help of a well placed typo and the ensuing 11W comments, the current title was created.
Slim pickings for this week's award. The bye weeks started kicking in and a few of the potential winners (Gamble and Michael Jenkins) were off.
But simply, the majority of the Buckeye NFL crew had off weeks, save for a couple of alum, who battled for this week's honor in high profile games.
What a difference a couple of games can make. Two weeks ago, Santonio Holmes lead the NFL in receiving yards, while Ted Ginn sat near the top in receptions. Since then, Holmes has caught 5 for 70 yards and Ginn has just one, yes, one catch for 4 yards.
Ginn's catch came this past weekend in Miami's 38-10 win over Buffalo, while Holmes had 4 for 52, as he helped the Steelers hold off the Chargers, 38-28 in Pittsburgh. Teddy did have a carry for 22 yards and Holmes had one for 7 yards. The Buckeye headline of the Miami game came from Brian Hartline, who teamed up with Chad Henne on a 4-yard strike, to record the first TD of both their young careers. Great for B-Hart, but Henne can still DIAF.
The only other offensive performance worth mentioning is Mike Nugent, who connected on 2 of 4 FG's, missing a 48 and 49 yarder in Tampa's 16-13 loss to Washington. Nugent's 2 misses were in the first half, making him 0-4 on the season to that point and earning him a pink slip on Monday.
On defense, special mention has to go out to James Lauranaitis, who registered 6 solo stops and 3 assists in St. Louis's 35-0 demoralizing loss. Little Animal ranks 10th in the league for tackles with 34 and is going to race Brian Cushing of Houston all season for the rookie tackling title. In the same game, Nate Clements recorded 5 solo stops, as the 49ers moved to 3-1.
Two recent winners, Will Smith and Antoine Winfield had stellar games for their teams this week, as both moved to 4-0. Smith feasted on rookie Mark Sanchez, sacking him twice and causing a fumble in the end zone, that was recovered by the Saints, for a 17-0 first half lead. The Saints went on to win 24-10 and Smith added 4 total tackles.
Antoine rose to the occasion once again in prime time, making 9 solo tackles to lead the team and picking off a pass in Minnesota's 30-23 win over Green Bay. Ryan Pickett showed his worth as a run stopper, gobbling up 7 total tackles and AJ Hawk managed just 2 solo and 2 assists in the Packers loss.
But this week's award goes to someone who has persevered on and off the field over the last few years, Shawn Springs, who is finally healthy and in a place where careers magically extend. Springs lead the Patriots with 9 total tackles in the 27-21 win over Baltimore, bumping them to 3-1. Shawn is in his 13th season and has played in all four games this year (19 stops), after missing 14 the last 3 years, including 7 in 2008. The 9 tackles were the most for Springs since 2003 and helped him grab his first career Houndie.