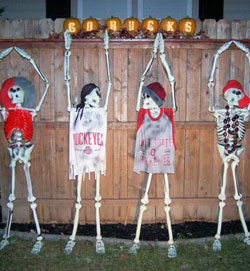 In the longest distance traveled to trick-or-treat in the history of Halloween, the New Mexico State Aggies come to the Horseshoe this weekend dressed up as a football team and will be knocking on the door of a team that's not likely to have any candy to hand out to their final out of conference foe for 2009.
DeWayne Walker and the Aggies will take on the Buckeyes for the first time ever and are facing a Big Ten opponent for the first time getting waxed 59-21 by Iowa in 1995. They are hoping for a better showing this time, but chances are slim as they face a 44 point spread, which is six more points than Ohio State has put up in any game this season.
Jim Tressel will be gunning for his 90th win as head coach at Ohio State and will try to continue progressing his young team as they prepare for the tough brutal November schedule that lies ahead. The loss to Purdue earlier this month should have taught the team not to look past any opponent, but it will certainly be hard to keep the team's full focus against a far inferior opponent when Penn State lurks around the corner.
The Buckeyes head into the game as heavy favorites, but this Jekyll and Hyde team will have to come out firing so they can head into stretch run with some swagger and more importantly momentum. The question is not if the Buckeyes will beat the Aggies, it is how they will do it, and if last week's win against Minnesota is a precursor to the next step of progression for this team, it will be a happy Halloween in Columbus.
Opponent
One reason to be optimistic is the lack of production out of the New Mexico State offense up to this point. The Aggies' offense ranks dead last in the FBS and is only putting up 13.2 per game. Facing an OSU defense is not going to help their cause very much and a third shutout of the season for the Bucks is not out of the question.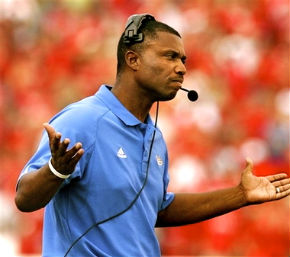 Leading the unit dressed up as an offense is the two-headed monster at quarterback of Trevor Walls and Jeff Fleming. Walls is 2-2 as the starter and Fleming has a 1-3 mark in games started, but neither quarterback has been too impressive and should not pose a challenge to the Silver Bullets. One bright spot for the offense has been pinball of a running back Seth Smith. Smith, listed at 5-8/198, has averaged 87.9 yards per game, including 4.3 yards per carry this season and will shoulder the load early on Saturday. Chances are the Aggies will be playing from behind for most of the game, but early on they will try to control the clock and limit turnovers with their workhorse at running back.
On defense, the Aggies are lead by linebackers Ross Conner and Jason Scott. Conner leads the team and is third in the WAC with 70 tackles and Scott, while undersized at 5-10/201, is second on the team and sixth in the conference with 67 tackles. Both players will be around the ball plenty on Saturday, but shouldn't pose too much of a problem for Terrelle Pryor and the Buckeye offense. Scott and Conner have some help in the playmaking category with free safety Stephon Hatchett. Hatchett is third on the team with 49 tackles and also has an interception, a forced fumble, and a fumble recovery on the 2009 season. He will be in charge of captaining the Aggies' secondary and keeping big plays through the air to a minimum. In other words, keeping an eye on DeVier Posey.
The Aggies don't have too many bright spots, but their punt return unit strays away from the standard. Averaging 12.4 yards per punt return and having blocked two punts on the season, the unit is certainly something to be aware of, that is if they are able to force the Buckeyes to punt on Saturday. Marcus Anderson is the man who will be returning any Jon Thoma kicks this weekend and ranks first in the conference and 22nd in the nation in return average. Keep an eye on number 10 if the opportunity presents itself for him this weekend.
Buckeye Breakdown
The thing to look for this weekend is whether or not Terrelle Pryor can progress enough for the Buckeyes to beat Penn State next week. After posting a 200+ yard passing and 100+ yard rushing performance against Minnesota last weekend, Pryor will get a chance to build up some more confidence against another much inferior opponent. Pryor has built up a nice rapport with classmate Posey, but needs to utilize all of his offensive weapons (Sanzenbacher, Small, Carter, tight ends) if he wants to be a complete quarterback and have a happy November. It's worth repeating, when Pryor starts to master his progressions, he will be extremely hard to stop. I expect Pryor to play well this weekend no matter what, but it will be interesting to see if his mechanics and decision making keep moving in the right direction.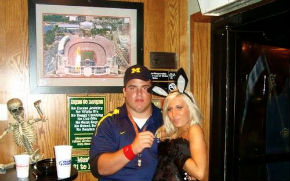 The good news for the offense is that Brandon Saine will be back in the starting line-up this week after suffering a mild concussion last week against the Gophers. The bad news is that injuries still linger and some players will miss the game against the Aggies. Justin Boren is one of those players, as he was ruled out by Jim Tressel yesterday, meaning Andrew Moses will get the start at left guard. I thought Boren was playing really well in the beginning of the season, but has tripped up as of late, hopefully meaning that injuries have attributed to his play. This week of rest should put Boren back at 100% in health and performance for Penn State. As for other injured players, it seems Boom Herron's status is up in the air, but he will most likely not see action. I think JT wants to get him in the game so that he has live snaps for the Penn State game, but the chance of risking further injury before he is fully ready to play may not be worth it. Andy Miller returns to the line-up as well this week and will play some left tackle in place of the scoped Mike Adams, who is expected to be out a couple more weeks.
As for defense, the team got some bad news when they found out Andrew Sweat would be out for the remainder of the year. Sweat was having a solid season before he suffered his knee injury and provided solid reserve minutes in place of the starting three. Etienne Sabino will likely be the benefactor of those minutes and Jim Heacock said this week he has been pleased at the progress the reigning Special Teams Player Of The Week has been making in practice. Dexter Larimore also continues to remain injured, though the team is hopeful he will return next week. Rob Rose does return healthy to the unit this week after the coaches opted to keep him out of last week's game to rest up his bangs and bruises. Safety Ohrian Johnson returns as well, providing depth in the secondary behind Kurt Coleman and Jermale Hines.
The defense should not have a problem this week with New Mexico State, but I'm not sure it would matter who the opponent was. The Buckeyes defense ranks in the top 25 in six categories including total defense (13th), scoring defense (7th), rushing defense (10th), sacks (16th), pass efficiency defense (15th), and turnover margin (23rd). Fickell and Heacock's squad has gotten a boost of late from Thaddeus Gibson, who had three sacks last week, and from Kurt Coleman, who has done it all season long, tallying 52 tackles, 1 sack, 3 interceptions, 3 forced fumbles, and a fumble recovery this year. The No Name, No Blame, No Worries mantra of this defense is certainly working and I expect the play of the defense to be the prevailing factor come the three November games.
Prediction
New Mexico State won't be scaring anyone Saturday and as mentioned before, it will not be if the Buckeyes beat the Aggies, but rather by how much. It should be an interesting game to observe the offense and see if the fundamental and mechanical flaws the team has had in past games can continue to be ironed out.
The Bucks win easy here, but will they progress enough to beat Penn State, Iowa, and Michigan in November? Controlling your own destiny is nice and beating NMSU this week is the start of it all, but sorry Vegas, you don't have our bet on the Bucks covering that spread.
Ohio State 42, New Mexico State 3