Coming off what could have been one of the biggest wins in school history, the Indiana Hoosiers will be looking to finish off an upset this week, as they take on the Buckeyes in a prime time kick-off this tomorrow night at the newly renovated Memorial Stadium.
Whether the refs were right or wrong in regards to a simultaneous possession call (they were definitely wrong), the Hoosiers did indeed lose last week's game 36-33 to Michigan, dropping their first game of a season in which they have jumped out to a surprisingly good start. They face a good amount of historical adversity this week, though, as the Buckeyes have historically owned them, leading the series 65-12-5, including a 23-2-1 mark in Bloomington. To make things worse, the last time the Hoosiers defeated the Buckeyes was in 1988, with OSU taking the last 14 games between the two.
Ohio State couldn't be hotter coming into the contest, shutting out Toledo and Illinois en route to a combined score of 68-0. Despite averaging 30+ per game in those victories, the Buckeye offense does continue to struggle though, and it will only be so long before the defense won't be able to bail them out. Last week did bring some positives on an offensive note, and a spotty Indiana defense can be just the cure for the early season woes, especially the stunted development of Terrelle Pryor.
Opponent
Despite what some may call a "cupcake schedule", Indiana has certainly impressed fans across the Big Ten early in the season. Bill Lynch's team beat Eastern Kentucky, Western Michigan, and Akron to win it's first three games before falling in the aforementioned heartbreaking loss to Rich Rodriguez and the Wolverines. There was a lot to take out of that game, as it seemed the Hoosiers were out of the game early after two consecutive Carlos Brown scores gave Michigan an early lead, but IU kept fighting back and showed the ability to do some damage on offense.
Leading the unit at quarterback is Ben Chappell. Chappell doesn't have eye-popping numbers (944 yards, 3 TDs and 4 INT), but his veteran leadership and poise at the position is a must if Indiana wants to make a run at a bowl game this season. He never broke against Michigan despite some things not going his way and continued to find ways to keep the chains moving.
The running game is fueled by two solid players in senior Demetrius McCray and red-shirt freshman Darius Willis. The two have combined for 450 yards and four scores on the ground this year and Lynch keeps opposing defenses on their toes with his use of each of these players. The Crimson and Cream keep things spread out at the wide receiver position as well, with Damarlo Belcher (19-222-1), Tandon Doss (26-374), Mitchell Evans (10-116-1) and Terrance Turner (14-135) remaining well involved with the game plan.
The Hoosiers are most dangerous on offense because of their ability to spread things out and use gimmick plays to trick defenses. A number of times against Michigan they used both the pistol and wildcat formations, and also used receivers and backs to run reverses and other trickery. While Indiana certainly cannot play pound for pound with the Buckeyes' defense, expect to see many of these ploys used again this week to try and confuse the OSU defenders.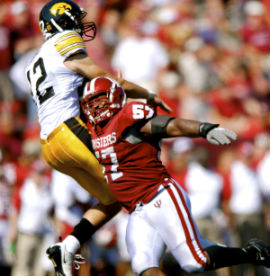 The Indiana defense was supposed to be the strength of the team coming in, but has not performed up to expectations thus far. Jammie Kirlew is hands down the best player on the unit and has NFL potential, registering 18 tackles (8.5 for loss) and 2.5 sacks on the season. He is joined by fellow star end Greg Middleton (15 tackles, 3 sacks) and linebacker Matt Mayberry (26 tackles, 1.5 sacks) as the primary play makers of the Hoosier defense. Those three, as well as Ohio-native defensive tackles Adam Replogle and Larry Black Jr. will have to step up tremendously if they plan to contain Terrelle Pryor and the Ohio State ground attack on Saturday night.
An even tougher assignment may be in the hands of Bill Lynch's secondary, as the Bucks could look to get the pass going after a heavy dose of the run last weekend. Ray Fisher of Cleveland Glenville has emerged as the unit's best player and is a standout special teams player on kick and punt returns, having already returned one kick for a score this season. He will have his hands full though, as will fellow secondary players Austin Thomas, Nick Polk, and Richard Council, as the Buckeyes go five deep at receiver and two deep at tight end.
On Special Teams, the Hoosiers have their biggest weapon in Fisher, but their kicking game is pretty solid as well. Having to replace Austin Starr has not been easy, but kicker Nick Freeland has been more than serviceable for a red-shirt freshman. Freeland has converted 9-12 field goals this season, but two of those kicks have been blocked, usually a sign of poor blocking or a bad hold. On the punting side, Indiana sends out Chris Hagerup, the older brother of current Michigan commit Will Hagerup. The Hoosier Hagerup has punted 18 times this year for a 40.3 yard average including three kicks inside the 20-yard line. With the way the Buckeye defense has played, Hagerup should expect to be quite busy this week.
Buckeye Breakdown
The Buckeyes enter this game with many questions on defense answered and many questions on offense still lingering. Last week's game is hard to judge in terms of the team's development as the rain played a big factor in the play calling, but this is the week the Buckeye offense needs to break out and make a statement that they have found their identity and are ready to match the defense in pursuit of a fifth straight Big Ten title.
The good news from the whitewashing of Illinois was the rebirth of what looked like a rushing running attack. Boom and Zoom combined for 156 yards and two touchdowns and there were holes all afternoon. A potent running game will help take some of the pressure off of Pryor, but with Herron not being 100%, Saine and Hall will have to deliver. Pryor needs to continue to develop as a passer if this team wants to do any real damage against the Big Ten's upper tier teams, but while that is going on, his production with his legs, coupled continued development in the running game should be enough to get by the Buckeyes' next few opponents.
Part of the recent success of the Buckeye ground game can be attributed to the improved play of the offensive line. Mike Adams has ultimately moved into the starting left tackle spot and fellow "Block O" member JB Shugarts has stepped into the right tackle slot with Jim Cordle injured. These two moves, coupled with the depth Andy Miller and Andrew Moses have provided, have allowed the Buckeyes to keep their front five fresh and enable them to play with more athleticism. People questioned Adams' ability to perform on the field, but it seems the only thing holding him back might be stuff away from the field.
There's not much to say about the defense outside of warning opposing offenses to duck and it is expected they bring their all once again, even without Coleman, who will miss the game because of suspension. The Coleman loss hurts in that OSU loses arguably it's best defender, but if the pass rush remains as strong as it has been the last few weeks then the secondary will have a much easier time doing their jobs. Anderson Russell will re-enter the starting line up in Coleman's place and redshirt freshman Orhian Johnson will get nickel action and provide depth for Russell and Jermale Hines. All in all, if the Buckeyes continue to do what they have been doing since the USC game, they will have no problem with the Hoosiers and their unique offensive approach.
Despite rumors of a transfer, Laamar Thomas will once again be back returning kicks for the Buckeyes and he has certainly given the unit a boost this year, averaging 23.2 yards per return. It seems he is on the cusp of a break out return for a touchdown at any minute and this could be the game a la Teddy Ginn in 2005. Ray Small returns as the punt returner once again this week, despite muffing punts in the last two games. I feel a lot more comfortable with Dane Sanzenbacher or DeVier Posey back there to actually catch the ball, but neither have the same type of big return potential that Small does in the return game. If he fumbles another return soon, expect to see him turn over the duties to one of the previously mentioned players (most likely Sanzenbacher).
Prediction
Although Indiana played Michigan close last week, they still remain a bottom-feeder of the Big Ten. They bring an improved offense and some athletic defenders to the field in a night game, but it won't be enough to pull the ultimate upset against the Buckeyes. Considering most of the crowd will be OSU fans who made the trek to Bloomington, expect the Bucks to find a comfort zone early and take control of the game from the get-go. Will this be another game of growth for Pryor? It may be, but even if it's not, expect the Bucks to win easy.
Ohio State 33, Indiana 9