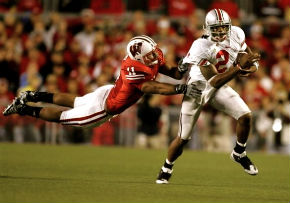 Bucky comes to town this week and The Senator, who has been quite un-senator-like since the USC game, got back again at it in his weekly press conference at the Nicklaus Museum.
Coming off a 33-14 victory in Bloomington, spirits are high in Columbus as the Buckeyes have improved to 4-1 on the season and 2-0 in the Big Ten Conference. One noticeable change in the team the last few weeks has been the play calling on the offensive side of the football and as Tressel mentioned, it was important for the unit to jump out of the gates quickly against the Hoosiers:
I promised myself I would remember to talk about the Indiana game, although we're pretty full of Wisconsin in our minds right now, but we went on the road in the Big Ten and those of you who had a chance to be there, I'm sure could tell that they've done a heck of a job with their facility and their environment and so forth and that being the case, we felt as if we needed to go out and come out of the gate pretty quickly and if you looked at them and studied them through their first four games, their first halves, they came out of the gate, I think, probably 60 to 70% of their production going into our game was in the first half of their games and so we felt good about the fact that we went out and were able to come out of the gate and get a lead. We were obviously disappointed that we left some points on the field, especially in the field goal area early on, and didn't take full advantage of a quick start.
Clearly Darrell Hazell has had a positive effect on the offense and seems to have taken the majority of the play calling out of Tressel and Bollman's hands. He has Tressel's trust as evident by late game passing plays, even when games have been out of hand, and coming out of the box firing against Indiana can be attributed to Hazell's aggressiveness. I really like that Tress acknowledges that the team left some points on the field, as that is how I felt coming out of the game. Don't get me wrong I will take a 19 point victory every game, but I just felt that the offense can do a lot more and I'd like to see that happen from here on out.
A hot topic on the offensive side this week is the status of the running backs. Boom Herron was listed as first on the depth chart again this week, despite solid play from Brandon Saine against the Hoosiers and throughout the 2009 season, really. When a reporter asked Tressel if Saine or Herron would be the top back, The Vest surprised none by saying:
Saine, Herron, however you want to call it, Herron/Saine, doesn't matter.
I think if Dan Herron was still the clear cut number one Tressel would have come out and said that and continued to go on and say how they will use Brandon Saine as well. By saying that both are equal, I think we are starting to see the beginning of phasing Boom out as the number one and bringing Saine along to be more of the every down back. I think we have seen things like this in the past, like Devon Torrence overtaking Andre Amos as the second corner back, and it would not shock me to see Saine as "the guy" in the next few weeks.
Another running back who has been on the minds of fans is Jaamal Berry. The heralded freshman got himself into a little bit of trouble before arriving in Columbus and has been nursing nagging injuries since fall camp. Through five games he has not played a snap and many are starting to wonder whether the Florida native will red-shirt or not. Tressel was asked about Berry's status and once again did not divulge much:
He was probably at 90, 95% and we took him, and had we gotten banged a little bit at tailback in the course of the game, he was probably the next guy to go in the game. Didn't have to, which meant he got another day and then he got Sunday where we worked out a little, and he looked pretty good. He got yesterday off, so I'm hoping that he's above 95% today. As far as our thinking with him from a redshirting and all that standpoint, we try not to think about that a whole bunch with tailbacks because you can be thinking for a moment that you're just fine and two turned ankles later, you're not so fine, so we want him preparing as if he's got to be ready to play.
I think the staff is clearly struggling in the decision to sit Berry for the season and save a year of eligibility or play him. Personally I feel that Jordan Hall has done a fine job as the third back and any playing time Berry will receive is really pointless. Unless he can make a big difference, I say red-shirt the kid and get an extra year of eligibility for him. Of course he was a big time recruit and that is surely in the minds of the coaches, but I think in the end it will come down to Boom's health. If Boom can come back strong the next week or two I think Berry will red-shirt. If they need three healthy backs against Wisconsin, look for Berry to get the nod over Marcus Williams.
Speaking of injuries, there have been quite a few as of late. Herron's aforementioned injury could have him at less than 100% again this week and in the Indiana game Dexter Larimore sprained his knee, meaning he will miss a week or two. Outside of your conventional injury, it seems as if the flu has hit the locker room. Jon Thoma missed the Toledo game because of the illness and Andy Miller did not make the trip to Bloomington and was not even allowed in the WHAC as of yesterday. Tressel discussed the injury situation as well as dealing with the flu:
We've got to get a little bit healthy. We've got a number of guys that are banging around with that flu. From a structural standpoint, I think we're fairly healthy. We won't have Dexter Larimore, which is a guy that you hate to not have, but he's a little bit of a sprain that just won't be ready for a week or two. And hopefully Boom Herron will be back. Jimmy Cordle is probably two games from now, but starting to do some land running and cutting and a little bit ahead of schedule, so we feel good about that. Boom, I hope, is a hundred percent. He's about 85% and if we had to have him last Saturday and we just had to have him, you know, take a deep breath and hurt for a little bit, we could have, but we thought Brandon and Jordan could handle the carries and they did and hopefully Boom now will have had those three or four extra days and he'll be a hundred percent. But we've got too many guys missing with the flu and so forth. Andrew Miller, I haven't seen since Wednesday's practice. He's been fighting it hard and we've got two or three others that are fighting the flu a little bit and we're not the lone rangers, everyone around the country and the community have the same issues.
I'll say what every coach in America is scared to say: The Swine Flu has hit college football. Hard. This is a serious issue as the illness can easily spread in a setting like a football locker room and can damage a team in terms of quantity and quality of players. It was later mentioned in the presser that Wisconsin had as many as 40 players sick with "the flu" earlier in the year and if the Bucks aren't careful the same thing can happen in Columbus.
As for the other injuries, it is becoming more apparent that Cordle's injury was a blessing in disguise. JB Shugarts and the rest of "Block O" have settled into their spots on the offensive line and I don't see them giving those up upon Cordle's return. I would love to see Cordle come back and provide depth at tackle, center, and guard, allowing for the starters to get some rest, but it is clear that the line on the field right now is the best one. Herron will come back strong too, but as mentioned above, it seems that Saine has earned the number one gig and that Boom may indeed become the spell back. Don't get too down on Herron though as the duo could be very dangerous for opposing defenses to stop.
Tressel took a lot of the press conference to discuss the Wisconsin team coming to town and really hammered home the fact the team is expecting an all out effort and physical game from the Badgers. Wisconsin usually plays the Buckeyes close, including what we thought was Terrelle Pryor's coming out partylast year in Madison. The Senator had praise for both the offense and defense of Wisco, saying:
That's about as long as I can go on Indiana here because we've got the Badgers coming to town and all of you that have been around for Ohio State/Wisconsin games in the last couple decades know that they are extremely physical affairs. It's been a tough, tough series. It's come down to the big things in the game of football, who handles the line of scrimmage, who takes care of the football. Ultimately if you look at a lot of games, I know over the last few years that we've studied them hard, there's typically been a special units play that has really made a difference in the flow of the game and so it's a 5-0 team coming in here that's had a significant number of dog fights and I think anytime you have battles like the ones they've had, especially with a young team as they have, you do nothing but improve and so it's going to be a heck of a challenge. I love the way their quarterback's playing. He's been very, very efficient, done exactly what they need to do behind that big offensive line and the big running backs. Their tight ends have really been excellent blockers and receivers. In fact, their tight ends have played so well, they don't play as many wideouts as they used to. There's a whole bunch of guys that had a whole bunch of snaps as wideouts years ago that haven't had as many snaps because those two tight ends have done a heck of a job.

Defensively, that Schofield, he makes plays. He's all over the field and flies around and he's the emotional leader of that team. And they have a good sprinkling of youth with a lot of energy and effort and also those veteran guys that can keep them calmed down. And they're very aggressive on defense, fly around. And special units-wise, their kicker and punter are very, very good. Their return man, Number 85, he's a darn good one, and he's a long one waiting to happen. He hasn't had quite as many snaps on offense, which I think has kept him a little bit fresher on those return things and so he's a tremendous threat.
I can see it now. Run, Run, Run. That will be how this game goes. Tressel loves playing in games like this that have that traditional Big Ten feel of a physical brand of football. You better believe Brett Bielema will be running John Clay at the Buckeye defense all day and in turn, I think you will see Tressel attempt to control the clock by doing the same when Pryor gets under center. We will truly see how much influence Darrell Hazell really has on the offense this weekend and it won't be hard to tell who is calling the shots as the game plays out. I would love to be shocked and see the offense explode on Saturday afternoon, but as I've said before, seeing is believing, and I am just not sold yet.
As Tressel mentioned, the Wisco defense will be tough and play hard. They don't soften up against better teams, so expect a very physical game from that side of the ball. One player who Buckeye fans should bring the boo birds out for this weekend is Jay Valai. Valai is the starting safety for the Badgers and if your memory isn't serving you well, he is the player who knocked both Boom and Dane Sanzenbacher out of last year's contest. When asked his thoughts on last year's Valai situation and how it effected this year's game, Tressel responded:
No different than what we -- normally we have an official's report and those kinds of things, but, no, we didn't -- the game is made to be played physical and I like the way that kid plays. I mean, he plays physical and he'll come to hit you and that's his secondary, if you come in his secondary, that's what secondary guy's supposed to do. He didn't have any Tuesday before the game saying, hmm, I think I'm going to get this guy. You know, he plays football. So, no, other than -- we always evaluate the officiating privately.
While I think Valai is more of a head hunter than Tressel leads him on to be, I have to take a step back and say I do enjoy physical play from the safety position. Their job is to fill gaps against the run and the pass and make plays, including making sure nothing comes over the middle. If we turned the tables and it was Kurt Coleman making those hits on other teams' players we would probably all be defending him, so for now Valai gets a begrudging pass.
Finally, the issue of special teams. As stated above, these units have played a big role in the outcome of many of the games between these two teams. Buckeye fans were not very happy with kicker Aaron Pettrey's performance against Indiana, as he missed two field goals from inside the 40-yard line, and it seems Tressel shares those feelings as well:
I told the QB Club over at Woody Hayes that I talked to earlier today, if the ball's inside the 20, we're going to take three delay of games. I've figured it out. I mean, I've never seen anything -- how many kicks does he have over 45? Got to be, what, six or seven? I don't know. And we've missed an extra point and two chip shots. Do I have an explanation for that? I don't Devin Barclay has been a little bit banged up. Do I think that all of a sudden we would put someone else in in place of Aaron? No, Aaron's a good kicker and he's going to be fine, I hope.

I mean, he's a good kicker and just you hit the right upright, so then the next time you go left because, you know, you're thinking about it, trying too hard, whatever. The thing I haven't seen from a consistency standpoint, on our shorter ones is the same consistency in our operation time. Our operation time on the longer ones has all been in the one-three-six to one-three-eight area. Our ones inside have been -- he had one that was one-five-three and one that was one-, you know, three-two.
So we've got to get our operation -- and it isn't all the kicker, know, it's the snap, the hold, the whole thing. And we've just got to be -- we always say if we're one three five every time and we hit the flag pole, you get a plus grade. If there's anything that's not true in that formula, that wasn't as good a kick as it needed to be even if it scored three points. But Aaron's a good kicker and he'll be fine and when you miss one, it's like when Coach Bruce misses a putt occasionally, it rattles him for the next hole.
No, Aaron's a good kicker and he's going to be fine, I hope. That line scares me. I happen to think Pettrey is a very good kicker and that the second missed kick was a case of him thinking about the first, as JT mentions, but the fact that Tressel added the "I hope" to the end of the sentence scares me. I'm glad that the miss may have been an "operational" thing, but it seems as if Pettrey may be going through some confidence issues. As soon as he missed the first kick against IU, I said to my friend that he needs to have a short memory. Of course, I put the jinx on him, and he comes out the next time and misses wide left. This team needs Pettrey to have a short memory because they will need him to make a big kick at some point this season. That point in time may even be as soon as this weekend and if he's not "fine" then this team could be in a bit of trouble if a clutch situation arises for the senior kicker.