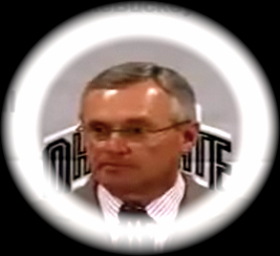 The critics came out firing today as the Ohio State offense seemed to be anemic in minimal time on the field against Wisconsin this past weekend. The Senator came under fire once again in his weekly press conference after another star performance from his defense was not matched by an offense that was supposed to be running on all cylinders at this point in the season. Ducking and avoiding questions as usual seemed to be the route Tressel took today, but we can at least try to clear the air on some of the information we learned from today's presser.
While the offense had only limited time on the field against the Badgers, partially because of ineffectiveness and partially because of two defensive touchdowns and a special teams score, The Vest still had to face questions about the lack of production from the unit. When asked about the offense adjusting to the flow of the game, Tressel said:
If you study all week long, here's what they've done, here's what we're going to do and so forth and then what they're doing is not exactly what we have rehearsed, we've got to, from an immediate standpoint, say, okay, I see what they're doing, now here's what we've got to do next. The problem is we were three and out three straight times to start the game and the one touchdown drive we had was only like five plays, so it wasn't like, okay, we've figured this out, we'll do this, do that, do this, we figured out what they were doing a little bit and happened to hit some big plays, we won't turn down those interceptions for touchdowns, we won't turn down those big plays either, but from a consistency ability to really hang our hat on the fact that, okay, I know exactly what they're doing, it was a great experience for, I thought, for those two young tackles.

Jimmy Cordle should be back a little bit this week. I don't know if we would get a full practice week out of him or a full game, but three, the really three young tackles had a chance to see if they could deal with Number 50 who was very, very good. Their other end was very, very good and so there were good experiences, unfortunately only about, I think, Marcus might have had, I don't know, 15 snaps and J.B. 20 some, and we just need to work to get better and understand, hey, here's how they're trying to attack us.
Apparently Jim Cordle coming back this week is the savior to the offense. Just kidding, but it's so amazing how a question about the flow of the offense in last week's game can turn into Tressel discussing the play and lack of reps that his young offensive linemen received in the game. Tressel clearly did not want to discuss the mechanical issues of the offense or their lack of being able to adjust to the Wisco defense on their first three possessions and did what all great coaches should do when they want to keep something in the locker room-spun the conversation in another direction.
Speaking of the mechanics of the offense, Tressel would not come out and say he was worried about the development of the unit, but it seems, reading between the lines that there is some area concern amongst the coaching staff. Tressel was asked specifically about the offensive line play within that development and if he was more concerned about the offense after this game specifically and answered:
Well, I think when you talk about beating someone in the air, you have to talk about the whole picture. You have to talk about the protection, the routes, the quarterback play and so forth, and so when you have more people in the box, there's a few more protection issues and so that's what you work against when people are bringing extra folks. And we probably would have thrown the ball down the field a great deal more had the game been a little bit different, but each time we got the ball back after the long lull, the last thing in your mind was, hey, why don't we go three and out in 42 seconds. You know, you weren't going to think that way. And even though they might have had eight guys up there, we had to figure out a way to see if we could move the chains. I think the drive down for the field goal gave our defense a chance and so forth. I wish we'd have driven down for a touchdown, but it, A, burned up X amount of minutes and got us to a three-score game. Someone asked in one of the earlier things about the intentional grounding thing, didn't we think that Terrelle should have thrown it out of bounds. And I told them that I thought he was covering me knowing that Pettrey misses those close ones, so he was just trying to move it back into makeable range, might have been his thinking, I don't know.

You probably come out with less and I'll tell you why. If you play 70 plays, there's 70 plays worth of concerns because we evaluate them independent. You come out of there with 30 and it's like, okay, these six things happened or these nine things happened and so there's less to learn from and so to me the biggest concern is we didn't get the kind of practice that you need. Wisconsin got a heck of a deal. They got 89 plays, however many rushes Clay got, what did he have, 25 or so? Yeah, he got 20 reps at a very difficult situation. Quarterback had 47 throws, not to mention the times he didn't get to throw it, so he probably dropped back 50 some times. So you can learn a lot from that. So I don't know if I have more or less concerns or whatever. I have less data.
Granted the offense only threw the ball 13 times and had limited opportunities to make adjustments on the day, but I just feel like that is being used as an excuse. I, for one, am worried about this offense and though that games against Illinois, Indiana, and Wisconsin would have Pryor moving the chains on a consistent basis. Pryor continues to play Jekyl and Hyde, making bad reads like the interception he threw to set up the Badger touchdown early in the game, but has also come back and lead nice drives like the one at the end of the first half. With Purdue, Minnesota, and New Mexico State coming up before a tough November slate, now is the time for this offense to take a step up. If they fail to do so they can be in a lot of trouble when they go to Happy Valley to face a very good Penn State defense on November 7.
Once the reporters realized Tressel was not going to touch too much on the general play of the offense they decided to get specific, taking a shot to see if JT would answer any questions about the play of Terrelle Pryor. As mentioned above, Pryor has disappointed many these season and at times it almost seems he has regressed from last season. While Pryor is just a sophomore, he was expected to be a special player at Ohio State and Tressel had to answer to questions regarding his performance this past week:
I think the thing you do with any of us is understand that when things go just right, I probably didn't do it by myself and when things didn't go the way you'd like, it probably didn't have everything to do with me. Now, that being said, what is it that I can do better, whether I'm a coach or I'm a quarterback or I'm a left tackle or whoever I am. Do you like it when it doesn't go quite as well as you want it to? Absolutely not. But you know, that's one of the great lessons about playing this game or playing that position or coaching this game or whatever and so you have to -- we will all say one of our fundamentals is whether it be in football or life, you've got to handle adversity, which I think is a little bit instinctive to do, and you also have to handle success, which sometimes is a little harder to do.
You have to believe that Tressel's scarlet-colored glasses are not as tinted as they seem, but it has been known that he has a love affair with the play of his young quarterback. What a Buckeye fan needs to hope in this case is that Tressel knows what he is doing in terms of coaching and motivating Pryor so that he can develop into the player we are all waiting for to lineup under center. Chances are Tressel is trying not to call out the most important player to the success of the offense in the media and instead wants to deal with any issues behind the scenes. You have to wonder though if there ever will be a point where the head Buckeye has to come out and admit that things aren't going according to plan with Pryor's development.
Moving on from the criticism and looking ahead to the Purdue game, the offense will have a chance to get the wheels going again, but will be without one of their catalysts as Boom Herron re-aggravated his injury against Wisconsin. Herron has been ruled out for the game in West Lafayette, leaving the running back position with just Brandon Saine and Jordan Hall as the regulars who have seen meaningful action this year. Tressel spoke about this week's situation as well as who would be the third back against the Boilermakers:
I don't think we'll have Boom this week, I think we probably got set back a week or two and Marcus Williams was kind of the old steady, he knew everything to do, he probably wasn't going to carry it a bunch for you but he could do some things. Jermil Martin is a guy that has to step up. I'm the eternal optimist, I keep waiting for Jamaal Berry to be healthy because when he's been healthy he's been very, very good, but right now it's Brandon and Jordan. But Jamaal Berry has been back, got a lot of reps. He had to run a lot of John Clay last week but he got some of our stuff. And we're just going to have to share. We have to get our defense ready, but we also have to have three tailbacks ready, so at least we know we're in that situation. The hard part about the course of the game is all of a sudden Boom was in like his third play and he was out and Jermil didn't have that many reps. I guess the upside to the less plays was that's less plays at the tailback that particular moment as well.
It seems more and more likely that Jaamal Berry will red-shirt this season as the combination of him trying to overcome injuries and continually getting reps with the scout team do not exactly point to him playing real game snaps in 2009. Jermil Martin has been a guy who has been battling injuries as well this season but the converted full back can be the answer to the OSU short yardage woes if he can get on the field. Marcus Williams is a guy who has proven to be a smart runner and he probably has the best grasp on the offense out of the three, so expect him to be the first to see the field after Saine and Hall, if needed on Saturday.
Finally, when the Buckeyes do lineup against Purdue they will face a little bit of a different scheme then the Boilermaker teams they are used to facing in past seasons. After last season, Joe Tiller retired and new coach Danny Hope took over a program that is somewhat in shambles and finds itself in the conference cellar. When asked about the change in the Purdue regime, Tressel said:
They've probably lined up in the "i" with two backs a little bit more. If you had to say what's their primary formation, it would still be three wides and a tight end, which when they had Dustin Keller and those kind of guys, that was their base. I think the kid threw it almost 50 times Saturday, didn't he? Against Minnesota? So that's not far from what they've typically done. Defensively, I don't see them being a whole bunch different. Now, the coordinator's new, but three of the position coaches are the same. So I don't see them changing a whole bunch and I don't know how many of the offensive guys are new. Maybe two. That's one of the pluses of the coach in waiting thing that you're not bringing in nine new people. Especially, teams are about relationships and they've got, like I mentioned, all those seniors and juniors and stuff and they had relationships with their coaches and really at the end of the day how good you are at something is going to be based on how good your relationships are, so if nine guys him could in, it's a little bit harder to develop those relationships, so I don't see them being that much different.
If the Purdue scheme is as similar to Tiller's as Tressel seems to make it out to be then the Buckeyes should not have a problem with Joey Elliot and Co. this week. Throwing the ball 50 times or so against Minnesota means that the Buckeyes will try to bring the heat against Elliot, causing him to have to make quick decisions, hopefully leading to turnovers. Elliot has thrown 9 interceptions this year and if the Silver Bullets get after him the way they were able to pressure Scott Tolzien last week, it should be another victory for the Scarlet and Gray. If the Bucks are not able to get pressure on Elliot, expect to see the secondary have their busiest day of the season to this point after having a little bit of trouble against the Wisconsin receivers last weekend.