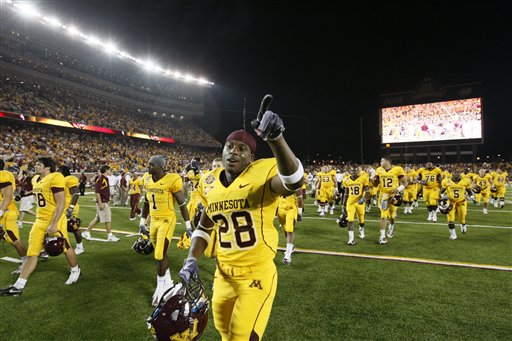 The 24-hour rule has come and gone. So too has the 48-hour rule for that matter. It's a new dawn, it's a new day, and Minnesota is officially on notice. Ohio State is in total control of their Rose Bowl destiny, and a new, politically correct (but oh so inaccurate!) list of who's playing where is out yet again.
Some brief post traumatic stress: inexplicably Andrew Miller is out as the principle backup/alternate starter at left tackle, and in his place is human turnstile Jim Cordle. Cordle's been a loyal statesman for the program, and deserves much credit as such for having played all 5 offensive line positions during his time in the program (center, rather admirably). That being said, Cordle was a de facto high occupancy vehicle lane to the quarterback's blind side Saturday against Purdue. Let's be clear: I absolutely abhor shortsighted football memes. From "the play calling/staff is to blame" every time the offense doesn't execute/show up, to "Ohio State needs more floppy bellies/Ohio State needs more trim 280 pound swift linemen" cliche du jour, to "Why isn't Ohio State recruiting the speed state more?", or whatever someone calling themselves [Insert Noun]Buckeye on a premium message board is postulating at any given moment. Unfortunately, Cordle actually makes the "[that lineman]'s just not athletic enough to play exterior line" stereotype ring true. But before you head to the Lane Avenue bridge, consider: these depth charts are, to some degree, a way to pay lip service to upperclassmen for their service. Particularly in Cordle's instance, let's hope he can find a way to spell time at left or right guard, but that reality doesn't ever necessitate him seeing any minutes of consequences at LT.
Moving on, two other notes on the offensive line this week, with freshman Marcus Hall potentially spelling J.B. Shugarts for rest (having already burned his redshirt) and fellow freshmen Jack Mewhort back off the depth chart again. I'm speculating that Hall's inclusion is more of as a place holder, and that if push actually comes to shove, Miller can spell Adams. Should Shugarts need a breather (or worse), ideally Cordle could be the man for the job (certainly better he see minutes at RT than LT). We learned in the middle of last week that Andrew Miller was finally given a clean bill of health, though had lost in upwards of 20 pounds battling a rather serious case of the flu. It may be unrealistic expecting Miller to be 100% back in game shape so quickly, but by the final 3 daunting games in November, he should be.
The other big news of the week is the absence of Dan Herron from the depth chart all together this week. Seven carry Brandon Saine (whom to his/the play calling's defense isn't exactly in charge of whether zone-read or speed option pitches are made or not) is still the starter, with frosh Jordan Hall listed as the top backup. Perhaps the most overlooked aspect of the complete breakdown in West Lafayette was the absence of Boom's usual sharp blitz pickups and his very underrated blocking abilities. Say what you will about Saine's superiority making action come to fruition, Herron's ability to provide an extra second or two for Pryor (who's far and away biggest weakness is his ability to handle blitzes) can make the difference between a completion to Dane Sanzenbacher, and someone in an opposing jersey possessing the ball. Herron will be sorely missed again should he fail to get the medical clearance to resume regular action.
There isn't a single change on the rest of the offense. #2 is still the quarterback and will continue to be so; your cries for a coached/developed by the exact same individuals 2-star whom also whas a knack for putting the ball on the turf are duly noted. DeVier Posey was the only receiver who made himself be known last weekend, so it'll be up to Duron Carter and Dane Sanzenbacher to help make TP's life that much easier. Smart, crisp routes, gaining separation when possible, and simply doing what everyone expects and not dropping the easy ones will go a long way towards making the entire offensive machine operate succinctly. There's no need to mince words as to the o-line's expectations for Minnesota. They were phenomenal against a tremendous USC line; there's no real reason they can't be again.
The defensive side of the ball also sees a remarkable zero noted changes. This is a good sign in Cameron Heyward's case, as the injury he suffered last weekend left many of us waiting with bated breath. Doug Worthington will have a chance to atone for a mental gaffe he admitted was haunting him post-game, and Todd Denlinger looks to continue to hold down a starting position with Dexter Larimore still sidelined. Nathan Williams continues to make opposing quarterbacks pay the price for electing to accept athletic scholarships at Division 1 colleges and should continue to see his minutes rise. Rob Rose and Garrett Goebel could also see time depending on how Heacock divvies his rotations.
Kurt Coleman, Kurt Coleman, Kurt Coleman. The senior, sure to be All-American safety graded out as a champion and then some against the Boilermakers and will look to continue being the vocal leader and leader by example alike for the secondary. Tip of the hat as well to Devon Torrence for recording his first career interception (with hopefully many more to come). Chimdi Chekwa will have the privilege (and challenge) of defending Eric Decker with Jermale Hines serving in the final starting secondary capacity.
Your specialists are identical to weeks prior. In review, Ray Small regressed to the mean dropping a costly punt, though Aaron Pettrey added another field goal to his season totals. Jon Thoma continues to be reliable though unspectacular. With little margin of error given the slow evolution of the offense, it could be up to this group to provide improved field positions, or even outright putting up the points themselves. Lamaar Thomas, we're still behind you brother. Take us to the promised land.