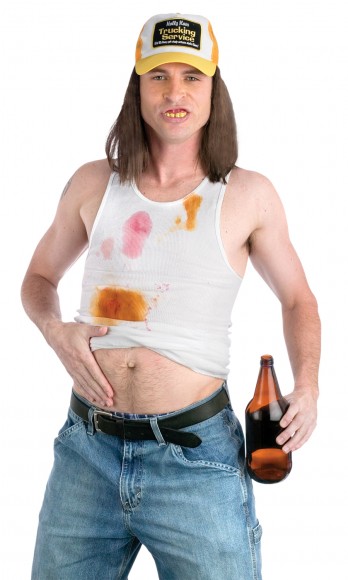 Today's the big day: Windows 7 is finally upon us! We're sorry to all of those early upgraders who were shocked and horrified to find 11W now looking only like this screenshot. 11W's crack staff of outsourced Polynesian coders are working without food, water, or sleep until the problem is resolved. For the rest of us, it's college football's eighth week.
We're still a good week away from Halloween, but we're starting to get the bug to dress up and act a fool. Costumed personas are en vogue, as we'd love nothing more than to see Terrelle Pryor dress up and play Troy Smith, Jonathan Crompton as Peyton leading the Vols past #1 'Bama (whom officially hate the holiday having vetoed UT's request to celebrate the holiday by going as The Great Pumpkin), and an otherwise vanilla college football afternoon masquerading as an awesome one (and bringing us all candy to boot) a little early this weekend.
Since reader Wil first suggested we resurrect spreads/picks, who knew how many kids I'd be putting through college? After going 6-1-1 last weekend, your resident gambling guru is now an absurd 18-5-1 on the year. Day trading is so 2008: bet these wild hunches, and all of your wildest dreams will come true (11W LEGAL NOTE: most, if not all of your wildest dreams, will NOT come true).
National Games
Connecticut at #22 West Virginia (-6) 12:00 p.m. - ESPNU In a bit of a more somber note, this game marks UConn's noble attempt at normalcy post a tragedy none of us should ever have to go through. The Huskies will honor the memory of corner Jasper Howard in a game that even in lieu of this unimaginable happening is still an important Big East conference matchup. WVU goes into the game 6 point favorites, but Randy Edsall and his bunch ride the tide of emotion to play the spoiler: 28-23
Oklahoma at #24 Kansas (+8) 3:30 p.m. - ABC (Regional) How odd going into this one the Sooners are the unranked, reeling ones. Vegas sees through the smoke and mirrors recognizes that Bob Stoops' team, even without the ailing Sam Bradford, are the one score favorites in this contest. The Fightin' Mangino's fell to lowly Colorado 34-31 last week, and despite hosting the Sooners, should have their work more than cut out for them. With trash stache clad Landry Jones the man for the Sooners on more than just an intermittent basis, expect the OU offense to help get back on track, 42-31.
Tennessee at #1 Alabama (-16.5) 3:30 p.m. - CBS The Third Fourth Saturday in October annual rivalry pits Lane Kiffin's upstart Volunteers against Nick Saban's #1 Alabama Crimson Tide. New Heisman front runner Mark Ingram leads Alabama, where as the unpredictable of late Jonathan Crompton tries to reprise his Georgia heroics against the Tide. This game could very easily prove the sort of SEC defensive slugfest you clearly take the under on (the O/U is 43.5 if you were wondering), and with Monte Kiffin's D going up against Saban's, expect the Vols to cover but wind up just a bit short, 17-26.
#3 Texas at Missouri (+14.5) 8:00 p.m. - ABC (Regional) Were the Horns squaring off on a Saturday night on the road at any number of Big XII South opponents, I'd be inclined to say "be on alert for the trap game of all trap games post-OU weekend". However, with the Tigers coming off back to back conference losses, even if Texas aren't quite mentally as dialed in as they were last weekend in Dallas, expect UT to keep on the march to Pasadena. Colt McCoy bounces back against the friendly confines of the Missouri secondary and Texas gets their offense back in rhythm 45-17.
Big Ten Games
Illinois at Purdue (-11) 12:00 p.m. - ESPN2 Okay, okay, bear with me here. Obviously this clash of titans isn't what it was in the early 2000s, but this game could prove of interest to even the most cynical of Buckeyes if inexplicably Illinois rediscovers offense and Purdue is walking a bit too high in the clouds following their huge upset win. Ron Zooks' hopes of self preservation may be a lost cause, but Danny Hope's once vaunted turnover machine could rear its ugly head yet again. Despite the potential for a letdown for the Boilermakers, I think they get the W, but Illinois plays Vegas spoilers 35-27.
Indiana at Northwestern (-5.5) 11:00 a.m. - BTN Despite not looking long for this conference much of last season, Bill Lynch's been able to help his group find themselves this season. IU's latest challenge will be going up against fellow 4-3 Northwestern. This one may not offer too much on paper, though the potential for a close finish could merit flip over status at the conclusion of what will hopefully be a return to form (2006 form, not uh, whatever last week was) in Columbus. This game is also completely worth your attention if nothing else for the sheer novelty awesome of Northwestern's leading rusher being named Arby Fields (Arby the R-B!). Northwestern may be fans of the five-for-five, but five and a half is cruel as the 'Cats fail to cover 36-31.
#13 Penn State at Michigan (+4) 3:30 p.m. - ESPN/ABC (Regional) The meat and potatoes of an otherwise forgettable Big 11 weekend, Rich Rodriguez' young Wolverines look to kill Penn State's still lingering Rose Bowl aspirations. Joe Paterno's been firing the verbal silos all week, proclaiming Tuesday that "[he doesn't] think Michigan Stadium is a tough place to play." It's possible PSU's Zombie-in-Chief was having a senior moment, was referring to the historic lack of crowd noise, or simply forgot where his team was playing this weekend when asked that particular question. However, his opinion won't be swayed by this wekeend's result as the Lions handle their business 31-24.
#5 Iowa at Michigan State (+1) 7:00 p.m. - BTN The final (and actually somewhat potentially compelling) contest of the otherwise scary Halloween weekend comes with Kirk Ferentz' undefeated Hawkeyes traveling to East Lansing to tee off with Coach D's Spartans. Numerous Vegas books have this one as an outright pick 'em, which may or may not be more of a slight to the Hawkeyes' notoriousness for playing down to their opposition or a belief that Sparty actually has it in them to ruin Iowa's championship aspirations. If Kirk Cousin's protection can find time for him to make the kind of plays he'll need to, and Evil Ricky Stanzi is the one under center for the Hawkeyes, expect the forthcoming Iowa-Ohio State showdown to be far less compelling than it could've been after Sparty pulls the shocker, 21-17.