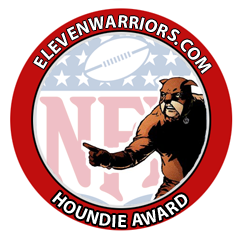 The Houndie is an award formerly known as the Buckeye NFLer of the Week. After 2 years of existence, we searched for a catchier name, so with the help of a well placed typo and the ensuing 11W comments, the current title was created.
What a tough week for the offensive Buckeyes, as both Santonio Holmes and Ted Ginn laid down stinkers in their respective road losses. Holmes only had one catch for 18 yards in Pittsburgh's 23-20 loss to the Bengals. I can't say I don't mind watching the Steelers lose, but I need Holmes to be more productive for my fantasy team (not a good week to have Holmes and TO on your team) and so do the Steelers.
Ginn is taking some serious heat down in Miami, after his 0 catch day. I thought Teddy was going to have a breakout season after his performance last Monday night, but with Pennington down for the year, he must now rely on a Wolverine (Chad Henne) to get him the ball. Ginn already lost both of his returning duties, so he doesn't have much value in Miami if he isn't going to catch the rock. Also, Brian Hartline was shutout as well in Miami's 23-13 loss in San Diego.
The best offensive performance was turned in by Michael Jenkins, who caught 5 for 78 yards in Atlanta's 26-10 loss at New England. Jenkins would have had a beautiful 36 yard TD reception early in the 3rd, but that was nullified by an offensive pass interference call, which was truly bogus. Also in that game, Joey Galloway caught 2 for 18 yards and Shawn Springs had 2 tackles.
It looks as if Beanie may not be the force we were all hoping for in Arizona this season. Even though he carried a ball around all week as teammates tried to strip him, he got just 2 chances to carry the ball, going for -2 yards in the Cardinal's 31-10 home loss to the Colts. In New York, Ben Hartstock caught his first ball of the year, a 2-yard TD pass from Mark Sanchez, getting the Jets an early lead in their 24-17 win over Tennessee. The Gun Show registered 3 solo tackles in that game as well.
The standouts were on defense, as a couple of players battled for this week's honor. First in St. Louis, AJ Hawk recorded 8 solo tackles and 2 assists, while Ryan Pickett chipped in with 5 solo stops in Green Bay's 36-17 win over the Rams. Little Animal had his production slowed, as he managed just 3 solo stops in defeat and his sidekick Larry Grant mustered just 1 tackle.
Nate Clements put up another strong showing as the resurgent 49ers lost a heart breaker to Brett Farve and the Vikings, 27-24. Clements returned a blocked FG 59 yards, as the first half expired, giving his team a 14-13 halftime advantage. Despite his 4 tackle effort and TD return, Farve crushed their hopes of a road victory with his last second throw and catch to Greg Lewis. Will Allen saw plenty of time down in Tampa this week, as the Bucs got dismantled by the Giants, 24-0. Allen was second on the team in tackles with 10, including 9 solo stops.
However, the best defensive stance of the week was put in by Will Smith of New Orleans. The Saints are off to a hot 3-0 start and their defense has shored up over the last 2 weeks, holding Buffalo to 7 points on Sunday. Smith registered 5 tackles, including 4 solos, an interception and a sack, both first on the season. This is Smith's first Houndie of the year, but with the offense the Saints possess, Smith should be able to pin his ears back and attack the QB all season long. His buddy, Malcolm Jenkins recovered a fumble and got a tackle in his 3rd professional game.