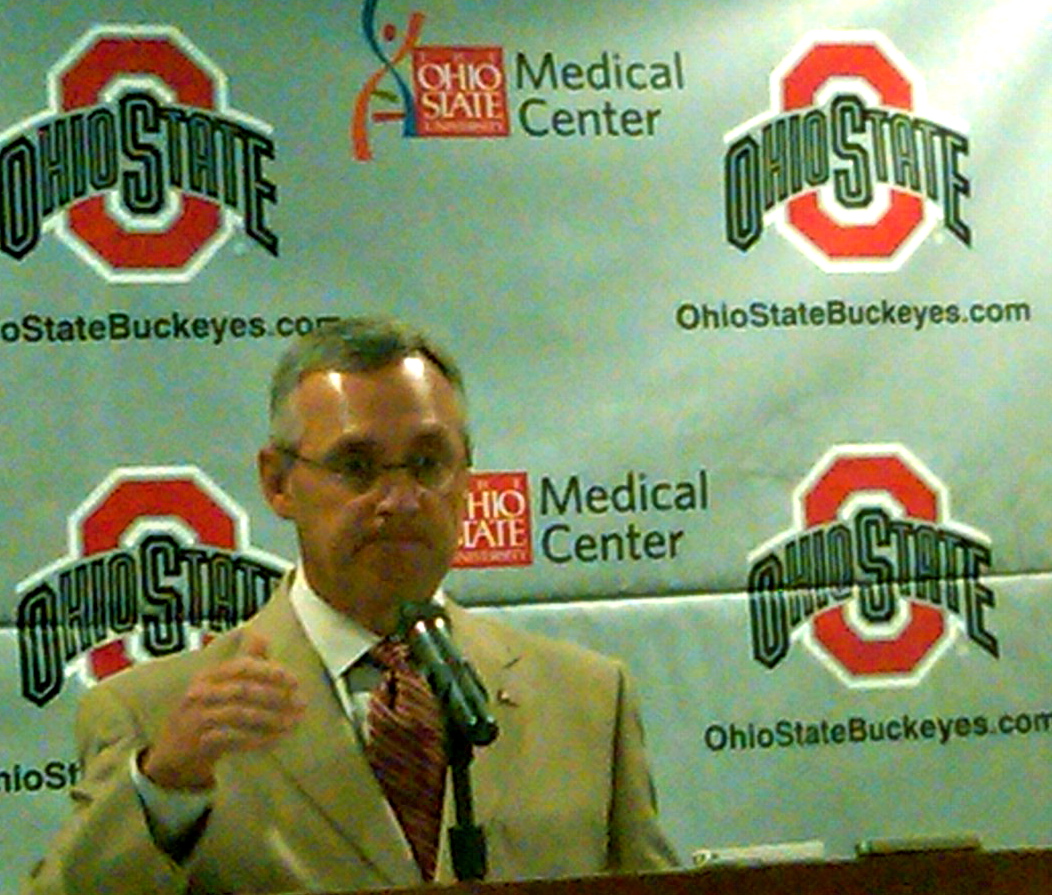 Heading into the first game of the season, Jim Tressel's weekly press conference made its return, and we were on hand to listen to The Senator talk about the Midshipmen, injuries, what players may red-shirt this season, the Michigan situation, and more.
As there were many topics to cover heading into the first game of the season, the presser was pretty lengthy in both time and content. As usual there were some questions answered (which freshmen will play) and some things that were left a mystique (such as who the fourth captain will be this week), but Tressel stayed true to his nickname and his stoic nature went unchanged when addressing the media at the Jack Nicklaus Museum yesterday afternoon.
Tressel was definitely excited about the start of the season and opened things up early by discussing that excitement after rigorous camp the team has gone through this pre-season:
They came in good shape. Probably had as good a fitness testing the first day of camp as we've had and I thought we had a good rugged training camp. And I hear some of the guys saying that it's by far been the most rugged one we've had. I don't have any proof of that, but they seem to be going hard at it and they spent a lot of time together.

We thought one of the important things with this group -- I think somewhere in the 35 to 37 range of people out of 105 had never been to training camp with us and that's a large portion of your team, so we felt as if they needed to spend a lot of time together and they did that during the preseason. They came up with some good ideas to spend even more time together and now they're anxious to get ready to go and play against a great Navy team.
It's good to see the team responded well to the camp that included innovative ideas such as "Hell Week" and had a lot of contact drills that were unforeseen in camps Tressel has run in the past. With the more physicality of this year's pre-season obviously came injuries and Tressel addressed some of those, as well as some other players who were in question for the opener on Saturday:
We're pretty healthy. We'll be close to full speed ahead. We've got, I think, five or six or seven guys that, for one reason or the other, perhaps doghouse reasons or injury reasons or whatever won't be with us, but really coming off a tough training camp, I feel pretty good. In fact, I even show that I would be accurate in not -- I even highlighted them on my personnel sheet here, of course you know Tyler Moeller, you know, won't be with us all season and that's -- you wish you had a guy like that. It's been good. He came back to town the last couple days and he's doing great and progressing well and there's no question in our minds that he's going to be back playing for us shortly after the new year and into spring practice and so forth.

Melvin Fellows will probably miss a little bit of time. Mike Adams, Orhian Johnson, Travis Howard, Jermale Martin won't be with us probably on Saturday, but outside of that, even some of the guys that as you've been out of practice and so forth that haven't looked like they were full speed seemed like yesterday and in today's report seemed like they're going to be full speed with us. So to have a good, tough training camp and be relatively in good stead, we feel good about that. It's going to be a nice, hot day. We're going to need to make sure we have lots of folks.
It's good to hear that Moeller is up and moving around and will be able to play come spring ball. Fellows had surgery after last season and with a deep defensive line, will probably red-shirt this season, which will be beneficial to his future in Columbus. I haven't hear anything about Johnson or Martin, and while I know Howard was banged up a little, he and Johnson were both listed on the two-deep for this week's game at corner and safety respectively. All three of those guys should be good for USC and probably will not go this week unless absolutely needed.
As for Adams, you may have noticed Tressel indeed did mention "some guys" would miss the game for dog house issues. As reported last week, it is speculated that Big Mike has been suspended for the first two games of the season. The Vest was actually asked if Adams was suspended and did not say yes to that, but suggested off-the-field issues have lead to him being third on the depth chart. Tressel did not rule out Adams against USC, so it will be interesting to watch the next week or so to see what happens with that situation.
In addition to injuries, Tressel also discussed the new freshman and talked about who would most likely play this year, who is on the bubble to red-shirt, and who most likely will not see action in 2009:
I would say Jamie Woods at safety is probably on the bubble. He's on some special units in two deep but we'll see. C. J. Barnett probably will, because he's on a couple special units. Right near the top we'll have to see this week of practice. Dorian Bell probably will. Again he's on some special units. Jonathan Newsome probably is on the bubble as to whether he will or won't. Obviously all of it's based on health and everything else. Storm Klein will probably play. Jordan Whiting is probably on the bubble.

Adam Bellamy probably will not based upon our depth inside there. John Simon probably will. Let's see who else we've got here. Melvin Fellows, I mentioned won't. Jack Mewhort is probably on the bubble in the offensive line, he's in the two-deep but we'll see how that unfolds. One thing Coach Bollman is comfortable with is we've got three or four guys that can play center. Sometimes you get nervous about you don't have enough centers, make the calls and snap the ball and all the rest, so Jack's been doing a good job in there.

Marcus Hall is on the bubble, but, you know, probably closer side of the bubble, whatever that means. Corey Linsley probably will. Reid Fragel probably will. Duron Carter probably will. James Jackson and Chris Fields, probably on the bubble, maybe more towards the side of the bubble that might not, according to how our depth is going out wide and so forth. Kenny Guiton right now is number three, so we'll see. Jordan Hall and Jaamal Berry probably will. Zach Boren and Adam Homan will. Dominic Clarke probably won't. Corey Brown, on the bubble, probably closer to the bubble not this week, but we hope we stay -- you never know. And you never know how guys progress.
Unlike many years, there is no clear view of which players will likely play this year, but from what we gather: Wood, Barnett, Klein, Bell, Jackson, and Brown will all at least get special teams minutes. Simon, Linsley, Mewhort, Hall, Fragel, Boren, Homan, Hall, and Berry will al be in their position's rotations. Likely to red-shirt are Fellows, Fields, Newsome, Clarke, Guiton, bellamy, and Whiting.
Buckeye fans who want to see the new blood of the program play will certainly get a chance as 6 freshmen are in the two-deep and 22 freshmen and sophomores make that cut as well. One interesting tid-bit I picked up was that both Berry and Hall will play alongside Saine and Herron (Martin is injured for week 1), giving the Buckeyes their own "stable" of running backs heading into the season.
Tressel then went on to talk about the team developing from last season and how it has been a challenge with so many young players and new faces on the field. He was asked about the progression of Terrelle Pryor, the Buckeyes' most important player this year, and said this about his sophomore quarterback:
I think his excitement level is about the same because he's always excited to play. I think his basis of what he knows and what he's experienced and so forth is dramatically different. A year ago this time, he was getting, I don't know, 15, 20% of the snaps and just doing a very limited amount of things and just trying to figure out what the formations meant.
Now, he's studying film like crazy, really -- has really progressed. But he'll be excited, he'll still be nervous, he's still a sophomore but he's got a tremendous amount more vantage point than he had a year ago.
It's good to know that LiC has taken the steps to mature both on and off the field, but the real question Buckeye fans have is will Jim Tressel open the playbook? One reporter had that same question in mind and Tressel responded:
You know, he's got all the changes at the line of scrimmage and protection calls, sight adjustments and based upon what we'll do, the better you get you probably do less, and so we'll hold back from a standpoint of what we don't think we're executing yet very well, but as to what needs to do to play his position, he's got to do it all.
Taking away all the code language, the answer is that the playbook will not be completely open until TP masters it, which is fair as you do not want to have him running plays where there is a room for consequential error. In retrospect, Pryor is a great athlete and has developed as a passer, so you have to hope that JT lets him go a little. Assume you will see the same old, basic stuff against Navy unless otherwise needed, and expect to see a little something different in week 2 against USC when it comes to how the Bucks use Pryor.
A hot issue this week has been the selection of captains. Kurt Coleman, Doug Worthington, and Austin Spitler, all defensive players, were named the team's three captains. Usually OSU has two captains on offense and two on defense, but this year Tressel told the team to vote for the three players they felt were the best leaders. Coleman, Worthington, and Spitler won out, and an rotating offensive captain will be used each game. Tressel spoke more about this process:
I don't know what we call it, but the fourth guy that walks out to the toss. You're only allowed four, so to answer that one [if captain for the Navy game has been determined], no, not yet. The reason we did it just like we do every year when we look at the voting and you see what the voting tells you to do, I think there was one year here when Donnie Nicky and Michael Doss were the captains and offensively we walked two other guys out. One year I think James Laurinaitis was captain and a different defensive guy walked to the toss. So it just varies. But the voting kind of shows you who the team would like for sure and then there's a whole smattering of other guys that say, man, you know, they got significant votes so they ought to get to do this some, but you can't walk nine guys out there.
Asked if a younger player like Pryor or Boom Herron could be a captain for one of the games this season, Tressel did not rule anything out:
That will be an offensive decision. I know a year ago or two years ago when James was the only one on defense, the defensive staff and team and seniors decided each week. That will be an offensive decision each week.
It seems that Worthington, Spitler, and Coleman held an overwhelming majority in the voting and it is probable that Jim Cordle, Jake Ballard, and possibly Terrelle Pryor split votes on the offensive end. It's a little interesting that Tressel did not rule out Pryor as a captain, but if the players are voting, you have to think it will either be Cordle or Ballard who walk out on a weekly basis, and you can bet a fair sum it will be one of the two for the opener.
Another trendy topic that seems to be brought up every off-season is staff changes (or lack thereof in the fans' minds). Tressel said while there were no major staff turnovers this year, some things will be different when it comes to gameday:
I think there's two changes. Obviously Joe Daniels. Nick Siciliano I don't know is going to be on the field. Doc Tressel is going to go up in the press box and then Luke's [Fickell] coming down on defense and Jim Heacock's going up.

Some people feel as if they can see it much better upstairs. Other people feel as if they need to feel the game from the side line, it's a little more difficult to feel it from upstairs. I think the two staffs did it more on the makeup of their staffs as to who they wanted doing what at this moment.
In my opinion, this was the most interesting piece of information from the whole press conference, as it could show more than what's leading on. I think you have to look at the Heacock-Fickell switch as a sort of changing of the power in the sense that Fickell may be getting more of a say in the defensive calls. At the least, he is clearly the guy they want down on the field coaching the players in the game and this change could have been what was discussed when Fickell flirted with Notre Dame earlier in the off-season. Many think Fickell will eventually be the sole defensive coordinator on staff and has a shot at one day replacing The Senator when he retires. This could be the first step in a process that brings him either of those positions in the future.
Looking at this week's depth chart, the offensive line seems to be set with a look of Miller-Boren-Brewster-Browning-Cordle. I love the B-Boys on the inside, and Cordle should hold up at right tackle, but Miller is certainly a big question mark on the left side. The offensive line has not looked great when we have had a chance to see them this fall, but Tressel said lately that is not the case:
I mentioned to Earle when we were outside enjoying that good Donatos pizza that I thought yesterday's practice -- and again, we had kind of limited down, sometimes in preseason you get to doing so many different things, we'll be doing this against this kind of looks or doing this -- or doing a million things and how do you do any of it fast? So we had narrowed down a little bit of what we might do. And I thought yesterday in full pads, it wasn't like it was shorts or anything, in full pads, that our offensive line looked a little bit crisper and quicker and more confident in what they were doing than I had seen them in the last week or so.

So, now, we've got to block the real guys coming up and all that type of thing, but I think -- you know, I think I mentioned to you a week or so ago, I thought they were showing some signs, you mentioned Andrew Miller, I think really going as far back as last spring, he was coming along and taking advantage of opportunities and he's a tough guy. To me the key with the offensive line is no different than with the quarterback. If you do what they can do, then they're going to have a lot better chance of being successful because the other guys are allowed to try too. But you've got to do what they do best.

Michael did a good job stepping in as a freshman and he had some tough moments. Every play wasn't wonderful. Every game wasn't wonderful. And I'm sure we have to remind ourselves that he's a sophomore. But I think he's pretty darn solid and understanding what we want to do. Jimmy Cordle has made the move outside, which a little bit like what Doug Datish did, and Jim Bollman felt Doug had his finest year, the year that his quickness could kind of take over and not have those 320-pounders over him all the time and that type of thing. But Mike has been solid this summer and Jimmy's move outside seems to be a good thing and Bryant is steady. Bryant is good at tackle and I think even better at guard.

Justin's been back now for five or six practices and looks very good. We tease him a little bit because he's got fresh legs, everyone else is exhausted, he's out there because he didn't practice for a while. So I'm sure that as you look at any lineup in game one, it isn't going to look exactly the same throughout the year, if you're lucky to have no injuries or something, you're awfully fortunate, but hopefully we can build a little bit of depth, but that's going to be key. Coach Bruce reminded me today that the key is in the trenches and he's right.
Although you never know until you hit the field on Saturday, it is good to hear Tressel discuss the improvement of the line this week. It seems Boren's return has given a bolt of energy to the unit and Miller is playing with a lot more confidence now that he has been given the starting job, at least this week. The Vest seemed pretty comfortable with Brewster and Browning on the inside, and if Cordle can be as solid as Datish was, I think the line will be just fine this season. The play of this unit, as Coach Bruce said, will be the key to the season, so these guys better continue to progress as they have this past week.
Finally, the Michigan issue had to come up sometime, didn't it? As everyone on the planet knows, Michigan is under investigation for potential violations of NCAA rules which allow players to practice and train only a certain amount of hours per week. When asked about what was going on up north, Tressel did not shy away from the subject and discussed what they do at Ohio State to prevent things like this from happening:
Well, we all have compliance forms and so forth that we fill out and so forth. I mentioned on the Big Ten call when someone asked a similar question is that what makes it difficult is how good these kids want to be. Sometimes you have to chain the doors of the Woody Hayes center, you know, to get them out of there. Act like you're cleaning the floor of the weight room or something because these kids want to be good. They want to train. They want to get their buddies in there and throw the ball around, those kinds of things.

So what's important is, A, we're not around and, B, we don't prescribe things. Do kids ask, hey, what do I need to do to get better? Okay, son, you need to work on your foot work, you need to do these things and so forth and if they go out and do them, it'd be like telling our med students, we're going to close the library, you've got to let them go to the library, you've got to let them train. There is a fine line, but the safeguards we have are we have set schedules and forms that we fill out, just like everyone.

I think we all have those moments in our lives that we feel a little bit like maybe more is asked of me than is fair or whatever, but I haven't seen -- you know, I've never had anyone come into my office and say, hey, Coach, I think too much is being asked of me. In fact, honestly, I've taken over two programs and been an assistant for a third and whenever you go to a program and you interview each kid that comes in, he says, you know, Coach, we lost our discipline, we lost our toughness, we need to work harder, we didn't spend enough time at it, you know, all those things, and we need to work more at it. So I think deep down kids want to work hard and I haven't had anyone come in and say, you know what, Coach, we spent too much time at it and that's why we didn't do as well as we wanted to do.
Classy once again is Tressel as he stays away from taking a direct shot at Rich Rodriguez, while showing that his players voluntarily want to get better. Of course players all over the country spend more than 20 hours a week training and practicing, but it is up to the coaches and program personnel to make sure that it is the players' choice and not forced upon them.
It seems that Rich Rodriguez came into Michigan and demanded things of his players that were not unreasonable, but as multiple media outlets have expressed, he did not have the trust and respect of all of his players before they were asked to participate in such practices. Clearly Tressel has implemented a desire to be the best in his players' minds and they in-turn want to do the work to help make the team better as a whole. Michigan was not at that point when Rodriguez's staff came in before last season, and thus suffer from the consequences just a few days before they open up their 2009 season.
---
If you're interested, here is audio to Tressel's press luncheon and player interviews after practice on Tuesday.
| | |
| --- | --- |
| Jim Tressel's Press Luncheon | |
| Jake Ballard | |
| Jim Cordle | |
| Todd Denlinger | |
| Aaron Pettrey (Windy) | |