They say defensive backs need a short memory. Getting burned for a big gain on one play should not affect the next. Anything otherwise usually allows doubt to creep in and an eventual downward spiral of quality. Whether Anderson Russell knows this or not I'm not sure but, as we all know by now, he had one his more forgettable games last Saturday gifting two touchdowns while showing less than ideal coverage skills in the process. Unfortunately, his run support was almost non-existent as well so word of a potential change in the secondary is welcome news to many.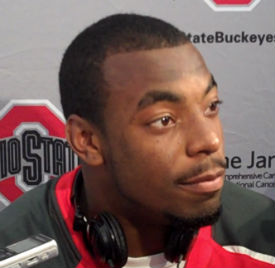 As Alex reported yesterday, Jermale Hines worked with the starters along side Kurt Coleman. To leverage their skill-sets, the two flip-flopped positions with Coleman moving to free safety and Hines handling the strong safety duties. On the surface, the change involves more than just removing Russell from his starting duties. It also puts both Coleman and Hines in positions to showcase their respective strengths. For Kurt, that would be his coverage skills as evidenced by his beautiful theft on Saturday and for Jermale, it would generally mean inching toward the line of scrimmage to support the run.
Dig deeper and there may be even more to this than meets the eyes in terms of overall impact. It gets our best defenders on the field with Russell still playing situational downs as personnel dictates. It also attempts to cure the problem when USC strong-arms coverage by going with five receivers, which sometimes means Ohio State just can't simply play zone.
Perhaps most importantly, it may shake up the defense enough to rattle the opposing quarterback into a turnover or three. Russell for whatever reason has never came up with or caused many turnovers. We have little data on Hines compared to Russell but it's difficult to think things would actually worsen. And, it would be unwise – if not irresponsible – to believe this young Ohio State offense will play turnover free. So, the defense needs to get some takeaways of its own because past history shows USC thrives on them. In their four most recent games with Big Ten teams, they are a healthy +8 in turnover margin.
So, where am I going with this? I'm not sure other than I know I'm inclined to agree with the changes at safety where reversing the big play and turnover trend will be key Saturday night. It is a calculated risk that needs to be taken. We know what is possible if no changes are made at all. Then again, I may be grasping a straws thinking, hoping the likely change at safety will make a significant impact?