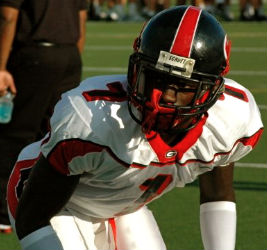 In our "Catching Up With" segments we usually try to interview players who have committed or signed with the Buckeyes, but in this case, with the help of Josh Barnes, we were able to catch up with Cleveland Glenville defensive back Latwan Anderson.
Anderson, ranked as the 17th best player in the nation by Rivals.com, is being recruited by Ohio State, West Virginia, Georgia, Miami, Cincinnati, and others. He transferred to Glenville from St. Edward in Lakewood, Ohio before the 2009 season and leads what is arguably the state's best secondary along with fellow Buckeye recruit Christian Bryant. While there have been questions regarding his academics, there have been no questions regarding his talent and he is certainly a player Buckeye fans will want in Scarlet and Gray if all works out in the classroom.
We caught up with Anderson to find out the latest on his recruitment, how playing at Glenville is going, when he will announce his decision, and more.
What has it been like to play at Glenville and for Coach Ginn? It's been real fun playing with a bunch of guys who love to win and play for each other. Playing for Coach Ginn is a really good thing, not just as far as football because he has never once coached football to me. He coaches me on how to become a better person in life and how to make it in the world after football is over.
What are you looking for in a school? Have you decided when and where you will visit I'm just looking for a school that will take care of me on and off the field, not just while I'm there, but also once I'm gone. I don't want to end up in a place where they only care about me during football season so that once I'm gone I don't matter anymore [to them].I'm still not sure on visits yet but I'm taking three official visits for sure.
Do you have an idea of when you would like to announce? I will be announcing October 10th, my birthday, the day I turn 18.
What is your current situation with Ohio State? The current status is OSU has offered me and they are on the list i prefer not to say where but they are on it.
What do you like about each school that has recruited you so far? Out of all the schools on my list what I like about all of them is how they have very good academic success and they have coaches that care about their players beyond football.
What has been your favorite and least favorite part about the recruiting process? My favorite part has been meeting all the other top rated players around the country and also the coaches at the big time universities. My least favorite part would be all the phone calls I get. It drives me crazy at times.
Would you like to play college ball with any of your teammates? Yeah, I definitely would. I'm hoping at least one or two of us are all going to the same place.
And now, the highlight reel: