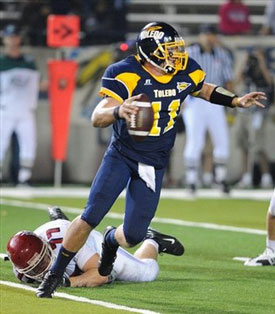 What better way for the Buckeyes to get the bad taste out of their mouths than to get up for a matchup with the nation's leader in total offense. Yes, that would be Toledo senior quarterback Aaron Opelt and his 437 yards of offense per game.
It didn't always come easy for Opelt. Though the Fremont Ross product became the first freshman to start for the Rockets at quarterback in 23 years, the offense sputtered under coach "Toledo Tom" Amstutz. Opelt would have breakout games here and there, but could never put it together for a run. As a sophomore, he led the Rockets to a 5-7 record and followed that up with a 3-9 run last season. There was that notable win in Ann Arbor, but Opelt's offensive performance that day pretty much summed up his career heading into this season: 33 of 50, but held under 300 and without a touchdown.
When Amstutz retired at the end of last season, the university plucked defensive coordinator Tim Beckman away from Oklahoma State. Citing what he'd learned as a coordinator in the Big 12, Beckman made it known in his very first presser that the team would be installing a spread offense. And Opelt was like, "Tell me more."
Just two games into the Beckman era at Toledo, it's safe to say the new offense is a roaring success. Toledo is 15th in the nation averaging 42.5 points per game. Those weren't earned on cupcakes, either. The Rockets opened with Purdue and went down swinging 52-31 in West Lafayette. The following week, they welcomed Colorado to town and promptly hung 54 on them in a 16 point win. That's 30+ against two BCS conference opponents.
Opelt, of course, is the reason why the offense is cruising. In the shootout with Purdue, he was 41/67 for 423 yards and two touchdowns. Last week against the Buffaloes, he cooled a bit throwing the ball, only going 15/23 for 319 and four touchdowns, but he added eight runs for 109 yards and two more scores. If you're keeping score at home, he's 56/90 for 742 yards and seven total touchdowns through two games. And that's just through the air. Granted, the Purdue and Colorado defenses won't be confused with the Steel Curtain any time soon, but the man is getting it done.
Opelt has a quality group of receivers to distribute to including freshman phenom (MAC phenom, at least) Eric Page. Also, unlike anyone on Ohio State's roster, Opelt has experience playing a college game in an NFL stadium. He was on the beating end of a 45-3 decision against Pitt at Heinz Field in 2006. Not that I expect something so trivial will matter this weekend when the other team has a decided talent advantage and a ferocious defensive front, but hey, at least you know now.
The Buckeyes might struggle at times getting to Opelt because he gets the ball off so quickly (Heacock stopped just short of comparing him to Brees this week), but with the way the defense rotates in padded junkyard dogs, over the course of the game, the pressure, hurries and hits will increase in frequency. Hines, Rolle, Gibson, Heyward, Torrence and all of your new favorite players should have no problem getting up for the challenge and that usually means good things for us.
It's also nice that it's no longer like it was earlier this decade and in the past when it was quirky preparing for a team that runs the spread. The Buckeyes see them all season these days and the defense is probably better equipped to deal with that type of offense than it is pro style offenses. Credit to the Buckeye staff on that one. Now if we could just schedule 12 spread teams a season...