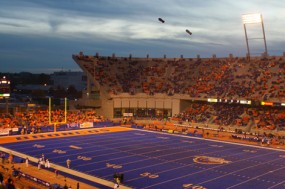 The Third Day of September in the Year of our Lord two thousand and nine is finally our reality. No longer shall we be forced to dignify our evening's cocktails with "but it's college football-eve-eve-eve!". Instead, "but it's Hawaii-Lousiana Tech" will be our venerable Black Card of fine living capital.
In spite of 51.4% of this weekend's contests involving a competitor from the conference formerly known as Division 1-AA, this slate is your first six-pack of Fat Tire after 5712 hours of being only allowed to tailgate with nothing but fermented Kikkoman.
National Games
South Carolina at North Carolina State, 7:00PM Thursday - ESPN
Ordinarily I'd start with something to the effect of "let's take a minute to disregard last season's thoroughly unwatchable 34-0 shutout and equally failosophically rich 3-0 first half (seriously, North Carolina State's Cerberus of quarterbacking shame were a combined 5/20 for 49 yards, 0 scores, and 2 INTs)", but these are real flesh and blood human beings playing real collegiate football of consequence. It doesn't hurt that both teams evolved beyond a showing that would make the Miami-Florida State Monday Night opener of yesteryear (good news! They made it into a trilogy!) blush to both make bowl games. Did we mention this is REAL, LIVE COLLEGE FOOTBALL?
#16 Oregon at #14 Boise State, 10:15PM Thursday - ESPN
Purchase those two 5-Hour Energy's now, because you're most assuredly going to need them Friday morning. The 14th ranked Broncos finally manage to secure a return trip from a BCS club, their Pacific Northwest neighbors the 16th ranked Oregon Ducks. Former New Hampshire head coach and renowned offensive guru coach Chip Kelly makes his debut as the Ducks' head coach, as Chris Peterson and co. look at their only real chance to make a legitimate claim to a BCS worthyness. Boise State's second most high profile opponent could wind up being Nevada. For the Ducks, an impressive road win over a perennial non-BCS conference darling could help fast track the Ducks for a quick sprint up the polls.
#11 Georgia at #9 Oklahoma State, 3:30PM - ABC (Regional)
Will Zac Robinson start? (Yes.) Will Georgia look anything like the team picked by many to win the national title in 2008 without any proven playmakers outside of A.J. Green? (Probably not.) Can Oklahoma State play a lick of defense under new coordinator Bill Young (late of Miami 08, Kansas 07)? (We hope?) Any game with this many questions going into it will likely be ripe with football MSG (see: leaving you hungry an hour later), though given Dawg fan's Bollman-like hate for defensive corodinator Willie Martinez and Mike Gundy's career body of Leachian defensive stylings, this one could wind up with shootout potential. Certainly worth the majority of your attention in the vaunted late afternoon block.
#20 Brigham Young vs. #3 Oklahoma, 7:00PM - ESPN
Another team with Cinderella designs take their spreadtastic stylings east to Jerryworld to battle last season's national runner ups (and alleviators of much national criticism from all things scarlet & gray) the Oklahoma Sooners. Bob Stoops' M.O. in these early season out of conference contests is typically to destory the opposition mercilessly, leaving much false hope on the horizon, however, should Bronco Mendenhall and co. escape Arlington with more than just some quality Xbox 360 time, their chances at a BCS payout would be sure to increase a hundredfold. Senior quarterback and dark horse Heisman candidate Max Hall will get to match wits with defending stiff-arm trophy holder Sam Bradford in a game in which we should get to see how a prolific passer fares with 5 near complete strangers attempting to defend him from the opposing defense.
#7 Virginia Tech vs. #5 Alabama, 8:00PM - ABC
For the second straight year Nick Saban (hint: everyone else in conference who's school name's don't rhyme with Boredya) walks willingly into a nationally televised primetime kickoff weekend game against a preseason top 10 opponent from the ACC, this year Frank Beamer's Virginia Tech Hokies. Alabama's Greg McElroy sees his first action as the Crimson Tide stater, while Tyrod Taylor tries to improve upon his 2 TDs in 2008 (you read that 100% correctly). As much as I keep trying to logical fallacy myself into taking the Hokies, reason (and the 'Bama D) leave me with little other recourse except to expect another SEC out of conference reason for bragging rights.
Big Ten Games
Illinois vs. Missouri, 3:30PM - ESPN
If anything can steal your attention from Georgia-Oklahoma State, it's this annual early season border state rivalry. Juice Williams and Regis Benn look to assert themselves as back to their 07 form early and often against a Gary Pinkel coached team looking for an identity post-Chase Daniel and Jeremy Maclin. Yeah...
Minnesota at Syracuse, 12:00PM - ESPN2
GREG PAULUS. You hated him at Duke; now you can hate him as the Orange begin their unofficial audition to join the Big Ten, battling the the Fightin' Brewsters and Nittany Lions in consecutive weeks. The former Blue Devils starting-point-guard-turned-pine-spiritual-leader makes his much anticipated collegiate football debut, a full 5 years after being tossed around as one of the best quarterback prospects in the country can now look forward to being tossed around by athletic large men 3-times his size in maroon and gold. Tim Brewster returns for his 3rd season as the Golden Gophers headman and gets a righteous slow motion jumping high five for actually having the audacity to open his team's season on the road.
Northern Illinois at Wisconsin, 7:00PM - Big Ten Network
The Badgers, unlike certain members of the conference (THIS MEANS YOU SPARTY, HAWKEYES, HOOSIERS, WILDCATS) get our hat tip for actually scheduling FBS opposition in their opener. This game should be interesting to see where John Clay and Bret Bielema's '09 Badgers are at, particularly after a dissappointing '08 which included a should've lost game to FCS Cal-Poly. The Huskies premiere new head man Jerry Kill just brought upstate after a thoroughly successful tenure at Southern Illinois.
Western Michigan at Michigan, 3:30PM - ABC/ESPN2 (Regional)
This week can't get any worse, can it? Can it?