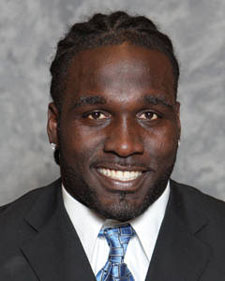 With so many new contributors this season, we're taking a closer look at a handful of the key newcomers.
Brian Rolle
LB/JR/#36
5-11/221 - Immokalee High School (FL)
Brian Rolle came to Ohio State as part of the 2007 recruiting class. A four-star recruit in each of the two major recruiting services, Rivals listed him as the 17th-best outside linebacker in his class while Scout chose to be more specific, ranking him as the 6th-best weakside backer in 2007.
A two-time all-state selection, Rolle is the only two-time winner of the Naples Daily News Broxson Trophy given to the best football player in South Lee and Collier Counties. That statement is even more impressive when you consider that Immokalee also produced Edgerrin James.
He finished his senior season as the anchor of a defense that set school records for points allowed in a season (36) and shutouts in a season (6). Rolle's final year numbers were an impressive 125 tackles and 902 yards rushing and 17 touchdowns from the fullback position. All of this was good enough to earn offers from Ohio State, West Virginia, Florida, Wisconsin, Notre Dame, Nebraska, Iowa and over twenty others. He never did visit the Gators and the Hurricanes, the team he loved, didn't pursue him, so signed with the Buckeyes on December 12, 2006, less than a month after taking his official visit to Columbus. The Buckeyes would be getting a guy that loved to hit:
Once in Columbus, despite being what some would consider undersized for a linebacker, Rolle made his presence known. Laurinaitis, Freeman and Grant had the top spots locked up, but Rolle got into the mix on special teams. He lettered his freshman season on the way to 18 (mostly special teams) tackles and a first career sack coming against Kent State.
As a sophomore in 2008, he was still buried behind Laurinaitis, Freeman and company, but saw his minutes go up slightly and he earned a second letter after recording 21 tackles (including a career-high five against Northwestern). Another highlight came against Michigan State when he recorded his first career interception.
Heading into this, his junior year, he started to make some noise in spring practice (literally, the tales of his pops were numerous) and followed it up with a stellar spring game where he led both squads in tackles with 11, eight of them solo.
Clearly, he was in the running for significant playing time this fall, though there were still concerns from some fans over his height and there was also the problem of Spitler, Homan and Moeller being penciled in above him on the depth chart. When the news of Moeller's season-ending injuries hit two weeks ago, Rolle was the primary beneficiary and immediately began working with the ones at middle linebacker. No doubt aware of Moeller's situation, he was confident enough to tell the Columbus Dispatch in July that there was a 95% chance he would be starting this season.
At any rate, Rolle has been content to bide his time waiting for his opportunity and is poised to make the best of it now that it's here. In fact, he's embracing the "no-name" mindset of the unit after losing so many big names to the NFL and even has a message for fans worried about the Trojans.
"We got a feel for them," Rolle said of the Trojans. "Still, it's no excuse to get beat 35-3. Now we know how they play.

"I'll argue this to death, but people will be shocked after that game."
We hope.