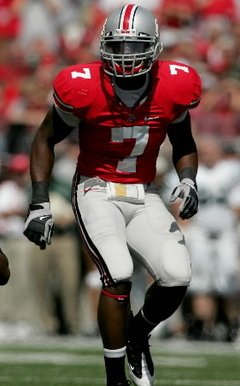 Though the university has yet to confirm Tyler Moeller's status, Rittenberg reported last night that the projected starter at weakside LB is likely out for the season following a procedure to reduce swelling on the brain this past weekend. Other unconfirmed reports address the rumor that Moeller was indeed sucker punched forcing hospitalization in Florida before a complication led to Moeller's admission to OSU Medical Center in recent days. Tressel is scheduled to meet with the media later this afternoon and hopefully he'll provide some clarity on Moeller's situation. Bottom line, this is sad news for a great kid. Senseless.
A portion of our readership took the news with a grain of salt but after what Moeller showed us when given the opportunity last season (see Illinois, for example) combined with a strong spring showing, I think it's safe to say his absence will be felt.
Having said that, the good news is the hybrid linebacker/nickel Star position he was expected to fill features what appears to be strong depth. In fact, other than DE, I can't think of another position where OSU could more easily absorb such a meaningful personnel hit.
Depending on the opponent and what type of scheme Heacock chooses to employ week to week, LB Brian Rolle and safety Jermale Hines seem to be the obvious benefactors of Moeller's misfortune. Against more traditional offenses, Rolle would most likely see increased snaps with Homan and Spitler forming a conventional 4-3 look whereas Hines would be the first choice in the nickel package.
One particular facet I liked about Moeller's game that will be missed is his versatility. Though he wasn't a goal line stopper in run support, he was still an effective tackler in space, he got the job done off the blitz and was fairly effective in pass coverage. Hines projects as the most similar player to what Moeller brings to the table and I agree with Lesmerises, Hines could be ready to blow up. With experience and trust earned last season, expect Heacock to lean on him heavily.
As for Rolle, he's eager to prove himself and will get plenty of chances to do so but likely only when Heacock expects the run. Etienne Sabino will also get some looks as many think he's got the skills to not only stop the run but also cover a TE or RB out of the backfield. Long shots include guys like Storm Klein and Dorian Bell but I can't see either of those two having an impact unless something of Nancy Kerrigan proportions unfolds outside the WHAC.
Assuming Moeller is gone for the year, who will see the most minutes in his place? If you were Heacock, how would you approach the situation?
Small Talk
The latest twist in History-Gate was provided from Ray's daddy Ken yesterday when he informed us his son plans on joining his teammates in the coming days. The delay is solely the result of a Ray completing a paper that will favorably impact his grade in the history class but the new grade has yet to post.
Gordon's blog had a great quote from papa Small. I almost teared up:
He's standing there, shaking, anxious, walking back and forth," Ken Small said of his son's mindset. "He just left to go to the counselor's office to try and push the coin a little faster."
Don't you just feel terrible for all this professor is putting Ray through? Me neither. Even if Small eventually rejoins his teammates, I wonder if he'll ever get out of Tressel's doghouse?
Though unlikely, if Small is punished for an extended period or gets in to more trouble later in the season (highly likely), who fills his shoes at receiver and punt return? Certainly, his loss is easier to absorb at WR with Posey and Sanzenbacher slotted as starters while Washington and Flash hope to take advantage of increased reps and opportunity. Personally, my wild card longshot is Duron Carter. Sure, he's a true frosh with lots of bodies in front of him on the depthchart but he's got the pedigree and he's impressed his teammates early and often. Biddle and Long are also on board.
By far, the biggest concern in a sans Small world is punt return. Small fielded 24 punts last season with Posey being the only other returning player to snag a punt last season. His total? One return for four yards. I'm sure you all have your favorites to replace Small but none of them are proven and none stood out in the spring game. Small, on the other hand, averaged 15.2 yards per return proving a lethal weapon in Tressel's game of field position. Seriously, is it within Tressel's right's to lock Small up in the broom closet of the WHAC in between games to keep him out of trouble?