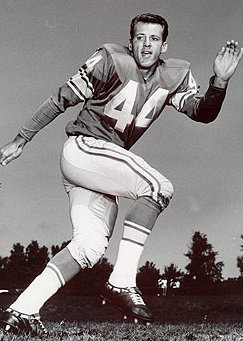 Former Buckeye and 1957 national champion Dick LeBeau has been named as a finalist by the Seniors Committee for induction into the Pro Football Hall of Fame's 2010 class. Selections for induction will be conducted on February 6, 2010.
According to the Pro Football HOF site, senior nominees must be 25 years removed from the playing days meaning Dick is not only a hall of fame caliber coach, he was also a HOF caliber player. We're very partial to LeBeau around the 11W offices and are elated to hear of his nomination.
In fact, we included him as one our 10 Most Unsung Buckeyes in this year's edition of Buckeye Battle Cry based on his amazing contributions to both OSU and the professional ranks. It still shocks us that so many fans aren't aware he was a two-way stud on Woody's '57 national championship squad, starring at both halfback and cornerback, featuring a 2 TD performance in a 31-14 destruction of Michigan before taking his skills the NFL.
Cut by the Browns, LeBeau hooked up with Detroit and worked in tandem with Dick "NightTrain" Lane on his way to three straight Pro Bowls. After the dust settled on a 14 year playing career, LeBeau ranked 7th on the all time interceptions list with 62 and set an NFL record with 171 consecutive games played at cornerback.
LeBeau took his skills to the sidelines in '73 and eventually invented the now famous zone blitz defense in an effort to slow down the emerging run and shoot offenses of the '80's while serving as defensive coordinator for the Bengals. His exploits as the defensive coordinator for the Steelers (two separate stints) have been well documented and in his combined 10 years in the Steel City the defense has ranked in the top 10 nine times and finished as the top overall defense in three of the last five years.
Props to Dick LeBeau on his well deserved nomination. Even if he's passed over for induction this February, it's only a matter of time before he takes his rightful place in Canton.