Lamaar Thomas provided some sparks and Ross Homan provided a scare Wednesday evening at the team's kick scrimmage held at Ohio Stadium.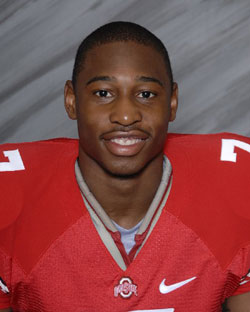 On the opening play, Thomas fielded a kickoff in his own endzone and and raced 92 yards down the sidelines before Devon Torrence made a touchdown-saving tackle.
After struggling to field kicks four months ago in the spring game, this is great news on the Flash front. The kickoff return game was non-existent last season (as in sub-20 average and long of 37 non-existent) and to beat teams like USC, you're going to need plays in every aspect of the game.
Torrence making the saver at the end is a good sign in the sense that Thomas is probably not an easy guy to close on, good angle or not. He was the surprise starter over Amos, though Amos has taken most of the first team reps in camp.
The scare alluded to in the title came when Ross Homan went down with a left knee injury. By all accounts, it doesn't appear serious and he was able to limp off the field, but the Buckeyes don't have that many more linebackers to lose. With Storm Klein missing the session, the starting trio consisted of Brian Rolle (who really just wants to destroy people), Andrew Sweat and Etienne Sabino. Pups.
As for the actual kicking part of the scrimmage, Pettrey did nothing to weaken his grip on his spot, going 9/11 with a couple of bombs. Likewise for fellow senior Thoma at punter.
Finally, surprise, surprise, but the line has another new look. Shugarts played with the ones at left tackle with Miller sliding in at left guard for the injured Boren. It's nice to see Shugarts asserting himself and back in the mix, but you have to wonder if 2009 minutes are starting to slip away from Adams. Competition is good, big Mike.
Related: Cameras were verboten, but the University has a small photo gallery up.