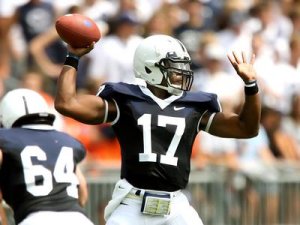 We're counting down the days until kickoff by profiling a different Big Ten team each week. We decided to switch up the order to reflect 11W's predicted finish for the upcoming season, which can be found here and we'll also reach out to fellow bloggers for their inside opinion on important matters.
This week we take a look at Ohio State's toughest competition for a Big Ten title, the Penn State Nittany Lions. The two teams shared the title last year and PSU is going for their first ever back to back B10 titles.
This is going to be an interesting season for the Lions, they have only 9 starters back from their 11-2 team last year, but do add the services of LB Sean Lee. PSU has to replace their top 3 receivers on offense and 8 of their top 12 tacklers from last year. They do return some of the top talent in the conference and their schedule sets up very nice, which makes the game November 7th a battle for the conference title.
COACHING: Joe Paterno is entering his 44th year as head coach, compiling a record of 383-127-3 record. As long as he doesn't attempt any field goals in practice, he should be back on the sidelines this year.
OFFENSE: The Nittany Lions will be fine at QB and RB, boasting perhaps the best backfield in the Big Ten. After bursting on the scene in 2008, Daryll Clark is back for his senior season, looking to improve upon his 192 of 321 for 2592 yards and 19 touchdowns. Most Penn State fans were mystified when Clark wasn't named the preseason conference POY, but his top 3 receivers are gone and he must show he can raise the game of his unproven replacements.
Evan Royster should be the best back in the conference this season and might be the only RB to enter the POY talk. Royster ran for 1236 yards last year, on an average of 6.5 YPC and scored 12 touchdowns. Penn State will spread the field once again, so teams won't be able to load up in the box against Royster, but if Clark can't synch with the new receivers, teams will load up as the season progresses. Spelling Royster will be sophomore Stephfon Green, who averaged 5.5 YPC in his 105 totes last season. Throw in the running ability of Clark and their rushing attack is going to be a 3-headed monster, much like Ohio State.
I wasn't able to hook up in time with our friends over at Black Shoe Diaries for their locale expertise, but as you can see from this recent post, one potential problem is the wide receivers. According to BSD, no one coming back averaged more than one catch per game in 2008, with Brett Bracket and his 13 catches leading the way. Graham Zug, who caught a 49-yarder against OSU last year, will bring his 11 catches to the table and is more of a possession receiver. Sophomores Chaz Powell and Derek Moye are also battling for playing time.
The line is breaking in 3 new starters, but most of their 2-deep having playing experience. Penn State's line paved the way for 206 yards per game rushing last year and gave up only 13 sacks, but they'll be hard pressed to match those numbers this year. Stefen Wisniewski will move from guard to center this year and has the chance for post season honors again, after earning 2nd team last season, as does guard Dennis Landolt, who received honorable mention in 2008. Like Ohio State, much of Penn State's success will hinge on the O-Line play.
DEFENSE: The defense will be lead by their linebacking corps, who is slated to be one of the nation's best units this year. Navorro Bowman, who fell on Pyror's fumble, is an absolute beast. He lead the Nittany Lions in tackles last year with 105, adding 12.5 TFL and 4 sacks. He gets some help in Sean Lee, who missed 2008 with a knee injury. Lee has started 26 games in his first three years and registered 138 stops in 2007. Michael Mauti was penciled in as the starter opposite the two studs, but he tore his ACL in a scrimmage last week and is done for the year.
The Lions lost their entire secondary from a year ago. Seniors AJ Wallace and Knowledge Timmons will have the edge to start the season, but a couple of freshmen might factor into the mix, especially since Wallace may get suspended for the first couple of games. The safety positions should be manned by a couple of redshirt sophomores, Andrew Daily and Drew Astorino. Daily played in 12 games last year, but recorded limited stats, while Astorino made 39 stops and 2 picks.
The D-Line also took some heavy hits, when Aaron Maybin and Maurice Evans bolted for the NFL. Returning is DT's Jared Odrick and Ollie Ogbu, who combined for 58 stops and 6.5 sacks. Odrick is probably the best tackle in the B10 and will be gunning for his second straight first team honors. Behind them is a group of 4-5 players that can rotate in. The ends are a young group, but will be lead by senior Jerome Hayes, who also is returning from a knee injury.
KEY GAME: November 7, Ohio State: Penn State should have little problem getting to this game undefeated, playing 6 of their first 7 at home and scheduling a cream puff OOC slate. Much like Ohio State in 2007, the Lions will be considered paper tigers by the rest of the nation due to their schedule. The game can't be played at night, but the winner should win the B10 title.
BEST-CASE: Penn State is guaranteed at least 10 wins and if they beat Ohio State, could easily go undefeated. Their OOC slate is Akron, Syracuse, Temple and Eastern Illinois, whle their only road games of the season are Illinois (Oct. 3), Michigan (Oct. 24), Northwestern (Oct. 31) and Michigan State (Nov. 21), games in which they should be favored in each. They miss Whisky and get Iowa, Indiana, Minnesota and OSU at home. Unless they are ravaged by injuries, I don't see a scenario in which they lose more than 2.
WORST-CASE: This team is breaking in many new starters and it could take them some time to become a solid unit, but they have until October to make that happen. Also, if the secondary can't stop anyone, the team could get into a few shootouts, which could allow a few teams to hang around. I think Penn State fans will tell you anything below 11-1 and a BCS game will be the worst case for this team.