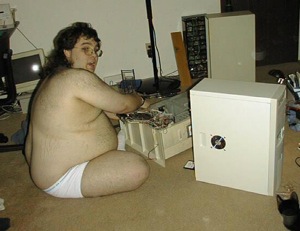 Late July/Early August. It's when schools are just weeks away from starting, anyone living south of the IHOP-Waffle House Dixon Line would do unspeakable things for a Klondike Bar (or at least some sort of relief from the heat), and we've officially become so football starved that something like Big Ten Media Day becomes a huge event.
Make no mistake about it, it's refreshing to see Sparty's Coach D. scowl on our televisions again, but dare I bring us back to reality by pointing out that we're still 37 days from the first, real tangible contests of the '09 collegiate football season?
I digress: despite lacking the aplomb of the SEC's multi-day interview fest (aside from one intolerable southern gentlemen reporter hell bent on beating the dead horse of SEC superiority into a milkshake like form), we did manage to learn a few things from our 11, ahem, warriors-in-chief from Monday's love-in.
Pat Fitzgerald is seeing the benefits of the league's dedicated 24-hour network. In addition to opening things up by admitting that he did indeed vote for Tim Tebow, Coach Fitzgerald managed to squeeze in some pro-BTN sentiment that may otherwise have gone unnoticed: "I don't know who has benefited more than us from having the Big Ten Network: Ohio State, Michigan Penn State -- their story was already being told. Now ours is being told throughout the country." For the record (as BTN officials were quick to point out during the course of the day), schools just like Northwestern's stories are accessible from 73 million homes, or 19 million more than the new
SEC Network
will be able to provide their games to this fall.
The Zookster took the stage next, and while failing to speak to the recession proof status of the water skiing industry in Illinois he managed to remind the entire league that Regis Benn, Florida transfer WR Jarred Fayson, and WR/TE/Abomination clone Jeff Cumberland would be coming soon to a stadium near them soon. With all these weapons at his disposal, it would be shocking if Juice Williams, particularly in lieu of being snubbed in favor of LiC for the conference's pre-season offensive player of the year, didn't have a monster year.
Brett Bielema followed Zook, both for his press conference, but also in the behind closed doors CrossFit Clean and Jerk competition (and you thought I was going to say off, didn't you?). Besides a particularly gusto-rich proclamation that Camp Randall was the toughest stadium to play in in the conference, Bielema gave us little besides his usual tough man posturing, though the Badgers should be an interesting squad to follow in 2009.
Speaking of a wide ranged delta, Michigan (and friend of the site)'s Rich Rodriguez made his appearance next, confirming what we all already knew: Zoltan Mesko may indeed be the finest athlete the Wolverines have to offer. Quoting a tweet from ESPN's Pat Forde "UM brought its punter here. While that's nice for Zoltan Mesko and punters everywhere, it says something about the Wolverines". Coach Rod did seem particularly miffed to have a member of the media rub in his face that Terrelle Pryor choose Ohio State over Michigan yet again at one point in his Q&A.
Chip empresario Danny Hope took the stage next, shiny gold tie and all. The tie would go on to be the most interesting thing about Hope's time at the mike, though he did emphasize his 35-22 stretch at Eastern Kentucky somehow qualified him to carry on the legacy of the winningest coach in Purdue history. Yeah...
Tim Brewster arrived at the stage, surprisingly sans t-shirt cannon, but did spit much pro-Golden Gopher rah rah, including proclaiming Eric Decker not only the finest receiver in the conference, but in the country. Hyperbole much?
The Vested One gave his own unique brand of senatorial non-speak for the 15 minutes that followed. A few bullet points I was able to discern from the ice cream float like consistency of the speech: this is the youngest team Tress has had to start with in years and Dan(ny?) "Boom" Herron and Brandon Saine will be leaned on heavily to shoulder the load at tailback. Not exactly new information, but we'll take what we can get from our fearless leader. Coach Tress did go onto ad in a later media session that Jamaal Berry "won't be held back", seemingly implying he will escape direct punishment from the team for his trouble with the law from earlier this summer.
Bill Lynch took the podium next and said the following:
Yep, that about sums it up.
Mark Dantonio was up next, where he proceeded to grimace a lot, and talked about how Sparty expects to be in for the conference championship hunt this season. Can't say I disagree too much at face value.
The wait for Joe Pa was well worth it, as the ageless one dropped a couple of the true comedy gems of the afternoon, calling Twittering "tweedle-do'ing", making fun of the Big Ten Network's Gerry DiNardo for doing it, and stating that he keeps coming back to the league's media days because otherwise he'd "miss the press".
Finally, Kirk Ferentz took Coach D's not wanting to be there act to a whole new level. He did, however, humor our southern gentleman friend stating he felt that perceived conference superiority was in many ways an illusion caused by vocal lectors such as himself. He'd go onto state that if, in fact, any such difference in relative strength exists, it could be somewhat the consequence of some kind of geographic population shift (a can of worms in its own right), but was sure to note that these sorts of differences between the leagues tend to be rather cyclical in nature throughout history.
So there you have it: not exactly a Steeleian dose of hard information and predication, but much like a family reunion, sometimes it can feel really great just to have everyone back in the same place again after so long.