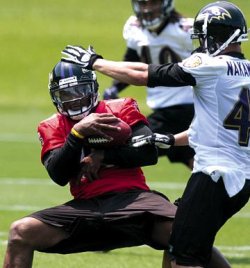 In this period of creating our own jumper, I have found it increasingly difficult to keep up with the omnipresent Adam Rittenberg, ESPN's B10 blogger and the wide array of subjects he covers every day.
Not only am I jealous as hell of his job, it seems like every idea I have written down to watch for the week, he has it taken care of by noon on Tuesday. However, the one area I can be assured of not being accused of stealing his subjects is the NFL, which no longer has an offseason and contains plenty of Buckeye news.
Flacco to Smith? Troy Smith turned a few heads on the last day of Baltimore's OTA this week, as they lined him up at receiver, in their continuing search for ways to utilize his skills.
At this point, only an injury to Joe Flacco would put Troy under center and with a movement in the NFL towards the Wildcat formation, Baltimore and Smith are looking to expand his role.
"Without making it a huge story, I'm quite sure that Troy will be lined up in different places this year," coach John Harbaugh said Tuesday. "He can split out and play receiver. He can play running back. We definitely want to expand guys."
The Ravens official site was excited about the potential flashed by Smith when he got the chance, as he snagged a 20-yard strike and an 8-yard timing route along the sidelines from Flacco. The Ravens have always lacked a strong #2 wideout behind Derrick Mason, but with over 14 weeks before the regular season, Smith has time to make that push for more playing time.
Buckeye flavor in Rams linebacking corps? The Rams made a controversial move last month when they released leading tackler Pisa Tinoisamoa and it looks like the move could have been triggered by not only the drafting of Little Animal, but also the recent play of Larry Grant.
Grant spent most of last year on the 49ers practice squad, but was signed by the Rams for the last few games. In the recent OTA's, Grant was running with the first team, while JL was running with the second unit. The Rams new coach Steve Spagnoulo is heralded as a defensive guru and he inherited a bad team, so both of the former Bucks will get plenty of chances to make plays this season.
The only downfall of the Tinoisamoa release falls on Marcus Freeman, after the Bears signed Pisa to a one-year contract. Freeman was going to have a difficult time regardless seeing the field as a rookie, but now it is almost certain any playing time will be spent on special teams.
Receivers making noise. It's assumed Anthony Gonzalez will start opposite of Reggie Wayne, now that Marvin Harrison is gone, but Gonzo isn't taking things for granted, while new coach Jim Caldwell is accusing AG of being a "gym rat." Gonzo is poised for a breakout season, as he simply feels more comfortable with all aspects of NFL life.
"It's a completely different animal," Gonzalez said. "My rookie year, I didn't even know anybody. I was just trying to shut up and stay out of the way and hopefully be called upon to do something on the field. This year, kind of building on last year, I think I have some friends on this team and I have great relationships with a lot of the guys on this team and the coaches and just the city in general. I know my way around now. I know where the grocery store is. I know where the dry cleaner is.
Down in Miami, Brian Hartline was able to make his debut last week at Dolphins camp and quickly earned rave reviews from his teammates and coaches.
Meanwhile, Dolphin coach Tony Sparano claimed Ted Ginn looked "pretty dominant" at times during the early season workouts. Like Gonzo, Ginn is entering his third NFL season and feels more comfortable in all aspects of his game.
"You can see his confidence is really at a high level right now. He's running better. Playing a little bit stronger. I mean, even handling kicks back there I've seen a little different guy."
This could be the year Teddy finally hushes all his critics and creeps close to a 1,000 yard season and it will be interesting to see who has a better 2009, Gonzo or Ginn.