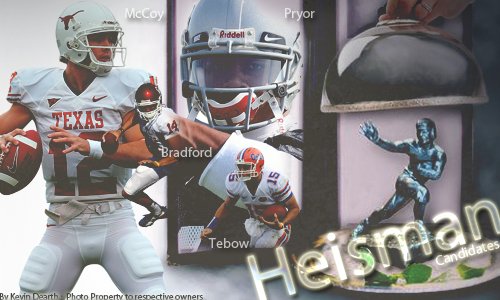 After reading multiple previews on who are the frontrunners to win next year's Heisman Trophy, I decided I would take a stab at running down the top ten candidates who I feel have the best chance to win college football's most coveted award.
While there are three frontrunners for the award in Tim Tebow, Sam Bradford, and Colt McCoy, we would certainly like to see the other seven names on this list man-up this year and protect Archie's legacy as the only two-time winner of the award. There are obviously names that will not be on this list that will emerge as viable Heisman candidates, but heading into the summer here is the list of ten players, from least likely to most likely, to bring in the golden hardware come next winter.
Honorable Mention: RB Noel Devine (WVU), RB Jacquizz Rodgers (OR ST), QB Todd Reesing (Kansas), RB C.J. Spiller (Clemson), QB Matt Grothe (USF), RB Joe McKnight (USC), QB Jimmy Clausen (ND), QB Zac Robinson (OK ST), WR Julio Jones (Alabama), WR A.J. Green (UGA), and QB Tyrod Taylor (Va. Tech)
10. Daryll Clark, QB, Penn State: I know, I know-I'm going to get shelled for this one, but I had to put a controversial sleeper in the mix. Clark came on as a pleasant surprise to Nittany Lion fans last year, throwing for 2,592 yards and 19 touchdowns and rushing for another 10 scores as Penn State earned a bid to the Rose Bowl and shared the Big Ten title with the Buckeyes. With running back Evan Royster back, the only question for Joe Pa's squad is at receiver, but with the ground game Royster and Clark can produce, the Lions should be successful through the air. I don't think Clark has the absolute "it" factor to be a Heisman Trophy winner, but his smart decision making and stats on the ground and through the air (especially a high efficiency rating) could make him a top 10 vote getter next year.
9. Jonathan Dwyer, RB, Georgia Tech: Dwyer is one of the lesser known players on this list, but with Georgia Tech picking up steam in the early rankings for next season, expect to see his name a lot next year. Dwyer rushed for 1,395 yards (7.0 averae) and 12 touchdowns in his first year under new coach Paul Johnson. He expects to go over that number this season and will get plenty of touches in the Jackets' run-heavy offense. Now that he is out of Knowshon Moreno's shadow in the Peach State, expect Dwyer to be a contender to the end, but ultimately lose out on the award to a player from a more prestigious school.
8. Jevan Snead, QB, Ole Miss: Snead's Heisman hopes can be placed on the pending boom or bust season the Rebels are bound to have in 2009. If Snead can get the Rebels through the brutal SEC schedule with 9 wins or more and put Ole Miss into a legitimate bowl game expect Snead to be a strong candidate for the Heisman. Expect the former Longhorns quarterback to improve on the 2,762 yards and 26 touchdowns he totaled last season, but the fate of the Rebels' season will ultimately tell if he is invited to New York.
7. DeMarco Murray, RB, Oklahoma: Murray is infamous for not being able to play in last year's MNC against Florida, but is looking to bounce back in 2009 with a Heisman qualifying campaign. Murray rushed for 1,002 yards and 14 scores as a sophomore last season and also caught 31 passes for 395 yards and 4 touchdowns through the air. Murray, who stands at 6-1, 205 is a strong, versatile back who could be the key offensive player for the Sooners this year. Heisman or no Heisman, Murray is likely to be a first round pick in the 2010 NFL Draft and the hardware would be a nice addition to his mantle.
6. Dez Bryant, WR, Oklahoma State: While wide receiver is not a position too common for the award the last decade, Bryant will be the best receiver in college football this year and could post stats too gauntly to be left out of consideration. Bryant caught 87 passes for 1,480 yards and 19 touchdowns for the Cowboys last season including a 13-167-1 performance in the Holiday Bowl again Oregon. Thanks to Michael Crabtree departing for the NFL, Bryant gets his turn to shine in the spotlight and make himself a Heisman contender and future top 10 pick in next year's NFL Draft.
5. Jahvid Best, RB, California: Best is a name known to college football's most ravid fans, but is not too common here on the eastern part of the country. What the average fan doesn't know is that Best racked up 1,580 yards and 15 scores on the ground while averaging 8.1 yards per carry for the Bears. His 2008 season included a 311 yard performance and two 200-yard performances. He rushed for 186 yards and 2 touchdowns against Miami in the Emerald Bowl and even put up all those statistics while missing Cal's game against Arizona State and only rushing for 30 yards against USC. Best is going to be the nation's top back this season and the best (no pun intended) part is that he will only be a junior. I would love to have this guy in Scarlet and Gray.
4. Terrelle Pryor, QB, The Ohio State University: I can't tell if I'm being a homer or if I really feel T.P. is the fourth most likely player to win the Heisman. For now, I will go with the latter, as LiC will be counted on to be the centerpiece of the Buckeyes' offense this year and his performance will be the primary factor that influences the team's success in 2009. With a year under his belt and his first spring practice in the books, Pryor should be much more effective through the air and continue to truck defenders that get in his way when he decides to get moving on the ground. It will be exciting to see Pryor's growth this season and I think there is a very strong possibility he will finish in the top 5 voting for the Heisman Trophy.
3. Sam Bradford, QB, Oklahoma: Last year's winner gets bumped down a few spots, not because he will not perform this season, but because it is so hard to win the award two year's in a row as Tim Tebow knows. Bradford also has a year of film on him now and team's will learn how to take advantage of any weaknesses the Sooner's signal caller may have. Because of this, Super Sam will have to rely on the plethora of talent surrounding him in the OU offense and he won't stand out as much as he did last season. Like Tebow in 2008, Bradford will once again get an invite to New York, but will walk away empty handed.
2. Colt McCoy, QB, Texas: McCoy loses some talent from last season's Fiesta Bowl winning squad, but his main target, Jordan Shipley, returns for another season in Austin. McCoy, like Pryor, will rack up yards on the ground as well as he showed when he amassed 561 to go along with 11 touchdowns last season. It's hard to believe Colt also threw for 3,859 yards and 34 scores through the air, but when you look at the fact that he threw only 8 interceptions and completed almost 77% of his passes, it is possible he can improve on those numbers in 2009. With Tebow and Bradford already winning one Heisman Trophy, Colt could be the guy to preserve Archie's record.
1. Tim Tebow, QB, Florida: Of course college football's "golden boy" had to come back for one more year and some can argue that he should have won the Heisman last season as well. There is no question Tebow will put up the stats and if there is another moment like this one in 2009, the voters might just have give Timmy the award. I pray every night that the Gator's drop at least two games next season so that they are denied another National Championship and Tebow is denied his second Heisman Trophy. I guess all we can do is pray.