Some guys were born to sell, others were given a head for business, and others were seemingly put on this earth to make music. You know the type: a natural. But if there ever was a guy who was made for catching footballs, it is Cris Carter.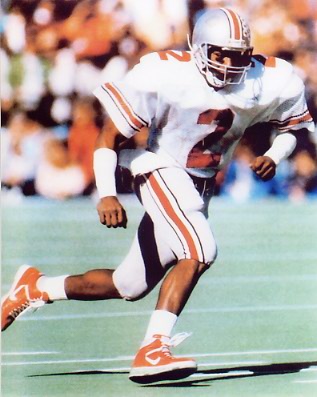 Carter's NFL career is nothing short of legendary. After forfeiting his senior season in Columbus for taking money from an agent, he was drafted in the first round of the supplemental draft in 1987 by the Philadelphia Eagles. However, in 1989 the Eagles released him, and then-coach Buddy Ryan declared "All he does is catch touchdowns".
But after hooking on with the Vikings, Carter rose to superstar status, finishing his career 2nd all-time in NFL history in receptions and touchdowns (Jerry Rice is first in both categories). He made the Pro Bowl 8 times and was named to the NFL 1990's All-Decade team.
During his 3-year career at Ohio State, Cris Carter caught 168 passes for 2,725 yards and 27 touchdowns, all of which were school records at the time. During his junior year, he had 5 straight games of over 100 yards receiving, which is still a school record. As a freshman in 1984, he was 2nd on the team with 41 receptions (Keith Byars led the team with 42).
Carter was a Parade All-American and USA Today All-American during his senior year at Middletown High School. I remember watching a highlight video of him in high school, and I was amazed at the way he went up for the ball. He had great vision, and as he measured the trajectory of the pass, he would gather himself like a basketball player going up for a rebound and suddenly spring up and grab it. But the style was not surprising when you consider that he came from a self-proclaimed "basketball family" (his brother Butch played for Bob Knight at Indiana and played several years in the NBA).
Earle Bruce was not known for playing freshmen right away. The only exceptions up to this point were offensive linemen like Joe Lukens and William Roberts. Despite his high school accomplishments and his obvious talent, Carter did not start right away either. In the opening game against Oregon State, the starting WR's were returning letterman Mike Lanese and converted CB Jay Holland (raise your hand if you remember him). But Carter saw action immediately and flashed enough potential that Coach Bruce eventually gave him the nod over Holland. Against Illinois in game 8, Carter showed the first signs of the greatness that would come.
I wrote in detail two weeks ago about the 1984 Illinois game because of the record-setting exploits of Keith Byars. But one play stood out from a receiving standpoint. OSU was trailing 24-0, but Byars scored on a nifty 18-yard run to put the Bucks on the board. As he was celebrating, an Illinois player was called for a late hit and it cost the Illini 15 yards to be enforced on the kickoff. From midfield, Bruce called for an onside kick and OSU recovered. On the first play, QB Mike Tomczak faked a handoff and went back to pass. But as he turned to look downfield, an Illini player came in on a blitz and Tomczak had only a second or two to get rid of the ball. He spotted Carter running a post and lofted the ball toward him down the middle of the field. The ball was underthrown, but Carter picked up the trajectory and leaped in between three Illini defenders to make the catch, and then turned and lunged into the end zone (the end of the play is the first highlight on this video clip). The crowd went absolutely nuts and the Buckeyes were back in the game.
But the true highlight of Carter's freshman season was his performance in the Rose Bowl game against USC. This was a game that Carter was really looking forward to because he had wanted to attend USC at one time. The USC assistant who was recruiting Carter, Norv Turner, got snowed in at an airport in Kansas City when he was scheduled to visit Middletown. USC head coach John Robinson told Turner it was his call whether he actually made the trip to Ohio the next day or went back to L.A. Turner decided to go back home the next day and so he never visited Carter at all. Meanwhile, OSU had sent young running backs coach Jim Tressel to recruit Carter. No contest there. Mrs. Carter liked Tressel and Ohio State, and so eventually Cris Carter became a Buckeye.
The young receiver was re-acquainted with Turner at the Rose Bowl game, and of course the future NFL coach regretted not making that visit. Carter's performance made him regret it even more. Even though OSU lost the game 20-17, Carter was named offensive MVP after gathering 9 receptions for 172 yards and a TD, breaking the old Rose Bowl record for receptions and yards in the process. The touchdown came when he scooped up a low pass that Tomczak somehow managed to squeeze between two USC defenders. It narrowed the score to the final margin and gave OSU fans a brief moment of hope for a comeback. After the game, Carter was starstruck as he was interviewed by former NFL All-Pro WR Ahmad Rashad. Kind of ironic that Carter would go on to break all of Rashad's Viking records during his NFL career.
Today, Carter is retired and waiting for his inevitable enshrinement in Canton. In the meantime, he operates several business interests and of course adds his considerable yapping skills to the NFL
studio line-up at ESPN.
But the Carter legacy lives on, as his son Duron will be suiting up in a Buckeye uniform in the fall. Like father
like son
? We will find out soon enough.