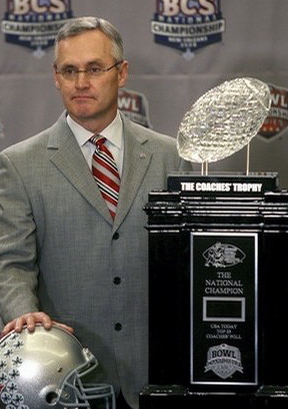 Spring ball may have just ended, but it's never too early to look at who is going to be among college football's best when fall of 2009 rolls around. While some teams, like defending national champion Florida, will be a mainstay, compiling the back half of this list is not as easy as it seems. This upcoming season in college football should be an interesting one and after the heavy favorites, it's anyone's guess as to how things will shake out. Here's a look at my first try:
1. Florida
While the Gators lost Percy Harvin to the NFL Draft, they get to keep college football's golden boy. Tebow alone is scary enough, but Spikes and that defense should be pretty nasty this season. The Gators are a no-brainer here.
2. Oklahoma
Sam Bradford and Jermaine Gresham gave Bob Stoops a pleasant surprise by returning to school to help bolster an offense that could have dropped off had they departed for the NFL. Gerald McCoy is a beast at DT for the Sooners and should give QBs nightmares the entire season.
3. Texas
The Longhorns had a case to play for the MNC last season and Colt McCoy comes back for his senior year to get the job done. McCoy will be a frontrunner to win the Heisman and if he completes over 70% of his passes like he did last season, Mack Brown will find himself competing for the championship at season's end.
4. USC
The Trojans lose QB Mark Sanchez, but bring back their stable of running backs and continue to reload their other parts on both sides of the ball. The biggest plus for this team may be Taylor Mays' return for the '09 campaign, but Corp or Barkley will ultimately decide how far this team goes.
5. Ole Miss
Here's where things start to get tricky, but I feel Houston Nutt's team is on the verge of greatness. Jevan Snead's decision to transfer from Texas seems to have paid off and the Rebels can do some damage with the offense Nutt brought from Arkansas. The defensive output could tell the tale this season, but if the unit comes together strong, the SEC is on red alert.
6. Ohio State
Terrelle Pryor needs to step up his game in order for the offense to take it to the next level. The defense loses some key players, but I think overall they will improve as a unit. If Tressel indeed opens the playbook to his young signal caller, the Buckeyes will have a spot, one way or another, in Pasadena at season's end. An upset against USC could do wonders for this team.
7. Oklahoma State
Zach Robinson to Dez Bryant will be the formula all season long. Mike Gundy is now 42 (or so we think?) so a little maturation there will help this team continue to grow and develop. Unfortunately for the Cowboys, they are the Big Twelve's third best team, and like Texas Tech last year, will be overlooked when the polls come out at season's end.
8. Alabama
I'm not a huge fan of the Tide this season, but with Julio Jones and Mark Ingram coming back on offense they should be pretty explosive again. Greg McElroy takes over for Jon Parker Wilson and fits the offense well. The defense, like all Saban defenses, will put pressure on the quarterback and make big plays when it matters most.
9. LSU
Les Miles always has his teams well prepared and this LSU squad is talented enough to give their the rest of the SEC some trouble. While they are young, Jordan Jefferson is an upgrade at quarterback, the position that held the Tigers back last year after their championship season. The Tiger defense will continue to display the nasty streak they are known for and get this team back into BCS contention.
10. Georgia Tech
It was a tough call of which ACC team to put in here, but the Jackets edge out the Hokies by a slight margin. Paul Johnson's wishbone offense and a weak conference should help Georgia Tech have a great chance at making a BCS game (much like Cincinnati did last year). Jonathan Dwyer is one of the best, if not the number one, running back in the nation, and will turn plenty of heads en route to becoming a first round pick in next year's draft. Watch out Bulldogs, the Yellow Jackets are stealing your thunder in the Peach State.
Just missed the cut: Virginia Tech, Oregon, Penn State, Georgia