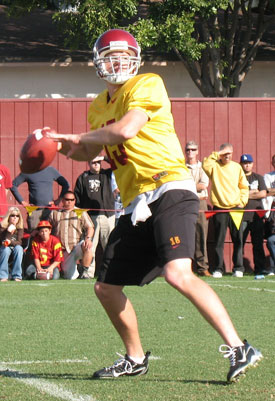 In between Springsteen shows, condensing the "Win Forever" concept into book form, and trying to lure Will Ferrell to Twitter, Pete Carroll has taken time out of his awesome life to evaluate the quarterback situation at USC and has chosen redshirt sophomore Aaron Corp to be the Trojans' starter heading into their spring scrimmage this weekend.
Top recruit Matt Barkley had been putting pressure on Corp for the starting spot, and Petey stressed that, though Corp is the current starter, the competition will carry into the fall.
"Matt had a great spring and was right there pushing for the job, but he just hasn't had enough time to learn everything," Carroll said. "But on the field, he played like a starter."
So there you have it. But as the good doctor points out, is the named starter really that important at USC? In the Pete Carroll era, every single guy they've plugged in has performed well dating back to Carson Palmer, through Matt Leinart and Mark Sanchez. Even John David Booty, who was perhaps the weakest starter they've trotted out in the past decade, is a guy that 99% of other schools would have killed to have had on their own rosters.
For sanity's sake, it would be nice to see the freshman Barkley run out under the lights at the Horseshoe, but even then, you know he'll be ready.