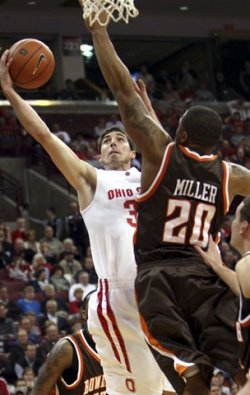 It was deja vu all over again as timely triples doomed the Buckeyes in a 70-68 home loss to Illinois dropping Ohio State to 17-8 overall and 7-7 in conference.
Back to back jams by B.J. Mullens cut the Illini lead to 50-47 with 8:25 left but the next few series proved pivotal. After a Trent Meachem three, Wil Buford forced a deep triple try early in the clock which Illinois turned into an offensive rebound and putback to move in front 55-47.
Turner slowed the bleeding with a free throw but then Chester Frazier buried a three after excellent defense to that point forced him to launch the desperation shot with :03 left on the shot clock. 58-48 with 6:01 left. Essentially game over.
OSU did manage to cut the deficit to two at 67-65 after a P.J. Hill putback of a missed free throw but after Meachem hit two free throws extending the lead to 69-65 with :26 left, Matta failed to call timeout to set up a play. The resulting carnage came in the form of Buford missing a leaner after the Buckeyes ran off 14 seconds of valuable clock thanks to chaotic dribbling from Turner and Hill.
Matta had three timeouts. Why didn't he use one? I'm a supporter of Matta but I don't think there's any question that was a poor coaching decision. It probably didn't change the outcome but still a head scratcher.
Though the score didn't necessarily show it, this one appeared to be already in the bag thanks to another squad bombing the Buckeyes from deep. Illinois shot 53% beyond the arc (9/17) with more than a few coming under duress and/or deep in the shot clock. Frazier's second miracle three with the clock running out gave Illinois a 62-55 lead with 4:08 remaining, taking the air in the Schott with it.
Evan Turner tried to keep it close over the final seven minutes scoring 15 OSU's final 20 points but it wasn't enough to overcome the three point daggers.
Turner finished with 17 points, nine boards and five assists against only two turnovers but his poor first half (2 pts) contributed to a 32-27 halftime deficit that Ohio State would never overcome.
Jon Diebler, Wil Buford (7 pts, 3 reb, 2 asst, 2 blk) and yes, P.J. Hill picked up Turner's slack in the first half. Down 22-14, Diebler and Hill triggered a 10-2 run scoring five and four respectively as Hill pestered the top of Illini offense helping the Buckeyes tie the game at 24-24. Unfortunately, two turnovers created by B.J. Mullens not being able to sustain position on the block combined with Demetri McCamey getting loose for a conventional three point play then a deep three helped Illinois eventually close the half on an 8-3 run.
OSU did cut the lead to two on four different occasions in the second half before Hill's putback of Turner's missed free throw making it 67-65 but it seemed Illinois was in control all afternoon.
When the horn sounded OSU had three in double figures (Turner, Diebler 17, Buford 14) but the hot shooting they surrendered from deep combined with Illinois still looking to attack the foul line extended and short corners just as they did back on January 20 allowed Illinois to shoot 58% from the floor.
Once again, Matta got virtually nothing from the bigs. Mullens had eight points and one rebound while Invisidale played true to form with one point and one rebound. Yes, those numbers are accurate. What a bum he's turned out to be.
The three game skid dropped Ohio State to 4-5 in their last nine games and it doesn't get any easier this week with Penn State on Tuesday preceding a trip to Purdue. As I said in the preview, I felt today's game could be the swing game of the season and I'm extremely nervous this team might be running out of steam.
If they are indeed on life support both physically and mentally this week could be their post season undoing.
In my opinion, even a split this week would likely mean the Buckeyes need to win the final two games (@Iowa, NU) to finish 10-8 in conference and 20-9 overall. That should enough but a first round conference tourney loss would likely put them on the bubble unless one of their three wins comes at Purdue.
So, what's going to happen this week? Two wins, a split or two losses?
I'm almost afraid to find out.