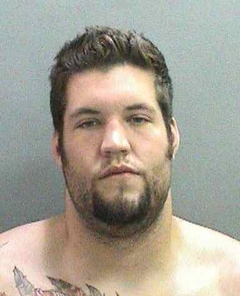 Alex Boone has cemented his legacy as a Buckeye.
And by cementing his legacy, I mean getting tased into submission and arrested after threatening officers, trying to break windows and generally just being a drunken ass after a night of presumed Super Bowl partying in southern California.
Alex Boone was taken to Saddleback Hospital by sheriff's deputies for injuries resulting from being shot with a stun gun and being heavily intoxicated, said sheriff's spokesman Jim Amormino.

He was arrested on suspicion of resisting arrest, threatening officers, jumping onto the tops of several cars and banging on garage doors around 11:30 p.m. Sunday at the Barcelona apartments at 23500 Windsong.

When deputies arrived, Amormino said, Boone was trying to punch out the driver's side window of a tow truck; he then jumped onto the back of the truck.

Boone then tried to flee police, Amormino said.
This is not Boone's first alcohol-related run-in with the law as most of you are aware of. In 2006, he was hit up for a DUI and at the time, vowed to work to put his drinking problems behind him. Like drinking entire cases of Natty Light in one session. So much for that.
For a guy that was thought to be the next great lineman at Ohio State, things never did work out like he and the rest of us envisioned. He was abused by Derrick Harvey two years ago and then after turning in a run-of-the-mill junior season, vowed to return for his senior season in 2008. He did finish all-Big Ten this year, but most experts thought his value slipped and he was staring down a mid-round selection in the upcoming draft. Now, even that will be a reach.
---
UPDATE: Boone has released a statement and plans to get professional help. Smart move.