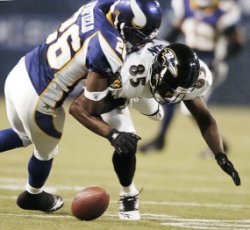 The recent trend of mediocre performances continued this week, as weather played a role in some games and other players rested for the playoffs.
Things were so bad, Donnie Nickey leads things off with his season high 5 tackles in Tennessee's 23-0 loss at Indy. Meanwhile, Gonzo mostly rested and only had 1 catch for 12 yards.
Carolina earned the 2nd seed by taking down the Saints 33-30 in New Orleans, as Chris Gamble recorded 5 tackles, raising his season total to 93. Gamble finished second in the NFL amongst corners in total stops, behind Antoine's 95, but his 83 solo tackles was tops in the league from that position.
Out on the west coast, Nate Clements helped Mike Singletary earn a job by leading the 49ers with 7 tackles in their 27-24 win over St. Louis, while Shawn Springs recorded 6 in the same game. And Matt Wilhelm chipped in with a solo tackle as San Diego beat down the Broncos 52-21 to win their division.
In New York, Ted Ginn and the Dolphins completed their incredible turnaround, earning a playoff birth with a 24-17 victory over the Jets, keeping Nick Mangold out of the playoffs. Ginn only caught two balls, but one was a 27 yard scoring strike in the first and the other was a 44 yard bomb off a fleaflicker in the third, leading to another touchdown. Speaking of the Jets though, The Gun Show had an extremely disappointing year, registering a measly 13 tackles, including 5 solo stops, the same as teammate Laveranues Coles.
From the other receivers, Jenkins lead Atlanta with 4 catches for 72 yards, helping clinch their playoff ticket, while Santonio Holmes caught 3 for 31 in Pittsburgh 31-0 pasting of the Browns.
Even though his stats may not have been eye popping and his Vikings helped knock my Bears out of the playoffs, Antoine Winfield still takes home his second (and should be third) Buckeye NFLer of the Week for his 7 tackles in Minnesota's 20-19 win over the Giants.
As mentioned 'Toine lead the NFL in total tackles amongst corners with 95 and last week was named a starter in the Pro Bowl. The Vikings will host Philly this Sunday and Winfield will get to showcase his skills nationally against McNabb and Westbrook.
The other first round games also have a little Buckeye flavor to them, as Indy faces the Chargers and Troy Smith battles Teddy Ginn in their Glenville reunion. Jenkins will perhaps get a chance to showcase his goods in front of the current Buckeyes, with a Saturday tilt in Arizona.