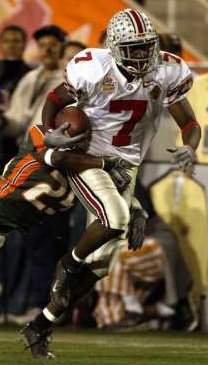 The former Buckeye defenders rose up this weekend around the NFL, as the playoffs draw nearer and the weather becomes colder.
It was an overall lackluster performance by the wideouts this week, as Micheal Jenkins' 3 catches for 55 yards led the group, in Atlanta's 13-10 overtime win over Tampa.
Santonio Holmes (3 for 22) wins the clutch award, catching a controversial game winning 4 yard touchdown with :50 seconds left, making up for his 2 earlier fumbles in Pittsburgh's 13-9 win over Baltimore, clinching the AFC North.
Nate Clements started things on D with a team-leading 5 solo tackles, helping hold Miami to 150 yards passing in a 14-9 loss. AJ Hawk also lead the Packers with 8 solo tackles and a sack in Green Bay's 20-16 road defeat at Jacksonville.
In his second game back from a separated shoulder, Donte Whitner recorded 10 tackles in Buffalo's heartbreaking
31-27 loss
at NY Jets. In winning efforts, Mike Vrabel had 5 tackles and his 4th sack of the season in New England's
49-26 road win
against Oakland, while Antoine had 5 tackles and a forced fumble on Arizona's second possession, leading to a 14-0 Minnesota lead and an eventual
35-14 win.
However, for a league-leading third time this year, Chris Gamble takes home the award for his efforts during Carolina's 30-10 home drubbing of Denver. Gamble registered 7 tackles, giving him a career high 82 on the season, which ranks 1st amongst NFL corners. He ranks 10th with 19 pass deflections.
He also picked off his third pass of the season, at Denver's 27 with 1:55 left in the first. It lead to a field goal and the Panthers went on to score another 20 unanswered in their win. The win ties Carolina with the Giants atop the NFC at 11-3 and these two just happen to be meeting this Sunday in New York.
The game will be in primetime on NBC at 8:15 and could pit Gamble against either Michigan product Armani Toomer or Columbus native Domenik Hixon.