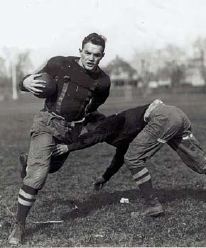 Last week, in honor of the Ohio State-Illinois game, we took a look at the Illini's "Galloping Ghost," Red Grange. This week, in honor of the Ohio State-Michigan game, we'll take a look at a player who was better than Red Grange: Ohio State's Chic Harley.
In 1950 the Associated Press named its All-Star College Team for the first fifty years of the century. Red Grange was named to the second team. The first team halfbacks were Jim Thorpe and Chic Harley. When asked to explain his vote, one AP writer said:
"Red Grange was a great runner, but that's all he was. Chic Harley was a great runner, a great kicker and a great defensive back. That's why he made my first team. He could do it all."
In truth, Harley could do anything athletically. The first time friends took him to play golf, he shot an 82. He bested Willie Hoppe, a legendary pool player, in a game of billiards at a downtown Columbus restaurant. During his years at Ohio State (1916-1917, 1919) he started at guard on the Buckeyes basketball team and played well enough in the outfield on the baseball team to be offered professional contracts by the St. Louis Browns and Chicago White Sox. During his sophomore year, he was asked to help out the OSU track team; he set a conference record in the 50-yard dash that stood for decades. There simply wasn't anything he couldn't do.
Chic was born in 1895 in Chicago – the town that gave him his nickname. His family moved to Columbus in 1912, and Harley starred at East High School. His exploits became the stuff of local lore; East's games regularly drew more fans than Ohio State's games at Ohio Field. Harley lost only one game while at East – his last, to North High School. A campus fraternity recruited Harley for Ohio State, and the program was never the same.
Harley exploded onto the scene in the 1916 season. Only 5' 7" tall, and barely weighing 150 pounds, Harley did everything for the Buckeyes. In the season's first conference game against defending champion Illinois – a rain-soaked game played in a muddy slop – Harley scored a tying touchdown on a play fake. He returned to the bench, slipped on a clean shoe, then kicked the winning PAT to beat the Illini, 7-6. It was only a glimpse of things to come.
Before Harley's arrival, Ohio State struggled to draw 2000 fans to Ohio Field; now spectators packed Ohio Field with overflow crowds of 12,000 to see the hometown hero from East High play. Tens of thousands were routinely turned away for lack of tickets. Those lucky few who did get to see Harley in the flesh were stumped for superlatives. James Thurber wrote:
"If you never saw him run with a football, we can't describe it to you. It wasn't like Red Grange or Tom Harmon or anybody else. It was kind of a cross between music and cannon fire, and it brought your heart up under your ears."
Harley led the 1916 Buckeyes to a 7-0 record and their first Western Conference championship; he became Ohio State's first consensus All-American. So impressive was his play as a passer, runner, punter, place kicker and defensive back that Walter Camp came to Columbus personally to see him play, then named him to his all-star team (Harley was the first sophomore to ever make the team). In 1917, the Buckeyes again went unbeaten with a record of 8-0-1, and Harley was again named a consensus All-American. Harley then suspended his career at Ohio State to serve his country as a fighter pilot in World War I.
If the conference (now called the Big Ten) thought they were finished with Chic, they were wrong. Harley returned from his military service in time for the 1919 season and starred on what was probably the Buckeyes' best team of his tenure. The Buckeyes fell only once – to Illinois, on the last play of the last game of the season – but the 1919 season was a complete success, because it was the first year that Ohio State beat Michigan.
Michigan had rejoined the conference in November 1917 after a brief absence, and most observers thought the 1919 Wolverines were a shoe-in for league champion. But so loud was the buzz surrounding Chic Harley, and so great the threat posed by his Buckeyes, that former Michigan coach Fielding Yost came out of retirement specifically to coach against the Ohio State. Fans sent the Buckeyes off with a massive pep rally at the old Armory, and 28,000 came to Ann Arbor's Ferry Field, only to leave in stunned silence as Harley and Ohio State beat the Wolverines for the first time ever, 13-3.
Harley did it all. He scored a 50-yard touchdown run, but what still stand in the Ohio State record book were his four interceptions – still a single-game record at Ohio State.
So impressed was Yost with Harley's play that he asked - and was granted - permission to address the Ohio State locker room after the game. His comments were recorded by a Columbus Dispatch reporter:
"After congratulating Dr. Wilce and Director of Athletics St. John, Yost said to the team: 'You deserve your victory; you fought brilliantly. You boys gave a grand exhibition of football strategy and while I am sorry – dreadfully sorry – that we lost, I want to congratulate you. And you, Mr. Harley, I believe are one of the finest little machines I have ever seen."
Chic Harley left Ohio State having scored 23 touchdowns, kicked 35 PATs and 8 field goals for a grand total of 198 points – a record that would stand until "Hopalong" Cassidy's Heisman Trophy season of 1955.
After his graduation, a great sense of excitement surrounded Ohio State football. University officials elected to capitalize on Harley's exploits by proposing a new stadium to house the Buckeyes. At a cost of $1,300,000 – all of which was raised privately, through donations – Ohio Stadium was constructed, and became the Buckeyes' new home. Chic Harley never played on the field, but he worked tirelessly to raise money, and the stadium quickly earned the moniker "The House that Harley Built."
Chic's years after football were difficult. He was cheated out of a share in the professional football franchise that eventually became the Chicago Bears. He suffered from deep bouts of depression, probably resulting from an injury suffered in his one professional season, wartime trauma, and a sense of displacement following the end of his collegiate career. His depression resulted in the White Sox and Browns rescinding their contract offers, and he lost out on a standing offer to become the head football coach at Tennessee. Lost, but never abandoned by his friends, Harley eventually resided permanently at the Veterans Administration Hospital in Danville, Illinois.
In 1948, Chic responded well to new treatment by his doctors, and felt well enough to attend three Buckeyes road games. That same season, he decided to return to Columbus to watch Ohio State play Michigan. The city, made aware of Harley's return, feted him with a ticker-tape parade, radio appearances and press interviews. There were dinners, awards and official ceremonies – all of which surprised the laid-back, quiet man. At halftime of the Michigan game, the Ohio State Marching Band opened the "Os" in Script Ohio to spell out "Chic" – the only time the formation has been so altered.

Chic Harley died in April of 1974, aged 78. His last wish was to be buried in Columbus, and he was laid to rest in Union Cemetery.
The pallbearers were the 1974 Ohio State football captains, including Archie Griffin and Neal Colzie. Among the mourners were university officials, former teammates of Chic's, coach Woody Hayes, and Bill Daugherty, the man who penned "Across the Field." Thousands lined the processional route.
"Everybody knew about Chic Harley and how great he was, because Woody would tell stories about him," Archie Griffin remembered. "And for me, being from Columbus, I heard all the stories growing up, too. He really was the first player to attract people to Ohio Field."
Remember Chic Harley when you watch the best rivalry game in college football this weekend. It's because of Chic Harley that you have the Buckeyes as you know them, and it's because of that amazing 1919 victory over Yost's Wolverines that the game means what it does today. Without question, Chic Harley was the single most important Ohio State player who ever took the field. He was so great that Thurber commemorated him in verse:
"You can name the brilliant players from the year the game began,
You can say that someone's plunging was the best you ever saw –
You can claim the boys now playing stage a game without a flaw –
But admit there was no splendor in all the bright array
Like the glory of the the going when Chic Harley got away."