You've heard the numbers all week long. Wisconsin is the only team in the Big Ten that the Vest has a losing record against (2-3). Bret Bielema has won 16 straight at Camp Randall. The Badgers' last home night game loss came in 1995. Bielema squats 950 pounds. And so on.
Then there's the history. After driving 76 yards to force a 10-all tie with six minutes to go, filthy rich Lee Evans snapped the Buckeyes' 19-game winning streak by faking Chris Gamble out of his shoes the last time the two teams met in Madison. Four times in the last eight seasons, an unranked or lower ranked Badger team has knocked off a ranked Buckeye team.
But what about the epic meltdown last weekend in Ann Arbor? You know -- the one where the Badger defense made Steven Threet look like Michael Vick? Surely this team can't be any good. Well, you only have to look back to the upset in 2003 to see how an inspired Wisconsin team responded after getting embarrassed by UNLV in a 23-5 home loss. Make no mistake, this team will be ready to go and the atmosphere will provide a huge spark.
So, despite all of the excitement on our end over Pryor and the return of Beanie and any thoughts of weakness on the side of the Badgers, this is game is likely to be won like most Ohio State-Wisconsin games are won: by the team that comes out and punches the other one in the mouth the longest.
Opponent
If the Badgers are known for anything, it's for having a punishing rushing attack. Ginormous linemen and fullbacks paving the way for star running backs that are often just as big. After missing P.J. Hill (#39) last year when he sat out due to a leg injury, the Buckeye defense will get their first taste of the 236 pound redshirt junior. The former consensus national freshman of the year broke on to the scene with a 1,569 yard season and followed it up with 1,236 yards in 11 games last year. He opened this season big by going for 210 against Akron but was kept largely in check by both Marshall (18/57) and Michigan (22/70). If you're looking for patterns, he's alternated big games with sub-par performances through four games this season and this week he's due.
When Hill is stuffed, Wisconsin will turn to 23 year-old 5th-year senior Allan Evridge (#4). He saw limited action last season, but has just four career starts and only really looked exceptional in one of them -- when he threw for 308 in week two against Marshall. Still, he only has four touchdowns on the year against three interceptions -- not quite Bradford-esque.
That could be because the best receiver on the team, tight end Travis Beckum (#9) has only played in parts of two games. After sitting out against Akron and Marshall, he suited up against Fresno State in week three and had four catches for 51 yards. Last weekend, against the Wolverines, he didn't enter the game until late, but he will be ready to go Saturday night. Big (6-4/235) and possessing great hands, if he's anywhere near full speed, he'll be a handful for the Buckeye defense -- and a nice safety blanket for Evridge.
While Beckum was out, backup tight end Garrett Graham (#89) stepped up and is leading the team in receptions. He missed the Michigan game due to a foot injury, but like Beckum, he should be available against Ohio State. Not only does he provide Evridge with a second option he trusts, but he's probably the better blocker of the two. When the Badgers line up in a double tight end set, they can throw just as easy as run.
One area the Badgers are not getting production out of is at receiver. Diminutive David Gilreath (#85) leads the group with just 11 receptions in four games, with a long of 22 yards. For someone of his size (5-11/165), you'd expect him to be a complete burner, but the fact that he only earned one track letter in high school seems to indicate otherwise. Glenville product Kyle Jefferson (#7) is the deep threat on the team. He's tall at 6-5, but also thin as hell, checking in at 175 pounds. For the season, he's been kept out of the endzone and was shutout completely by Fresno State.
The Badger offensive line, in addition to being so skilled at run blocking can pass protect a little as well. They have allowed only four sacks on the season -- or one less than the number of sacks the Buckeyes allowed to USC. The leaders of the group are big Kraig Urbik (#63) at right tackle and Eric Vandenheuvel (#71) on the other side. Between them the two seniors have an astounding 70 career starts and will provide a huge test to Gibson and Wilson.
The Badger defensive line is led by 5th-year senior defensive tackle Jason Chapman (#91) and senior defensive end Matt Shaughnessy (#92). Chapman is the real deal and may spark a little bit of tackle envy out of the Buckeye faithful. They don't register a lot of sacks, but both are excellent at penetration and stuffing the run.
Senior linebacker Jonathan Casillas (#2) is a playmaker and snared an early 49-yard interception return against the Wolverines last weekend, but he's probably best known in the CFB universe for his DUI arrest while riding a moped. He's legit, but it's hard to fear a guy with that on his record. That and the Steven Threet exhibition.
Cornerback Allen Langford (#17) has plenty of starts under his belt but hasn't exactly been the dominant force he was expected to be after earning honorable mention all-conference accolades his sophomore year of 2006. Wisconsin does have six interceptions against only four passing touchdowns allowed on the year, but three of those picks came against Marshall. Akron and Fresno State both had success throwing the ball against the Badgers.
After the game in Ann Arbor last weekend, Wolverine running back Brandon Minor alluded to the fact that the Wisconsin defense was lacking in stamina, which Bielema quickly shot down, but the truth is if the Buckeyes can keep the Badger offense from eating up huge chunks of time and yards, this is a defense that can be exposed.
NOTES: Wisconsin's last home loss came on November 12, 2005 to Iowa... Bret Bielema is 6-0 in night games... Camp Randall Stadium is the oldest stadium in the Big Ten conference... Badger tight end coach Joe Rudolph was on Ohio State's staff from 2004-06.
Buckeye Breakdown
Much has already been made of the fact that this is Pryor's first start in a hostile road environment. Personally, I'm confident that Jump Around and the loaded marshmallows won't rattle him in the least. Players like Pryor, that seem to play at three levels above their competition, seem to rise to the occasion in circumstances like he's sure to see. Think Vince in the Rose Bowl (or Ohio Stadium), Jordan at the Garden and Gallagher in front of a watermelon. Guys like this live for this sort of challenge.
Should Pryor struggle, the hero in last year's matchup, Beanie Wells, will be around to take the pressure off. After being held to six carries in the first half, Beanie had eight rushes for 95 yards and two 30+ yard touchdowns on back-to-back second half drives to turn a 17-10 deficit into a lead on the way to a 38-17 Buckeye victory. He finished with 169 yards rushing and three touchdowns on the day, crossing the 1,000 yard mark for the first time in his career midway through the game.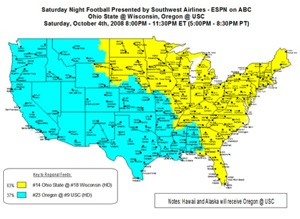 Look for the team to throw the ball around more often than it did last weekend when Pryor finished with just 13 attempts. I stress the word look because there have been and will continue to be many called passes that LIC turns into 20 yard gains on the ground. Just because he can.
Robiskie had his breakout game last weekend and it would be great to see Hartline do the same this week. Even better would be Posey, Small or Washington catching a bomb or two.
Rehring makes his return to the offensive line this week, but Tressel was very non-commital when pressed for how many plays he'd see. Brewster has had his share of rookie mistakes at center and will have his hands full with Chapman this weekend, but he's starting to approach turn-the-corner territory in what could be the start of a great career in Columbus. I fully expect Boone to follow-up his excellent performance last week with another dominating game. It took a while, but midway through his senior season he may finally be learning how important it is to go hard on every play.
You'd be justified in being worried about the interior of the Buckeye defensive line taking on that Badger o-line and P.J. Hill. There's a reason to be optimistic, however, because tackling Beanie in practice all of these years is about the closest you're going to get to simulating what it's like to tackle Hill. Still, it's probably been a while since they've hit Beanie in practice.
If the Buckeyes can hold on first and second downs, the line should be able to pin their ears back and get after Evridge a little. Gibson is on the verge of having a coming out party of sorts and Heyward and Wilson are also both due for a game-changer. When defending the pass, the line should look to get their hands up as Evridge's height (a generously listed 6-2) may allow for some batted passes.
Laurinaitis turned in a monster game against Wisconsin last season with 19 tackles and he should be just as active this weekend between tracking Beckum and stepping up in run defense. He'll also get some help from Freeman and probably Hines and Coleman on the Beckum front.
Considering the way the Buckeyes took Eric Decker out of the game last weekend, I'm not at all troubled by the Wisconsin receivers -- outside of Beckum. That statement will probably come back to haunt me, but that group should be neutralized by the skill and experience in the Buckeye secondary.
I'm sure the coaches have been drilling it into the team all week, but Bielema is a crafty cat. There was the clock chicanery against Penn State two years ago and don't forget that Wisconsin dialed-up two fake punts against the Buckeyes last season in Columbus.
Key on the run, limit Beckum's production and watch out for the trickery and Ohio State has a real shot to come out of Madison with that rare road win. If Pryor leads the Buckeyes to another touchdown on an opening drive, there's good cause to believe the team will get the type of win that will impress the voters and maybe nudge the team up the rankings a bit.
NOTES: Ohio State is 6-3 in Big Ten night games under Tressel... J.B. Shugarts will be held out of action this week after hurting his shoulder in practice... OSU leads the all-time series with the Badgers 51-17-5 including a 23-10-2 mark in Madison... Surprisingly, the Buckeyes lead the Big Ten in return average... Mike Patrick, Todd Blackledge and Holly Rowe will be doing the game for ABC.
---
PREDICTION: Ohio State 27, Wisconsin 16