There were some monster plays on offense against Michigan State and the same was true on the defensive side of the ball. It was difficult picking just three plays as there could have easily been a half-dozen featured, but these three were among the best.
Ringer's First Touch
Michigan State opened the game with a big set, looking to get the Ringer show started right away. The crowd was definitely still in it at this point after the Buckeyes had been forced to punt on their opening possession. Given the formation and the running back, you'd expect at least four out of this play, but Rob Rose busted into the backfield and combined to make quick stop on Ringer with Laurinaitis, setting the tone for the game on that side of the ball.
There are two things that I love about this play. First, Rose was in the Spartan backfield before the announcers had covered the starting lineup. Second, on Kory Sheets' first carry last weekend, Laurinaitis met him in the hole, but was taken for a four yard gain. Nothing of the sort this time.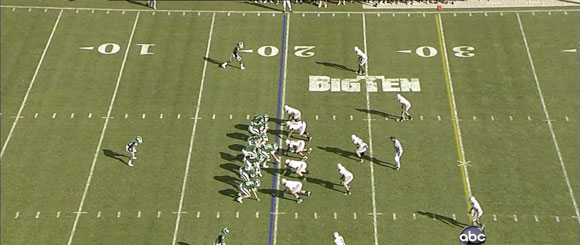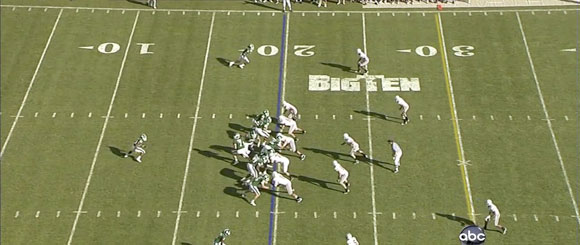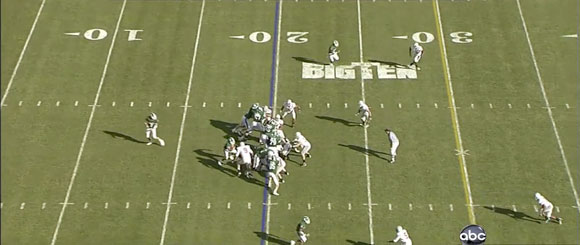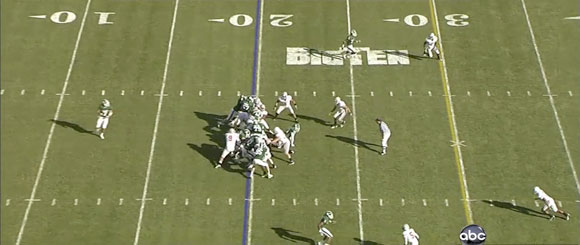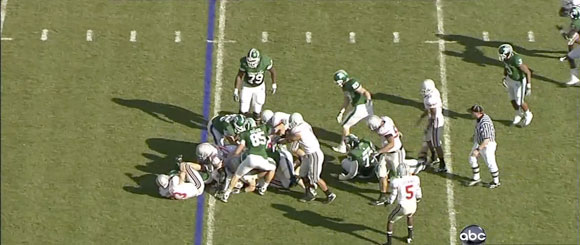 Coleman's Redemption
After Pryor scored to put the Buckeyes up 7-0, Michigan State took over at their own 32 and started to move the ball a little. On first down, Hoyer hit Keshawn Martin for a 14 yard gain and then Ringer followed that up with a five yard run to move the ball past midfield. On 2nd and five, Hoyer threw a screen to Martin and he put a move on safety Kurt Coleman, causing him to slip. Martin was looking at another first down before Coleman got his.
Double-Pump at Your Own Risk
After completing his first ten passes of the game and moving the Spartans to the Buckeye 23, backup quarterback Kirk Cousins finally throws his first incompletion on the first play of the 4th quarter and is looking at a 3rd and 11. Hoyer had led Michigan State to a touchdown on his first series and was looking to cut the 28-7 Ohio State lead in half. That's when Malcolm Jenkins and Thaddeus Gibson took over. And the moment Jenkins became one of the good-best players in the country in Griese's eyes.