So the Buckeyes opted not to publish a depth chart this week and we're left with but one assumption to make. Tressel is unveiling the Bauserman/Delande option attack on the unsuspecting Nittany Lions!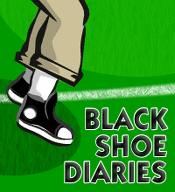 That's cool, because instead of listening to me tell you who I think might see time as the 8th lineman onto the field, we've invited Mike from Black Shoe Diaries over to tell us how to beat his team. He's so kind.
---
So who would have thought when the season started that our game this weekend would likely decide the Big Ten championship? I must admit that Penn State fans had this game circled as the biggest game of the year. But I suspect that if you are like the writers, you didn't have Penn State listed in the top three of the preseason favorites. Wisconsin and Illinois? C'mon. When will writers learn to stop making such ridiculous predictions?
Anyway, Jason asked me to come on Eleven Warriors and share my thoughts on how to beat Penn State. So I'll share what I can on the Nittany Lion offense and defense and tell you how I would attack them.
When Ohio State Has The Ball
Last year Ohio State embarrassed the Penn State defense in Happy Valley. After the game the Penn State players admitted the Buckeyes were doing a lot of things they hadn't seen on film. It also didn't help that Boeckman put on his Peyton Manning underoos and had the best day of his career. But I think for Ohio State to duplicate that success they will have to give Penn State some new looks.
I actually caught the first quarter of the Ohio State/Michigan State game. (And really, was there any point in watching the rest?) What I saw was a lot of Pryor right, Wells left, Pryor left, Wells up the middle. Just a lot of running between those two. I suspect Penn State will stack the box and challenge Pryor to beat them throwing the ball. Of course I thought they would do this against Michigan, but they came out playing nickel and Michigan scored 17 points in their first three drives. If Pryor can connect on a few longer passes early that will open things up for the running game, and Penn State will be in trouble.
It may say strange to say this considering our tradition at Linebacker U, but the way to challenge Penn State is to attack the linebackers. The front four is stellar no matter which members of the eight man rotation are playing, but if you can get past them the linebackers can be exploited. We're starting a walk-on junior in the middle who has been the subject of a lot of criticism in Happy Valley. Josh Hull just isn't on par with 2005 Butkus Award winning linebacker Paul Posluszny. (I'm sorry. I had to get that in there.) He's a step slow and gets gobbled up in traffic. He's a decent run stopper, but teams that can throw effective screens and slants over the middle kill us.
When Penn State Has The Ball
Honestly, I don't know what to tell you. I'm not saying that to be cocky either. I honestly don't know how to stop this offense. They are highly diverse and can seemingly adjust to anything the defense throws at them. If you sit back in nickel to take the Butler-Williams-Norwood trio out of the game, Evan Royster and the offensive line will run you over. If you stack the box like Wisconsin did, you will get torched. You can try to blitz, but Daryll Clark will roll out of the pocket and throw a 25 yard dagger through your heart. Or Stephfon Green will take a screen pass and go 80 yards with it. They can spread you out and pick you apart or they can line up in the Power I formation and get yards the hard way. There seemingly isn't anything this offense can't do.
My one knock on them would be short yardage situations near the goal line. They are getting a little too predictable with the quarterback draws inside the ten. If Penn State gets a first and goal on the five you can bet first down will be a run to Royster up the middle followed by a quarterback draw. If they manage to get it down to the one or two they will run the quarterback draw again. It's like Tim Tebow of the North. I wish they would be a little more diverse down around the goal line. It has worked so far, but I can't see Ohio State getting pushed around like that.
If any team that had the best blueprint for success you would have to say it was Purdue. Afterall, the Boilermakers held Penn State to just 20 points. Purdue was able to keep the score down by sustaining a few long drives and limiting our possessions. They got enough yards they could pin Penn State deep and make them go the length of the field to get their points. It also helped that someone conveniently turned the sprinklers on in Ross-Ade and watered the field all night long. Penn State players were slipping and falling down every time they went to cut. The sloppy field thwarted at least two touchdowns limiting Penn State to field goals and it also cost us several big plays where guys just fell down in open space. So there's something I guess.
This has the makings of an all time classic game. If you want to see my prediction for the game make sure you check out Black Shoe Diaries on Friday afternoon.