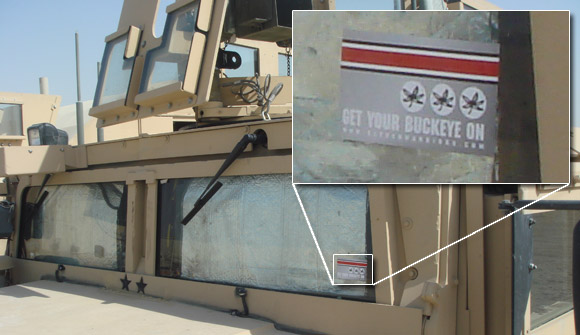 A few weeks ago, we gave you the chance to have some 11W stickers sent your way. We didn't know how many request would be received, after all how many of our 103 readers would really want the stickers. The actual response blew us away.
I sent stickers out west to Oregon, Utah, Arizona, California and Washington. 11W and Buckeye Pride were sent down to Atlanta, Myrtle Beach, Dallas and throughout the state of Florida. I even sent some up north to Michigan and to mid-town Manhattan. All in all close to 800 stickers were sent out across Buckeye Country.
With all due respect to those loyal readers and great cities, the coolest place the 11W sticker ended up was in Kuwait. I was able to get some stickers to loyal reader Rich before he took off for another tour of duty in the Middle East. He promised to send some photos and as you can see above, he didn't disappoint.
As you can imagine, Rich says there are many Buckeye fans who are serving in our Armed Forces here in the states and overseas. He even sent a link where troops can send video messages back to the states and the Ohio State search is quite impressive. It is an honor to know that 11W may help keep these true Warriors in the Buckeye know.
If you want some stickers or need some more, just send me an email at corey@elevenwarriors.com and I will get some off to you.
---
A special shout-out goes to Jason, who was quoted in the USA Today this morning during their Ohio State/Wisconsin preview.