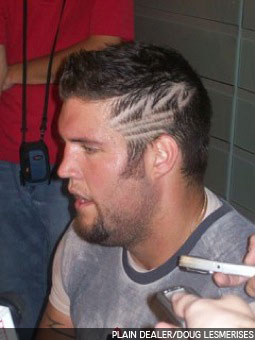 A smattering of practice updates from both the MSM and our well-placed scout, Connie Tressel. Actually, Connie's not on the payroll. Or is she?
The big news is that Robiskie is nursing a shoulder injury. If you recall, he was held out of spring drills with something similar, but he should be ready for the opener.
Beanie is looking great -- amazing shape and no lingering injury signs. Saine and Rasta Wells are getting the bulk of the reps behind Beanie leaving Boom out of the shuffle for now.
Curtis Terry is now seeing more time on defense than he is at fullback. Tight end Brandon Smith has been getting looks at fullback and it appears that the staff still hasn't decided which way to go with this.
Some of the freshman are already showing added bulk from their high school days, most notably Mike Adams and Jake Stoneburner. Speaking of Adams, his recovery is proceeding and he may be ready for live action next week.
Folks like to talk about Flash Thomas' speed, but DeVier Posey may be the team's 2nd-fastest player behind Saine. Speaking of Posey, he's putting additional heat on Small for playing time right out of the gate. Ditto for Sanzenbacher and Washington.
The defense is all-business. No jawing, just domination of the offense. Washington is looking fantastic in coverage and Chekwa is showing the year of experience under his belt. Right now, Andre Amos is getting the bulk of the nickel work, but Torrence is lurking.
Thad Gibson is blowing things up from the end position. Rehring claims he's the fastest guy off the ball he's seen in Columbus since the Fresh Prince.
Cordle and Boone have new Ice-Ice, Baby haircuts. I'm not a huge fan, but I'm old and cantankerous. Nicknames the lineman call each other have also come out. Boren is "White Lightning", Cordle is "Purple Rain", Mitchum is "Flash" and Boone is "Dark Thunder". Ah, kids...
Pryor is picking things up quickly, but still has a lot to learn. He's adjusting to the speed of the college game and figuring out that even his athleticism may not be able to bail him out if he holds onto the ball for too long.
Bauserman is running with the 2nd team offense and the 2nd team offensive line looks to be: Miller, Mitchum, Moses, Smith and Shuggarts.
With all of the linebackers present, there's some scuttlebutt about a 2-5 hybrid making situational appearances this season.
NFL scouts love the WHAC. About 30 were on hand one day earlier in the week.
---
Bad omens keep popping up for the Trojans. First, it was Sanchez's knee injury, then the team was hit with a jock itch epidemic and now Joe McKnight gets a dorm room door slammed on his right hand.
USC held their night scrimmage earlier in the week and the defense looks to have the edge out there as well as the offense struggled to score.
---
The SEC may be king according to SI's Great Conference Debate, but it's the Big Ten that's taken the lead on Mandel's Conference Showdown on DonorsChoose.org. As of right now, fans of the Big Ten have more than doubled the giving of the 2nd place SEC and when you consider the MAC is in 3rd place, the Midwest is really representing with their hearts, if not their team speed. Where you at, Big 12?