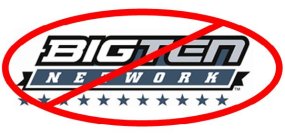 Ohio State announced yesterday the starting times for the home OOC games, all starting at noon and two of them on the BTN. Youngstown St. and Troy have been picked up by the Network, while the Ohio U. game will be on ESPN or ESPN2.
This could be one of the most highly anticipated Buckeye teams in recent memory and as of right now, Time Warner subscribers will only get to see two of the first four games. Throw in the fact that BTN will also pick up one of Ohio State's conference games and once again local fans will only get 75% of the 2008 season.
As a season ticket holder and a lucky Cbus resident who gets the BTN, this does not affect me, but I think it is a damn shame if Time Warner deprives Buckeye fans of any more football games. As Jason pointed out last month, Time Warner is the lone cable giant still holding out after a deal was struck with Comcast.
If Time Warner is your cable provider, I would start pounding them with phone calls and emails now, or look to switch providers, as I do not trust them to get a deal done. I know the YSU and Troy games may not be that sexy, but it is still Ohio State football and we only get that 13 times a year, there should be no reason why we miss any games.