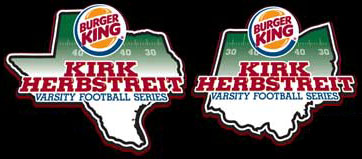 The Herbsteit Challenge, started as an event pitting Ohio prep teams against powerhouses from around the nation is all growns up now.
The event, in its 4th iteration, was rechristened yesterday as the "Kirk Herbstreit Varsity Football Series Presented by BURGER KING" (and just like in Idiocracy, you get paid every time you say those last two words).
Gone are the rumored money problems of last year, thanks to the King. The event has also partnered with the National Football Foundation and a quality sports promotions firm and as a result, will be expanding to 30 teams and holding games outside of Ohio for the first time, when eight teams will go head-to-head in Texas Stadium.
ESPN will be telivising the marquee matchup between Elder and St. Thomas Aquinas (FL) -- featuring future Buckeye Duron Carter. Aquinas, the defending Florida 5A champ, is currently ranked #13 in MaxPreps.com preseason high school rankings. Another stellar battle will feature #9 St. X taking on #21 Prattville (AL). In all, 13 Ohio teams will take the field.
If you're a recruitnik or just a fan of quality high school football, this is about as good as it gets. Who knows, maybe we'll see some more magic like when Elder stunned #3 Charlotte Independence last season, snapping their 109-game winning streak.
The full lineup:
Saturday, 8/30 @ Fawcett Stadium, Canton, OH
11:00 AM ET: Warren Howland (OH) vs. Klein Forest (TX)
2:00 PM ET: Canton McKinley (OH) vs. Indianapolis Cathedral (IN)
5:00 PM ET: Youngstown Cardinal Mooney (OH) vs. Covington Catholic (KY)
8:00 PM ET: Massillon (OH) vs. Jordan High (UT)
Saturday, 8/30 @ Paul Brown Stadium, Cincinnati, OH
11:00 AM ET: Cincinnati Elder (OH) vs. #4 St. Thomas Aquinas (FL) – ESPN (9/1 @ 12:00 PM ET)
2:00 PM ET: Middletown (OH) vs. Warren Central (IN)
5:00 PM ET: Cincinnati Colerain (OH) vs. McKeesport (PA)
8:00 PM ET: #9 Cincinnati St. Xavier (OH) vs. #26 Prattville (AL)
Saturday, 8/30 @ Texas Stadium, Irving, TX
11:00 AM CST: Mansfield Timberview (TX) vs. Buford (GA)
2:00 PM CST: Cedar Hill (TX) vs. LaSalle Catholic High School (OH) - Versus (Live)
5:00 PM CST: Justin Northwest (TX) vs. Woodland Hills (PA) - Versus (9/3 @ 5:30 PM ET)
8:00 PM CST: Arlington Bowie (TX) vs. Trotwood-Madison (OH) - Versus (9/4 @ 5:30 PM ET)
Sunday, 8/31 @ Paul Brown Stadium, Cincinnati, OH
12:00 PM ET: Cincinnati Moeller (OH) vs. Montgomery Bell (TN)
3:00 PM ET: Huber Heights Wayne (OH) vs. East St. Louis (IL)
6:00 PM ET: Lakota West (OH) vs. St. Rita (IL)
Monday, 9/1 @ Texas Stadium, Irving, TX
11:00 AM CT: #1 Euless Trinity (TX) vs. #23 River Ridge John Curtis (LA)
2:30 PM CT: Klein Oak (TX) vs. Mandeville (LA)
6:00 PM CT: Colleyville Heritage (TX) vs. Clovis East (CA)