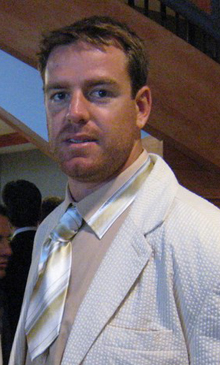 While in LA for Matt Leinart's charity bowling event, Bengals quarterback Carson Palmer stopped by KLAC and gave his thoughts on the Ohio State game and playing for a state that worships the Buckeyes:
I don't watch what I say. I cannot stand the Buckeyes and having to live in Ohio and hear those people talk about their team it drives me absolutely nuts. Now we got Keith Rivers out there and we got Frostee Rucker we finally got a couple of other SC guys. It's amazing to hear what those guys think about that university and what they think about that football program and Tressel and all the crap I gotta put up with being back there. I just can't wait for two years from now when SC comes to the Shoe and hopefully we'll have a home game that weekend and I can go up there and watch us pound on them in their own turf and kind of put all the talk to rest because I'm really getting sick of it and I just can't wait for this game to get here so they can come out to the Coliseum and experience LA and get an ald-fashioned Pac-10 butt-whooppin and go back to the Big Ten.
Granted, Cincinnati has never been a Buckeye stronghold relative to the allegiances of other Ohio towns. If anything, it's traditionally leaned to South Bend (though Tressel has had recent success in the Queen City). While Palmer won't have to worry about too much fallout at the local level, what about all of the Buckeye fans in Central Ohio that are also fans of the Bengals? Does this impact your fanhood in any way or is this just a guy backing his school?
(Via DTI)