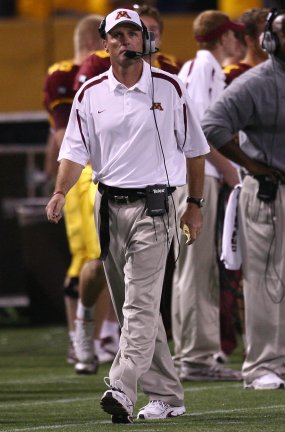 We're counting down the days until kickoff by profiling a different Big Ten team each week. Today, the Golden Brewsters are up.
Tim Brewster wasn't interested in any type of rebuilding project following Glen Mason's termination, ensuring the Gopher faithful before last season that anything short of a Big Ten championship was going to be a disappointment. Unfortunately for tight end Tim, the Gopher season turned out to be a half-ass re-enactment of Brewster's Millions, as Tim was the highest paid coach per victory in the 2007 season, earning a million dollars per victory.
COACHING: I have to believe Tim Brewster's seat is a little warm heading into this season. There is no doubt the Big Ten conference as a whole is down and when you go 1-11 in a season, there is going to be added pressure the following year. Timmy better produce this year or the Gophers may look for another coach to open up thier new outdoor stadium next fall.
OFFENSE: Brewster has implemented a spread offense and sophomore Adam Weber is back to build upon his team leading passing (2,895 yards) and rushing (617 yards) from last season. Weber is joined by seven retuning starters on offense, including leading receiver Eric Decker, who caught 67 passes for 909 yards and 9 touchdowns.
Minnesota will have to replace starting tailback Amir Pinnix, with sophomore Duane Bennett, who will look to improve upon his 4.7 yards per touch last year. Even though Weber's leading receiver is back, the Gophers don't have much returning in terms of depth and the loss of Ernie Wheelwright is going to hurt.
Ralph Spry, Tray Herndon and Jack Simmons each caught 20 or more passes for 200+ yards last year and each one will be looking to make their mark during the Metrodome's last Big Ten season.
DEFENSE: The lowly Gophers lost their leading tackler and sacker from last year, in Dominique Barber (100 tackles) and Mike Sherels (2.5 sacks), which is huge considering they lead the defense to a Division I worst last year. Senior linebacker, Deon Hightower will have to step up and lead seven retuning starters towards last place redemption.
KEY GAME: I would venture to say that every game on Minnesota's schedule is important this year. The Gophers are one of a rather large group of Big Ten teams that aren't doing much to help the conference's reputation. This team will need to win all of their OOC games against Northern Illinois, at Bowling Green, Montana State and Florida Atlantic to help their overall record.
BEST-CASE: The best case for Minnesota is 7-5, with a 3-5 Big Ten record. To go along with the aforementioned OOC victories, Minnesota could win home games against Indiana, Northwestern and Iowa.
WORST-CASE: The worst case scenario is another last place finish. Brewster may have 15 starters back and a top 25 recruiting class, but I don't see Minnesota having an above .500 season, which is going to cause some major rumblings, remember Glen Mason lead the Gophers to five straight bowl appearances before being canned.
I will give the Gophers all four victories OOC, but I see a 1-7 Big Ten record, pushing Timmy's conference record to 1-15. I still think Minnesota made a horrible mistake letting Glen Mason go and they are going to be paying for it for years to come. The spread offense is a great concept, but it takes a few years to get the talent up to par and Minnesota could be opening their new stadium next year having lost 19 conference games in the last three years.
Minnesota will be the doormat of the Big Ten this year, as I think they will struggle once again on both sides of the ball. Tim Brewster didn't have any head coaching experience before his hiring in Minneapolis and his team comes in riding a ten game losing streak.
He may know how to coach tight-ends, but the overall game concept is still a challenge to Brewster and I think Minnesota will finish last in the Big Ten, going 1-7 in the process.