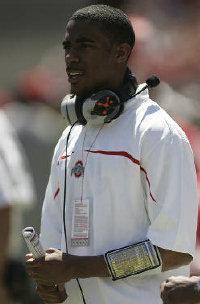 Would you play through these seasons? We have all wondered what could have been if either or both Michael Conley and Daequan Cook would have stayed for one more year, but when it comes down to it you can't blame them for leaving.
The dynamic duo have endured a combined 121 losses and sit 82 games out of first place. Considering they also took home a combined 5 million dollars, don't feel too sorry for them.
Conley made 3.4 million this year, suffered through a couple of injuries and has started 42 of his 49 games. He leads the Grizzlies with 4.1 assists per game and a 2.38 A/T ratio. The Grizzles are one of the youngest teams, playing 7 dudes under the age of 25 who log at least 13 minutes and Conley has averaged almost 26 minutes a game. With 4 games left on the season, Conley has scored 12.3 points in his last four and raised his season average to 8.8 a game.
His last game against Phoenix was perhaps his best all year, going for 19 points, 7 boards and 5 assists. His season high of 20 came against LeBron back in January and he has shot a respectable 42 percent from the floor. Conley is rumored to be honing his skills in Cbus this summer, so he should be able to tutor PJ Hill and Evan Turner in their fight to settle the newest 11W debate.
Daequan has suffered through a bit more, but has seen a recent increase in playing time. Dizzy is bringing home 1.1 million, so experiencing 64 losses and a stint in the NBDL seems worth it. Cook has shot only 37 percent from the floor and just 32 percent from deep, leading to 8.2 points a game, but his lack of an overall game shows in his 2.8 rebounds and 1.2 assists averages.
There is no doubt Daequan would have benefited from another year at OSU, but I think he has always wanted to be called a millionaire and the NBA made it happen. I hope his summer workout routine is exceptional, because the Heat are a mess and no job is safe next year.
These two face off tonight in Miami, so the ladies of South Beach better be ready, a couple of former Buckeyes might be clubbing afterwards. Make it rain fellas, make it rain.