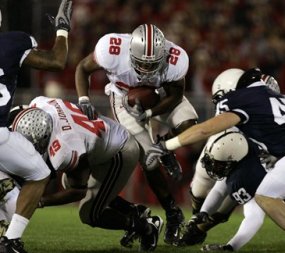 It was announced yesterday that Ohio State is slated for two prime time games in Big Ten play, to go along with the USC match-up in LA.
The Buckeyes will travel to Madison on October 4th, their first visit since 2003, when Robert Reynolds tried to perform an emergency tracheotomy on Jim Sorgi and the Badgers ended Ohio State's 19 game winning streak.
OSU will then host Penn State on October 25th, in what could be Joepa's last game in Columbus. Gene Smith is aware he needs extra wattage that night, in case Paterno needs a bright path for his emergency bathroom runs. The Big Ten may believe this is Coach Paterno's last year, as 4 of the 5 prime time conference games involve Penn State.
I have mixed feelings about these prime time games. I know there is an extra level of energy due to the all day anticipation and consumption of barley sodas. I also enjoy dominating in front of a national audience. However, I hate waiting all day to watch my beloved Buckeyes play football. It is bad enough I can't sleep the night before, but then making me wait until 8:07 to watch, is worse than memorizing Brittany Spears lyrics.
I'm curious to know what your take is. Do you like being in prime time or do you like the traditional afternoon game? Do you get annoyed with all the drunkards or do you prefer to be a drunkard? Do you have a problem with OSU playing three night games a year?