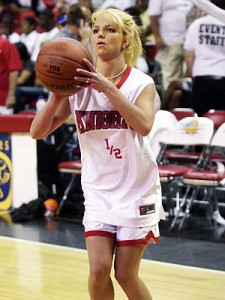 Even though spring football has everyone's attention, there's still plenty going on the world of OSU hoops worth sharing.
On the recruiting front, rivals.com reported Devan Dumes will take an official visit to Columbus this weekend causing Baptist and others to rightly assume Matta will offer the lone remaining scholarship (until Koufos announces) to the 6'2" guard from Vincennes junior college if he verbally commits to the Buckeyes.
If Dumes doesn't verbal, then the Buckeyes will likely extend an offer to a skinnier 6'2" guard, Jeremie Simmons out of Mott CC in Flint, Michigan.
The Buckeyes only need one of these guys and they both know it so it will be interesting to see how this plays out. That said, we strongly prefer Dumes and his more-Big-Ten-ready frame not to mention his 16.9 ppg, 40% from deep and 84% from the stripe.
---
Meanwhile, Koufos has yet to make his decision though his momma is interviewing agents. Personally, I think it's very plausible he could be headed to Greece to get paid for polishing his game before taking on the NBA challenge and if nothing else, Undrafted Free Agent's thinking the same thing. Tick tock...
---
Lastly, Joseph Treutlein of Draft Express put Jamar Butler on his All-PIT first team giving Jamar props for being faster in person than on tape while noting his ability to run an offense including the pick and roll. It's a great point as Butler was definitely strong running the 2-man game with Hunter and the pick and roll just so happens to be ran during probably 70% of NBA possessions.
With this in mind, Treutlein speculated Butler could be a serviceable back up point guard down the road. That's certainly not a lock but hopefully he'll get an opportunity with the right club.