Mike over at Black Shoe Diaries was kind enough to put together a Big Ten Bloggers roundtable taking a look back at spring practice. We'll dive into the position battles and try to assess the mood of Buckeye Nation heading into 2008.
I love spring. Flowers blooming. Birds chirping. Bones breaking. ACL's tearing. List the injuries your team sustained and describe their impact on 2008.
The Buckeyes didn't have it Sean Lee bad, but they did lose linebacker Jermale Hines to what looked like a serious knee injury. I'm no doctor, but I play one from my couch and he looked to be in some serious pain.
You never like to see a kid that's busted his ass in practice go down with a potentially season-ending injury, but if there was one spot the team could absorb an injury, that was it. Hines, a sophomore Glenville product, was looking at a fierce battle to even sniff the two-deep at linebacker.
Of course, Tressel held a lot of players out of practices and the spring game -- Beanie and Robo, most prominently. The fact that Brandon Saine barely sniffed the ball on the afternoon indicates that he thinks he may have something special here with this team and he wants to get as many of them to fall injury-free as possible.
Break down the major position battles going on with your offense.
With so many returning starters, there are really only two starting position battles on offense.
The battle for Kirk Barton's vacated right tackle position will be between frontrunner Bryant Browning and freshmen J.B. Shugarts and Mike Adams. Tressel practically challenged Adams to take the position before he suffered an injury and missed practice and the spring game. Fans had thoughts of Adams being the next great Buckeye lineman and he could still get back in the mix before the opener, but Browning held his own in the spring game against Heyward and appears to be in the lead for now.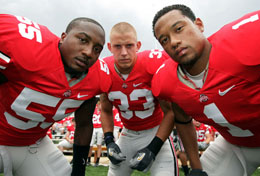 Fullback is the other mystery as the only three guys with any snaps at the position departed. Linebacker Curtis Terry looked serviceable in the spring game, but the staff has promised him time on defense, which is his preferred spot. Senior Ryan Lukens was also moved from linebacker to fullback and saw time with the first team offense this spring. By all accounts, fullbacks won't be featured as prominently as past offenses as the coaching staff tries to open the playbook a little. Regardless, I'd sleep a lot better knowing Beanie had a bone-crusher leading the way for him this fall.
The battle for the third wide receiver spot should be a good one to watch. Ray Small had his jersey number snatched from him and is working his way out of the doghouse. His spring game numbers (5/74) were impressive, but his main competition for the spot, sophomore Taurian Wasington, turned in 4 for 71, including a nice bomb that went for six (and another bomb that was called back).
You knew this was coming. Break down the major position battles on defense.
And you knew this was coming. Just like on offense, Ohio State only needs to replace two starters on the defensive side of the ball.
The first opening is pretty much settled. Redshirt junior Lawrence Wilson started last season opposite Gholston at defensive end, but saw his season end with a broken leg in the opener against Youngstown State. Of course this opened the door for Heyward's breakout rookie season and the two will start 2008 at the ends.
The "Sam" linebacker position is up for grabs with the departure of senior Larry Grant. I'm contractually obligated to point out that Grant may be the only man on the planet to lose four consecutive national championships (two at the JUCO level), and now that he's gone, we're hoping this year will be the year. There are so many linebackers in the mix for this spot, it's hard to get a feel for who will eventually hold on to it. Tyler Moeller, Brian Rolle and new fullback Curtis Terry could all see snaps here, but if last season was any indication, the winner of this job will only see the field in probable running situations anyway.
Who are the unknown kids on your team that will be household names come December?
Is this a trick question? There aren't any unknown kids on this team. Every single recruit that comes into the system has more written about them than most heads of state.
Saying that, I'm really high on freshman receiver Jake Stoneburner, At 6-5/220 and with good wheels, the high school tight end is looking to jump to receiver for the Buckeyes. A younger Matt Jones, perhaps? I think his size can create some matchup problems, but the receiving corps is deep and getting time will be tough.
Freshman Etienne Sabino, Rivals' top-rated inside linebacker in this class is another guy that could make some noise, but again, with the depth in front of him, snaps may be few and far between.
How would you describe the general mood around your program? Are you gearing up the tailgate party for a conference title run or do you get the impression there are going to be a lot of empty seats in your stadium this year?
It's a pretty weird feeling being a Buckeye fan these days. We know the 2008 team is absolutely stacked. We know the team is well-coached and is full of veteran leadership -- there are a lot of guys on this team that have already played in two MNC games.
But if the past two Januaries have taught us anything, it's that hubris is a mofo. So I think it's safe to say that fans are extremely optimistic, yet tempered. We know that a one-loss Ohio State team will not get another crack, so the season boils down to the September 13th visit to USC. Win that and the hubris will be back (woo-hoo, bitches!!). Lose that one and the recriminations will be fierce.
Did I miss anyone in the position battles? Who is your darkhorse for a breakout season?