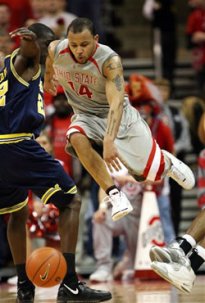 Opponent: Illinois has had an up and down season thus far, still trying to find their identity after losing 2 starters and a key reservist from last year's 23-12 team. After placing 3rd in the Maui Invitational, they have come to the mainland and gone 4-4, losing to Arizona, Maryland, Miami (OH) and Tennessee St. in their last game.
However, it is Big Ten Hoops and Champaign is always a tough place to play, especially since their fans are required to wear orange and Ohio State is such a young team.
Illinois comes in averaging 67 points a game and have really struggled shooting all year, connecting on 50 percent of their shots only twice (both came in their first three games). For the season, the Illini have hit 43 percent of their shots and only 29 percent from downtown. However, their worst shooting comes from the line, where they are hitting a dismal 59 percent of their attempts.
With all of the missed shots, it is not surprising Illinois is grabbing almost 40 boards a game, with 15 of those coming from the offensive glass. They are not getting the dominate guard play as in years past and therefore are only dishing out 14 assists per game, while turning it over 13.5 times a contest. Their last game against Tennessee St. was a nutshell as to how this season has gone.
Key Players: The Fighting Illini will bring some height to this game and any type of early foul problems for Ohio State could be trouble. Shaun Pruitt (#55 6'10" Sr.) decided against the NBA and came back for his senior season. He has been inconsistent throughout his career and I wonder if the Illini are having trouble scoring, because he is their go to guy.
He comes in leading the team in points (12.9), rebounds (8.3) and blocks (0.6). Pruitt is only hitting 50 percent of his shots and shoots a Shaq-like 53.7 percent from the line. He might be able to have a big day if the Illini expose the baseline weakness of OSU's zone defense.
Trent Meacham (#1 6'2" Jr.) and Brian Randle (#42 6'8" Sr.) are the other two Illini players averaging in double figures, at 11.3 and 10.5 respectively. Meacham is Illinois lone 3point threat, coming in 27 of 65 (41.5%), making more threes than the next 3 guys combined. He also has the best A/T.O. ratio on the team at 2.2/1, but he only averages 3 dimes a game and shouldn't rebound too much.
Randle is one of those veteran Big Ten players who knows what it takes to win in the conference, but he left their last game with a mild concussion. His size and athleticism could cause Ohio State some problems, as he is grabbing over 5 boards a game and shooting over 50 percent from the floor. Brian will get into foul trouble though, so Ohio State can take him out of the game by driving right at him from the opening tip.
While Chester Frazier (#3 6'2" Jr.) doesn't score much, he leads the team in minutes (33.5), assists (4.0) and ranks second in rebounding (5.4) and 3pointers made (11 of 42). Ohio State should be able to press him full court and wear him down as the game goes on. OSU will also have to cut the driving lanes off and force him to shoot outside.
Rodney Alexander (#23 6'7" Jr.) or Calvin Brock (#25 6'5" Jr.) will be the other starter for Bruce Weber's team. Alexander is averaging 5.9 points and 3.7 rebounds per game, playing only 16 minutes per contest. Brock leads this team in steals and chips in with 7.4 points and 4 boards. Demetri McCamey is the only freshman that sees significant time, scoring 5 points in 20 minutes of play.
Notes: Illinois is 20-4 at Assembly Hall in Big Ten openers... Illinois opponents are only scoring 51.4 points and shooting 33.6 percent in the last five games... Bruce Weber is 120-33 in his five years at Illinois.
Buckeye Breakdown: Ohio State will be going for their 17th straight conference victory when they invade the Orange Crush Zone Thursday night. It has been refreshing to see this team gel over the last five games and lets hope their shooting touch doesn't resemble the weather.
The other Ohio State zone weakness was exploited last game against UMBC, as the Retrievers hit a record 17 three pointers. However tonight, they may have trouble defending the inside as Illinois will bring size Ohio State hasn't seen in a while. I think we may also see more press tonight, forcing Illinois to start their offense with less time on the clock.
Ohio State's defense hasn't allowed a team to shoot fifty percent since Texas A&M and Thad's boys have turned this zone defense into something special. There are a couple weak spots that can be exploited, but every shot gets contested and opponents are shooting only 37 percent against the Bucks this year, including 29.5 from deep.
Ohio State's offense is enjoying a revival from its early season woes, as five players are averaging in double digits the last few games. Thad has done another great coaching job and these players have settled into their roles, looking relaxed and finally playing ball. They will continue to learn the importance of playing a full forty minutes and I am excited to watch this team surprise the nation once again in conference play.
Key Players: At the end of his sophomore season, Jamar Butler was the best point guard in Big Ten play and perhaps it has taken him some time to get used to it again, but his play recently has helped this young team develop. His career high 12 assists against UMBC moved him up 3 spots on the career mark and he now is only 88 away from breaking the record. Lima's finest also recently became the first Ohio State guard to record 400 assists, 150 threes and 100 steals in his career. Let's just hope Jamar's legs can hold up, because no one else can handle the rock.
Thad has not been able to lengthen his bench beyond 7 players, which is a bit of a concern heading into conference play. However, as mentioned, his key players have been able to step up recently. Jon Threebler's emergence has finally happened, as he has hit 14 of his last 23 three point attempts, raising his season percentage to almost 31 percent. It is exciting to watch this kid shoot and I have a feeling Jamar's career 3point makes will be around for about three years.
Thad's key players are growing more comfortable with their roles and it is evident in their recent shooting touch. Koufos, Hunter, Lighty, Turner and Diebler have all shot over 50 percent their last four contest. Ohio State continues to get better at driving the ball, attempting a season high 31 free throws last game. This is a good sign, especially if Deibler and Butler can continue stretching defenses.
I have not seen as much Big Ten hoops yet this season, but I know this Ohio State team will compete for another title. The conference will once again come down to the big boys; Michigan St., Indiana, Wisconsin and Ohio State. What is your predicted finish for the Bucks?
Notes: Ohio State is 52-41 in Big Ten openers... Thad is now the leader in career winning percentage at OSU... 11W favorites Slick Steve Lavin and the lovely Erin Andrews (bonus links for the perceptive) will be doing the ESPN telecast tonight.