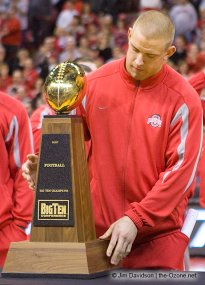 Opponent: Northwestern brings their books and basketball game to the Schott tomorrow for their annual loss in Columbus. Northwestern has not won in Cbus since 1977 and Ohio State has won 15 straight in the series. The Wildcats had their four game win streak broken at home against Penn St. in the Big Ten opener.
Northwestern lost four of their first five games, before that recent 4 game winning streak. This year's version of the hoopin' nerds has not beat anyone this season, so I do not expect any upset on Sunday. The good thing about Big Ten hoops is we know what style of play each team will come at Ohio State with and we know Northwestern doesn't deserve much time.
Northwestern comes in averaging 69.3 points a game, on 48.1 percent shooting from the floor. Their 3point shooting has been their strongest aspect in years past and it is no different this year, as they roll in shooting 40 percent from that range. However put Northwestern 15 feet away from the hoop and they can only make 62 percent of them.
This Wildcat team comes in with a -11.9 rebounding margin, snagging only 23.5 a game, this should be a welcome site for Ohio State. With Bill Carmody's Princeton style offense and zone defense, it is not surprising that Northwestern is dishing out 19 dimes and stealing it 10 times a game. It should be another slowed down effort and could be tough to watch if Ohio State struggles to shoot.
Key Players: The Wildcats are lead by a freshman point guard, Michael Thompson (#22 5'10" Fr.), who hails from Chicago and leads his team in points (13.8), assists (5.5) and three point shooting (45.5 percent). He is coming off a game in which he scored 17 points and dished out a career high 10 helpers in the defeat to Penn St. Michael is second in the conference to Jamar, in assists.
Craig Moore (#20 6'3" Jr.) and Jason Okrzesik (#1 6'1" Sr.) are right behind Thompson at 13.2 and 12.8 points respectively. These two are experienced guards who know Carmody's system well and will help keep the turnovers down. All three of the purple nerd's guards take care of the ball and come in with at least a 2.2/1 assists to turnover ratio.
Northwestern got a boost as they opened conference play, Kevin Coble left in the fall to stay at home and take care of his mother, who was receiving cancer treatment in Arizona, so first a big 11W shout-out for that. Coble (#44 6'8" So.) was the Wildcats best player last year, scoring 13.4 points and snatching 5.4 rebounds a game. He might not have is game legs under him yet, but he should add some scoring help.
Sterling Williams (#32 6'4" Jr.) and Jeff Ryan (#5 6'6" So.) should also get the start. These two combine to score over 16 points, 6 rebounds and almost 4 assists. Both players shoot the ball well connecting on over 56 percent from the floor.
Notes: The BTN may have been created for Northwestern, as 26 of their games will be televised on the network... Northwestern ranks among the nation's leaders in A/T ratio and assists per game... Bill Carmody is 100-118 in 8 seasons at Northwestern, just the 2nd coach at the school to reach the 100 victory mark.
Buckeye Breakdown: Ohio State has now won 6 straight games this season and have won 17 straight inside the conference. With Northwestern, Iowa and at Purdue this week, the Buckeyes can extend that streak to 20 straight, before rolling into East Lansing and Knoxville, TN. the following week.
Ohio State is holding steady at 70.6 points a game, while shooting 46.1 percent from the floor. They have done a bit better rebounding the rock lately, increasing their rebounding margin to +1.4, while snagging 36.4 a game. Jamar has helped increase Ohio State assists total to 15.5 a game and their bigs have accounted for over 5 blocks a game.
I hope everyone appreciates Ohio State's defense. It took me some time to get used to watching us play exclusive zone, but their intensity has risen and it has locked opponent down. Illinois took advantage of the low post weakness in this zone early on, but Thad made the necessary adjustments at halftime and the boys shut them down after that. Again, I expect to see the 3/4 court pressure, but the Wildcats take care of the ball and run the shot clock down regardless.
Ohio State's offense has come around of late, but I hope they try to pound it inside more. Kosta Koufos, Othello Hunter and Matt Turwilliger are going to drift from the lane, because of their range, but this team will need to develop that inside scoring presence as the season rolls along. They fall into spells where the outside shot is their only option. I still believe Hunter can have an all conference type season, if the guards don't forget about him.
Key Players: Jamar Butler is one of the most unheralded players in the nation. His performance against Illinois was one of the best I remember in recent history and he now leads the team in scoring at 15.5 points per contest.
His 15 straight points in the second half, were the most since Michael Redd scored 17 straight in a win over Wisconsin in 1999. Jamar has now hit 21 straight free throws over the last six games, he has made 33 of 35 on the year. He also is the conference leader in assists at 5.7 per game and I smell a run for conference player of the year.
Koufos's scoring has dipped lately and he now sits at 15 points a game. He still leads the team in rebounding at almost seven a game and his range will be able to bring defenders away from the lane, opening up driving lanes for Lighty and Turner.
Ohio State is now 27-0 when Matt Terwilliger scores 4 or more points and he has got the confidence going from beyond the arc. He now is 170 behind Jamar's school record, but the way he was firing them up against Illinois, he is going to give the record a run.
Ohio State has showed they have seven legit scorers on this team, but I am still a little concerned on the lack of depth. Hopefully the next three games, someone else can step forward and get into the rotation, because Thad's style of play needs fresh legs.
Notes: Over the last two games, Ohio State has connected 41 of 49 (83.7 percent) of their free throws... Butler has made 182 of 214 free throw attempts in his career, good for 3rd all-time... Thad is now 36-13 (73.5) in Big Ten games.