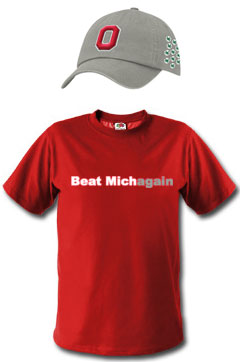 Okay fellas, for the last contest of the 2007 regular season, we're giving away more gear to drive the ladies nuts.
One lucky winner will receive the Buckeye hat and the Beat Michagain t-shirt pictured to the right. You gotta find your own pants, but we're providing 2/3 of the ultimate macking costume.
All you have to do is pick the correct score of The Game this weekend.
The same rules are in place from previous contests:
Leave only 1 prediction -- duplicate predictions will disqualify all of your entries
Don't pick a score someone has already settled on -- first one to the score is the official entrant for that score
Leave your email address in the comment form
The contest closes at kickoff
You guys are pretty good at following these rules, but we do receive a significant number of entries without an email addresses and we're just dying for one of those to win, so we can publicly humiliate you and award the prize to the runner-up.
We'll post the winner on Monday. Good luck to all.