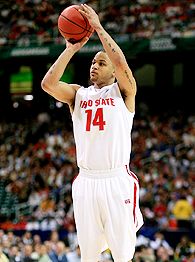 Let me start my praising Time Warner for not yet striking a deal with the Big Ten Network. If not for both of those bloodsuckers, I would've been forced to watch tonight's painful 70-68 upset loss to Findlay in a sober state.
Thad Matta's squad simply didn't match Findlay's intensity, especially at the defensive end of the floor losing the rebounding battle 34-27 (13 offensive) while surrendering 10 threes. The lack of passion combined with another poor night at the stripe (11/17 64%) was more than enough to hand OSU their most embarassing defeat in the Thad Matta Era.
Just as concerning was the disappearance of Othello Hunter who finished with 0 points and 1 board in just 13 minutes due to foul trouble. Hunter's absence forced freshman Kosta Koufos to try and do it all inside. Up to the task, Koufos notched 16 points in the 2nd half (20 total) to keep the Buckeyes in it.
With Koufos scoring down low, Jamar Butler showed some leadership from the perimeter scoring a game high 22 points including 5 triples but it wasn't enough as the Buckeyes failed to produce a third double digit scorer. Freshman Jon Diebler finished with 9 points (3/6 3's) and my man Matt Terwilliger scored 8 points on 3-3 shooting but the Buckeyes got just five from a cold shooting (2/9) David Lighty.
No-show's from Hunter and Lighty got the Buckeyes in an early hole as Findlay led by 13 (30-17) with just over 6 minutes in the first half before Butler keyed a 16-5 run to close the gap to 35-33 at the break.
The second half featured Koufos as the Buckeyes continuously pounded the ball down low but they simply didn't turn up the pressure enough to keep Findlay from knocking down timely treys.
Looking at the bigger picture, this loss could become a positive serving as Exhibit A for the necessity of playing 40 minutes of hard nosed defense. I'm sure Matta can tolerate scoring only 68 points but allowing 70 points to a Findlay sqaud is not acceptable. Something tells me you'll see a more committed defensive effort when the Buckeyes start the regular season next Monday night against Wisconsin - Green Bay.
On a positive note, I thought PG P.J. Hill looked a little more under control registering 6 assists and 2 steals against 2 turnovers in 20 minutes and Terwilliger was key in the first half run. That said, this team has very little chance to make some noise if Othello Hunter can't be counted on to help out down low at both ends of the floor.
In the meantime, let's not make too much of what is hopefully a crucial learning experience for a team counting on a handful of true freshmen amongst just a few seasoned contributors to last season's magical run.