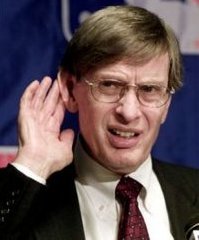 What's that? Back to back 3-1 weeks for your humble host? Ooh yeah. Problem is, I didn't gain any ground on Jason who also went 3-1. For the season, I'm back over .500 at 18-17 while Jason stands at 21-14.
Should I be concerned he's been hanging out with 'Hot Rod' Williams?
With the Badgers coming to Columbus, I'm forced to announce Wisconsin alum Bud Selig as this week's guest picker. I tried to land the parrot that Barry Alvarez' son used to know, but no luck. Oh well, let's see if Bud can make his university proud.
Nevermind, it's probably a little too late for that.

Now on to the picks:
Arizona State (+7) @ Oregon (ESPN 6:40)
The weekend's biggest matchup could be trouble for the Sun Devils if QB Rudy Carpenter isn't recovered from a thumb injury suffered last week against Cal. Meanwhile, Oregon QB Dennis Dixon looks to bolster his Heisman candidacy.
Chris: QBs like Dixon are a huge advantage at the college level, ask Mack Brown. Oregon 31-23.
Jason: Oregon at home? Easy cover, 35-17.
Bud I predict a 35-35 tie. That's an acceptable ending, right?
---
LSU (-7) @ Alabama (CBS 5:00)
LSU will be without part time QB Ryan Perrilloux and two others when they head to Alabama to face Bear Saban's boys. Perrilloux was suspended while backup LB's Jeremy Benton and Derrick Odom were kicked off the team as a result of their involvement in a weekend brawl. The distraction isn't likely to affect an LSU team pumped to punish the coach who ran out on them in 2004.
Chris: I smell a reality check for Saban. LSU 27-17.
Jason: Seven doesn't seem like nearly enough. LSU 28, Bama 13.
Bud: Wow. I don't know what's bigger. Saban's ego or Barry's head. LSU 23-6.
---
Michigan (-4) @ Michigan State (ABC 3:30)
Taking a page from his mentor's book, Dantonio's had this game circled since he got to MSU but will that be enough if Mike Hart is healthy?
Chris: Carr's boys will win, but they won't cover. Michigan 24-21.
Jason: Michigan has it going right now. Michigan 20, MSU 10.
Bud: I heard Lloyd's listed in the Mitchell Report. Spartans in an upset, 24-23.
---
Florida State (+6.5) @ Boston College (ABC 8:00)
Struggling to be among the elite on the field for years now, Bobby Bowden's troops have rallied to boost the team up the Arrest Rankings thanks to a recent surge of not going to class and participating in bar fights before getting tasered by the cops. Typically, having your QB (Xavier Lee) suspended should be a huge setback, but all it really does is decrease FSU's number of horrible QB's from 2 to 1.
Chris: Dag gummit, does Bobby Bowden even wear a headset anymore? BC 28-10.
Jason: The Noles playing in Boston in November = BC 22-13.
Bud: You know Bowden's opposed to a salary cap. BC 33-10.