The third ranked Buckeyes conclude their Three Little Siblings Tour with a home tilt against the Kent State Golden Flashes. I know this is getting milked pretty hard, but if you're into the 2002 comparisons, the only other time the two programs have faced each other is that season, with the Buckeyes coming out on top 51-17.
While that Kent State squad featured a young Joshua Cribbs, the current version features.. uh.. Julian Edelman.
We'll spare you the coach-speak: this is team is to stinky play what the Ohio State fair is to butter sculptures. Their three wins on the season have come over a 1-5 Iowa State, Delaware State and Ohio University.
Tale of the Tape

| OHIO STATE | OFFENSE | KENT STATE |
| --- | --- | --- |
| 33.7 (32nd) | SCORING | 24.5 (77th) |
| 416.2 (47th) | TOTAL OFFENSE | 420.7 (42nd) |
| 204.7 (19th) | RUSHING | 230.5 (11th) |
| 211.5 (73nd) | PASSING | 190.2 (94th) |
| OHIO STATE | DEFENSE | KENT STATE |
| 7.2 (1st) | SCORING | 24.8 (56th) |
| 210.0 (2nd) | TOTAL DEFENSE | 332.7 (34th) |
| 46.5 (2th) | RUSHING | 143.8 (51st) |
| 163.5 (10th) | PASSING | 188.8 (22nd) |
The Flashes failed their only test against big-time talent, losing 56-20 at Kentucky in week two. They did go into halftime tied with the Wildcats at 14, but surrending 5 second half rushing touchdowns will do you in. Ohio State and Kent State do share a common opponent. The same Akron squad that graciously punted the ball away to the Buckeyes 14 times defeated Kent State three weeks ago.
Kent State can run the rock a little. The Flashes are 11th in the nation in rushing averaging over 230 yards per game. They have a back that is on pace for a 1700 yard season and the aforementioned Edelman is on pace for about 700 himself on the ground.
An argument can be made that Ohio State has looked great so far against mediocre competition. If that's the case, then the Flashes have looked craptacular against worse competition.
Though we may not think much of Kent State, the Bucks will not be taking them lightly. The Vest is too good of a coach to allow that and besides, even if the opponent isn't great, the good old depth chart is.
With the depth and talent on this roster, a guy can't afford to come out flat because more than likely there's a young stud backup waiting for his first crack.
---
Opponent: Sophomore running back Eugene Jarvis (#6) is having a career year with 851 yards on only 144 carries (5.9 YPC) and 10 touchdowns through 6 games -- good enough for 5th in the nation. He has scored in every game and before being held to 82 last week against Miami (OH), he had ripped off 113, 131, 136, 159 and 230 in his first five starts of the season. In the mix is the Akron game where in the loss, he hit the 159 -- or 16 more than Beanie notched against the Zips. If you're still not convinced, Jarvis has outrushed all but 3 MAC teams on the season.
Think Garrett Wolfe. But younger. And improbably so, smaller. Listed at 5-5/170, he may have a halfway decent day just hiding between the legs of his linemen. Much like Wolfe, Jarvis can do a little damage catching the ball out of the backfield as well. He's 2nd on the team in receiving yards with 201 on the year.
I touched on quarterback Julian Edelman's (#1) skills as a runner and it's a good thing he can run a little because he'll be lugging his 8 interceptions against only 6 touchdown passes for the season into the Shoe this weekend against a ball-hawking, albeit greased palms Buckeye secondary. Definitely a hard guy to peg, Edelman gashed Kentucky for 135 yards on the ground only to follow it up for a negative rushing effort the following week against Delaware State.
Kent State's offensive line will face a ginormous mismatch going against the Buckeye front. The unit gave up 5 sacks to Miami last week and have given up 16 on the season. When you consider Edelman's only a generous 6-0, he could be in for a long afternoon as passing lanes over the middle vanish.
When given time to throw against Ohio State, Edelman will look to sophomore wideout Derek McBryde (#3). McBryde, a former Glenville Tarblooder, has only been active for 2 of the 6 Kent State games this season, but already leads the team in receiving yards with 205. Although somewhat dangerous, he may want to dial up Dorien Bryant for a few tips before coming in.
You wouldn't know it by their record, but Kent State has a somewhat decent defense. They lead the MAC in rushing defense, total defense and scoring defense while ranking 2nd in their conference in passing defense.
On defense, the Flashes are led by junior linebacker Cedric Maxwell (#54) and his 47 tackles on the season, including 6.5 TFLs. At only 5-10, he can be thrown over should Hartline or another receiver get some inside action.
What's interesting about the Kent State defense is that three members of the secondary are in the top 5 on the team in tackles. Senior Jack Williams (#2), redshirt freshman Brian Lainhart (#31) and junior Rico Murray (#7) are all sure-handed tacklers that look to see plenty of Beanie Wells' knees.
Before giving too much love to this defense, keep in mind that they finished 2nd in the MAC in total defense last season on the way to a 6-6 season.
---
Notes: The #3 Buckeyes are the highest-ranked team Kent State has ever faced... The Golden Flashes are 0-8 all-time against Big Ten teams and 0-19 against ranked teams... Former Kent State coach and Buckeye bridesmaid Glen Mason will be handling the color duties for the Big Ten Network... Kent State's last bowl appearance was the 1972 Tangerine Bowl... Seriously.
---
Buckeye Breakdown: While a lot of talk has centered on some of the injuries the Buckeyes have sustained, it's the opposing coach, Kent State's Doug Martin, saying he plans to rest some of his starters and rotate extensively against the Buckeyes. The plan is to keep the guys fresh for MAC play, but this white flag leaves little doubt as to what he believes will happen Saturday, so it's good to see we're all on the same page.
Although I'm a fan of giving running back Beanie Wells the week off, Tressel has already said that he'll play. But what do I know? I just play a doctor on this blog. Wells could romp for a pain-free 150 against the Flashes or more likely, a combination of Mo Wells and Brandon Saine getting more touches than usual and the Vest's increasing love of throwing the ball on first down could allow the coach to get Beanie a dozen or so touches and shelf him for next week's Michigan State game.
At this point, I honestly don't even care. As good as the Silver Bullets are playing, Tressel has a ton of options on offense. Just ask quarterback Todd Boeckman and his affinity for coffin-corner "punts" as of late.
The Bucks will look to follow a similar script as they did in their games against YSU and Akron. Work on some things that need work -- like keeping Todd from locking in on guys downfield and holding onto interceptions that hit defenders in the paws. Most importantly, the team has to dodge the injuries that keep piling up in an annoying fashion.
The flip side of the injuries, of course, is that a lot of younger guys are seeing significant playing time. Take freshman and future Buckeye legend Cameron Heyward. Just 7 weeks ago, he looking at backup rotation work. Today, he's a havoc-wreaking fixture on the defensive line. On-the-job training -- there's nothing like it. Getting results out of a freshman is important in Buckeye land because so many of the great ones don't stick around to show what they can do as seniors. Heacock likes him some:
"Cameron has stood out since day one. He has picked things up from day one and that is always the biggest thing when you're a freshman."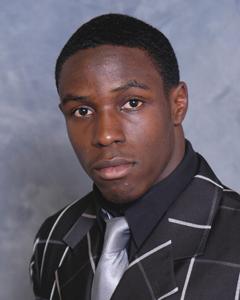 Another super frosh, although technically a year ahead of Heyward is defensive back Chimdi Chekwa. I help write a Buckeye blog and try to make it my business to know as much about Ohio State football as humanly possible, but even I had no idea who the kid was heading into summer camp.
He put in the hard work on the scout defense last season, got some nickel looks early this year and all of a sudden, he's the reigning Big Ten Defensive Player of the Week after recording an astonishing 10 solo tackles against Purdue and the conference's top-ranked offense.
That's just how good this unit is. The Buckeyes' 3rd-best cornerback just won the Big Ten Defensive Player of the Week award.
Even Chekwa seems a bit surprised by it all:
"I didn't expect to see this much action so soon. I really thought it would be more on special teams than anything, but I guess the coaches have liked how I fit in."
The outcome of this game is not really in question. Instead what you should be asking yourself if the offense will show the 5-wide set again or keep it tucked away, who the next young stud to emerge will be, whether the defense will get that first shutout and possibly where you have to be by noon to catch the Big Ten broadcast of the game.
---
Notes: Bill Willis' #99 will be the 6th number retired by the Buckeyes at a halftime ceremony this weekend... The Buckeye defense has held opponents to 3-and-outs on 53.2% of all possessions this season... Ohio State is outscoring opponents 63-2 in the first quarter this season... Tressel had a 4-3 record against Kent State during his days at YSU... Tackle Alex Boone was named the team's Offensive Player of the Week for the Purdue game.
---
Jason: OSU 38, Kent State 0
Chris: OSU 44, Kent State 6