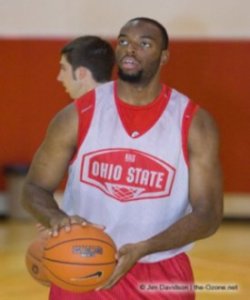 Basketball season is drawing closer and Thad has another stellar recruiting class coming in. This year's roster features only 4 players with any type of Division I playing time and it may take them some time to gel.
However, just like last year's young team, they will have some "older" leadership. Greg Oden was often confused with Morgan Freeman last year, as he lead the Buckeyes to the National Title game and played beyond his age of 43. This year, Buckeye freshman Dallas Lauderdale will be looking to compete well beyond his tender age of 40.
Dallas Lauderdale is one of the few lucky Americans who doesn't need a different name to star in porno movies and comes to Cbus via Solon, Ohio. The wide bodied Lauderdale will help the Buckeyes rebounding margin and will assist our underclassmen in obtaining beer (for the ladies of course) without a fake I.D. Dallas is part of another highly ranked recruiting class. All 5 incoming freshman, were ranked in the top 150 last year, giving Matta another top 10 class. As fans, we may have been spoiled by the success of last years team, but something tells me this year will not be a let down.
When Thad arrived at Ohio State he made no bones about turning tOSU into a national powerhouse and he continues to be prophetic in that case. Coach Matta received two more verbals this past weekend, for the class of 2010! Trae Golden and Cameron Wright gave the Buckeye coaching staff their commitments after a campus visit over the weekend. While Cameron is not rated nationally, Trae joins Jared Sullinger and DeShaun Thomas in the top ten of the 2010 class. Matta has already put a top 5 class together for 2008 and as mentioned before on 11W, the present and future is looking bright.